Clint Eastwood's performance at the Republican National Convention last Thursday sparked a raft of conflicted reactions from the political commentariat. Many liberals sneered at the speech as a grotesque bit of exploitative theater – Dirty Harry meets Honey Boo Boo – while others, including Bill Maher and Jon Stewart, applauded the speech for its comedic timing. Conservatives, too, had mixed reactions, with some bemoaning the speech's potential for distraction on a night that should have belonged to GOP Presidential nominee Mitt Romney, while others found it hilarious and cutting in its unscripted genuineness.
However, whatever the reaction to the speech, one piece of it has endured as a political image – namely, the sight of Mr. Eastwood speaking to an empty chair as though he were interviewing President Barack Obama. This image not only inspired most of the derision by the Left, including the obligatory accusation of racism, but now it has also managed to hijack Twitter on Labor Day, as conservative tweeters have rechristened the beloved union-inspired holiday "Empty Chair Day." And to celebrate, they have tweeted pictures of empty chairs. Without stopping.
Below are the five best pictures of empty chairs posted by these practical jokesters:
#5. President Obama pays a visit
#4. The incredible bowing chair
#3. President Obama on Mount Rushmore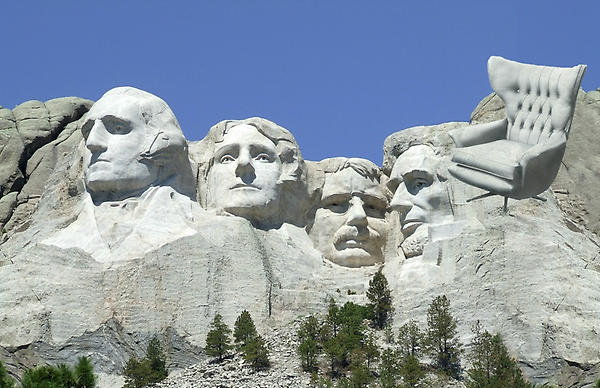 #2. The faded poster meets the empty chair
#1. Karl Marx meets President Obama
Bonus: The empty chair as a poster
See more at Twitchy.