Anger wasn't enough to fuel the hurricane of destruction in Baltimore.
Not anger over the severing of Freddie Gray's spine while he was in police custody. Not anger at the long simmering tensions between Baltimore police and the African-American community. Not anger over Michael Brown, or Eric Garner, or the man in South Carolina who was shot and killed by a police officer while running away.
No matter how hot that anger, no matter how fierce that rage, it produced only speeches, rallies, marches, and protests. Anger alone did not burn a CVS pharmacy to the ground, set cars and houses on fire, or loot liquor stores.
Utter disregard for self-control did.
[sharequote align="center"]Young thugs with neither the ability nor the desire to control anger let loose in destructive glee.[/sharequote]
Young thugs with neither the ability nor the desire to control their anger let loose in destructive glee. Toilet paper, flat screens, and snacks; OxyContin, liquor, and cigarettes; police cars, fire hoses, and reporters.
Self-control is a muscle that takes a lot of practice to use, especially when we're angry. It is a muscle best developed when young; if we've had no reason to practice it, we have no ability to use it. Even if we could, why would we want to? Without any desire to control ourselves, the five-finger discount is so much more fun.
Late Monday night, Baltimore's Police Commissioner beseeched parents, "Take control of your kids." His call to parents presumes they had control of their children in the first place.
The mother seen smacking her son for taking part in the riots had control. Police Commissioner Anthony Batts used her as an example, saying, "I wish I had more parents that took charge of their kids out there tonight."
Unfortunately, as noted by Commissioner Batts, that mother is the exception. Exceptional mothers can teach a young man to submit to authority, but even the most dedicated mother can't do for him what his father can.
At least half of self-control is the desire to submit oneself to a higher authority: God, parents, teachers, law enforcement. A mother has the power to enforce obedience, but she is unable to model masculine self-control. The desire a young man has to emulate his father is the beginning of self-control; the daily dynamic between father and son is its practice.
The statistics on fathers in the inner city suggest that most of the young thugs in Baltimore don't have one. Even if they all have exceptional mothers, it is only fathers who can model for them what a man can achieve through self-mastery.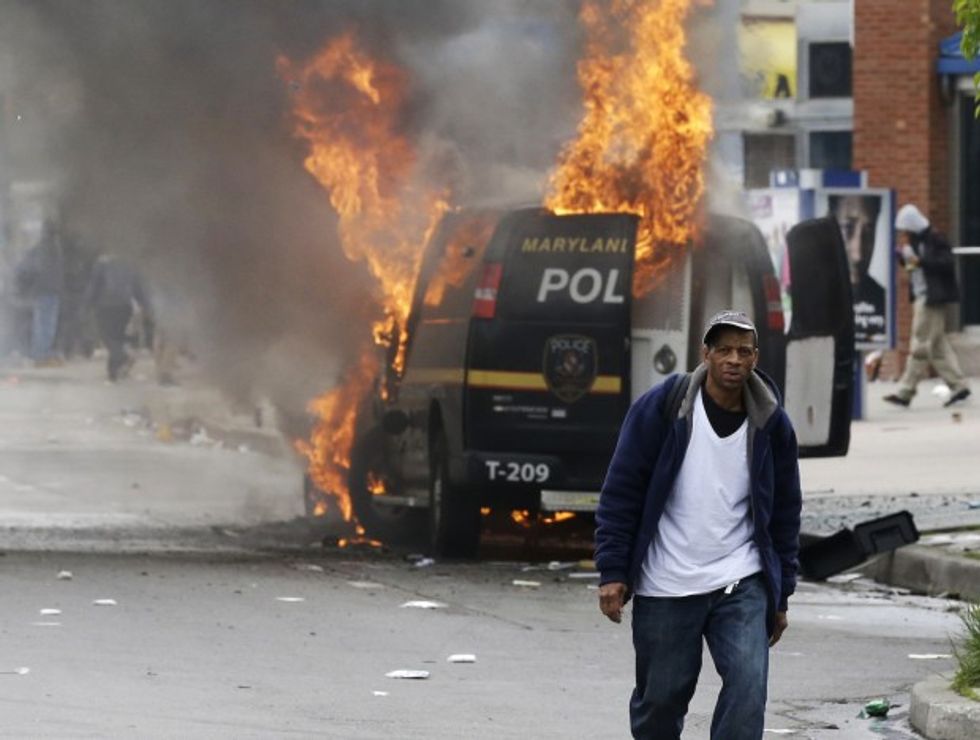 A man walks past a burning police vehicle, Monday, April 27, 2015, during unrest following the funeral of Freddie Gray in Baltimore. (AP Photo/Patrick Semansky)
One of the most powerful examples a father can set for his son is the act of going to work every day, whether or not he likes the job, whether or not he likes the boss. The son sees his father submit to something greater than himself, something more important than his personal likes and dislikes: providing for his family. And the self-esteem the father gains by financially supporting his family is modeled for his son as well, i.e., good things come from self-control.
Without a male example, it's much harder for a young man to see any reason to control himself. And without self-control, law enforcement is experienced as coercive and only coercive, something for him to fight against.
Ben Carson, retired neurosurgeon and potential presidential candidate, recounts a time he was stopped by law enforcement when he had done nothing wrong. He was raised by an exceptional mother, and it was respect for authority, he says, that kept him polite and defused the situation.
Self-control would go a long way toward defusing tensions all over America between law enforcement and the inner city communities they serve. Recent cases of police misconduct are said to expose a pattern that is only being prosecuted now because of video proof.
That may be. What will always be is that good cops get as angry at bad cops as the rest of us. Maybe more so.
For now, national focus is on the bad cops.
Black Lawyers for Justice called for a Shut Em Down rally and march "against the brutality of the Baltimore Police Department." Malik Shabazz, president of Black Lawyers for Justice, told the crowd he would "release them in an hour," urging "Shut it down if you want to! Shut it down!"
The Nation of Islam brokered a deal between the Crips, the Bloods, and another gang to "take out" police officers after Freddie Gray's funeral. Baltimore law enforcement acknowledged the partnership, calling it a credible threat.
With organized threats against them, frenzied mobs around them, and not enough officers to quell the violence, Baltimore police stayed on the job, in the streets, waiting for backup, waiting for the National Guard.
That takes incredible self-control.
Donna Carol Voss is an author, blogger, speaker, and mom. A Berkeley grad, a former pagan, a Mormon on purpose, and an original thinker on 21st century living, her memoir "One of Everything" will be released May 2015. Contact: donna@donnacarolvoss.com
–
TheBlaze contributor channel supports an open discourse on a range of views. The opinions expressed in this channel are solely those of each individual author.