Just like celebrities in the old days of Hollywood, current celebrities love attention. Little if anything has changed from those bygone days because celebrities still need to get noticed in order to stay relevant. In fact, it seems that the more attention, the better.
That is until #DroughtShaming came along.
The paparazzi can be a star's best friend, from snapping pictures of every exclusive event that a superstar attends to the mundane shots of their everyday life. There is often a love hate relationship between the celebrity and the photographer, but more often than not, each knows that they need the mutual relationship to exist.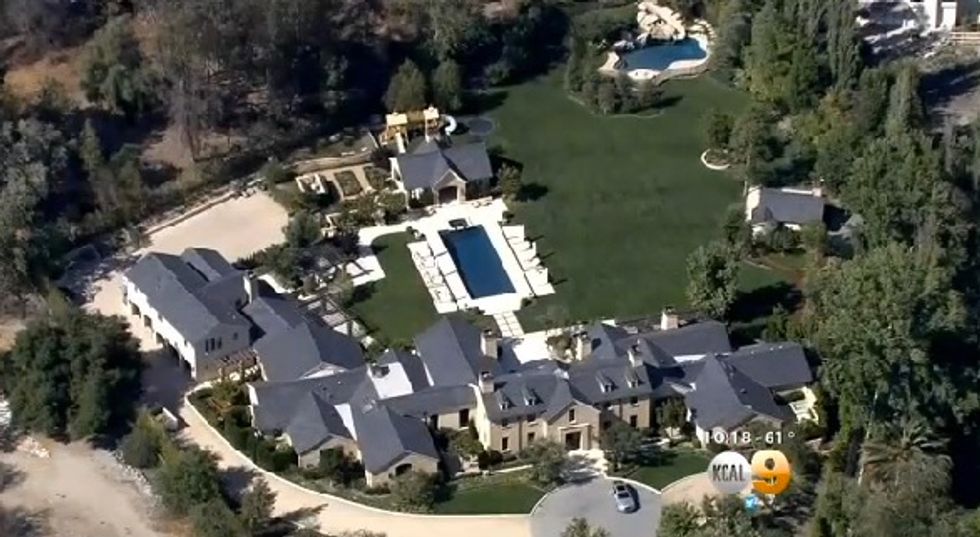 Kim Kardashian and Kayne West's landscape is green compared to the dry land next door. (Image source: KCAL-TV)
Who could ever forget such famous photos as those taken of actress Marilyn Monroe, who sang "Diamonds are a girl's best friend" in the hit movie "Gentleman Prefer Blondes." A photo of Monroe was one of the most coveted gems that a photographer could snag.
Most photos of Monroe fetched top dollar in popular magazines and on television around the world. The more photos the photographer took, the more famous Monroe became and the more notoriety the photographer received.
Back then, photographers often showed only the glamorous side of celebrities while leaving out those pictures that could hurt the image of the superstar in the eyes of the public.
It appears that those days are gone for good, at least in California. No longer are the paparazzi a "girl's best friend."
#DroughtShaming, the latest trend to hit social media with the help of paparazzi, is becoming a PR nightmare for many celebrities in California.
It's no secret that California is under the worst drought that it has seen in over 1,200 years.
Recently, California Gov. Gerald "Jerry" Brown declared a drought in the golden state and ordered a mandatory 25 percent reduction in overall potable urban water use statewide.
Penalties of $500 per day for each violation have now turned into a maximum daily amount of $10,000 for water wasters within the borders of the state.
While many individuals are tapped out on just how much more they can possibly conserve before they have to turn off their water altogether, it is now coming to light that celebrities are among the biggest water wasters within the state and social media is targeting them as such.
In a world where celebrities used to be given a pass, many are fed up with their "do as I say, not as I do" attitude when it comes to them telling others that they must be good environmentalists, while celebrities continue to conduct their lives as they choose.
Photographers are taking to the skies to photograph celebrities' homes in California. Specifically, they are taking pictures of the lawns surrounding the multi-million dollar homes to show the public that stars in Los Angeles and surrounding counties are not conserving water, at least not to the public's satisfaction.
The most recent celebrity to find her home featured on social media is Kim Kardashian, a well-known celebrity on "Keeping Up with the Kardashians" and renowned "selfie" queen.
While it's obvious that Kardashian likes attention, she may not be so pleased with the interest that these latest photographs are garnering.
Actor Sean Penn's majestic green lawn was also prominently featured on Twitter along with a message from @RockPrincess who tweeted:
Nothing is worse than talentless liberal celebrities preaching to the masses but not leading by example. #WakeUpAmerica #DroughtShaming

— RockPrincess (@Rockprincess818) May 11, 2015
Other notable celebrities on the "most wanted list" for continuing to splurge on water while Californians thirst, include Khloe Kardashian, Jennifer Lopez, Barbara Streisand, Hugh Hefner, Cher and Jennifer Simpson, just to name a few.
To the vigilant public, the "grass is greener" on the property of celebrities who seem to be acting above it all by apparently choosing to ignore the governor's directive to conserve water during the drought.
The #DroughtShaming photos have also drawn attention to the disparity in income between celebrities and ordinary Californians, causing a rise in class rivalry.
According to one news outlet, water is tied up with money in California to a point where a person's wealth can essentially be judged by the color of his lawn:
"In Los Angeles, one of the most unequal cities in America, while lawns in poorer parts of town have mostly gone brown--because residents do not want to risk fines, because they do not want to pay higher bills anyway because they may have less immediate incentive to worry about property value –- lawns in hyper-wealthy places like Beverly Hills, Bel Air and Pacific Palisades are still reportedly overwhelmingly green."
Celebrities outside of Los Angeles are also feeling the public's ire when it comes to maintaining beautiful lawns in a drought-ridden state. It appears that some rich celebrities are having their water imported from a location outside of their city simply because they can afford to do so.
It is alleged that Oprah Winfrey, for example, cut water usage from $125,000 per year to about half of that, for her two homes in Montecito, a tiny city southeast of Santa Barbara. However, she continues to enjoy green lawns because she is able to import water from outside of her city, while also using the lake and wells located on her property.
Winfrey is not alone in importing water into Montecito. She is just one among many of the rich and famous residents and businesses allegedly putting money into their lawns rather than toward a loftier public pursuit.
It would appear that those who seemingly have not been in the "same category" as ordinary citizens because of lucrative resources and fame, are now beginning to come under public scrutiny as the severity of the drought worsens in California.
No longer will "diamonds" or even money prevent celebrities from feeling the heat from the public when it comes to water.
The message is clear. Water, a vital resource particularly in a drought-ridden state, could be more appropriately utilized than keeping celebrities' lawns green while the rest of the state struggles to decrease water usage in every facet of their lives so that water can be preserved for all people in California.
Perhaps celebrities should thank their chosen fourth-term Democratic governor in California for their water woes, since he only recently announced that he would support desalination. Desalination could potentially end California's drought forever. Had Brown supported the concept during his first term in office as governor, perhaps the #DroughtShaming concept would never have been needed to call "negative" attention to California's celebrities.
For now, #DroughtShaming is the latest social media movement meant to assure that celebrities will be expected to conserve like everyone else when it comes to using water wisely for the benefit of all people during California's record-breaking drought.
Susan Calloway Knowles is a writer, radio host/producer and author. Her website is SusanKnowles.com. Contact Susan at susan@susanknowles.com or on Twitter @SusanKnowles.
–
TheBlaze contributor channel supports an open discourse on a range of views. The opinions expressed in this channel are solely those of each individual author.