I almost never work in silence. It's rare that I don't have the fuzzy crackle of AM talk radio in the background as I type away. Just like music sometimes just sounds better if it's played off vinyl, sometimes I like my talk radio delivered to me old-school.
Long story short, I recently heard a host read an email from a friend who claimed that it finally dawned on him how he might get millennials how to think twice about progressive public policy.
It boils down to just one word: sustainability.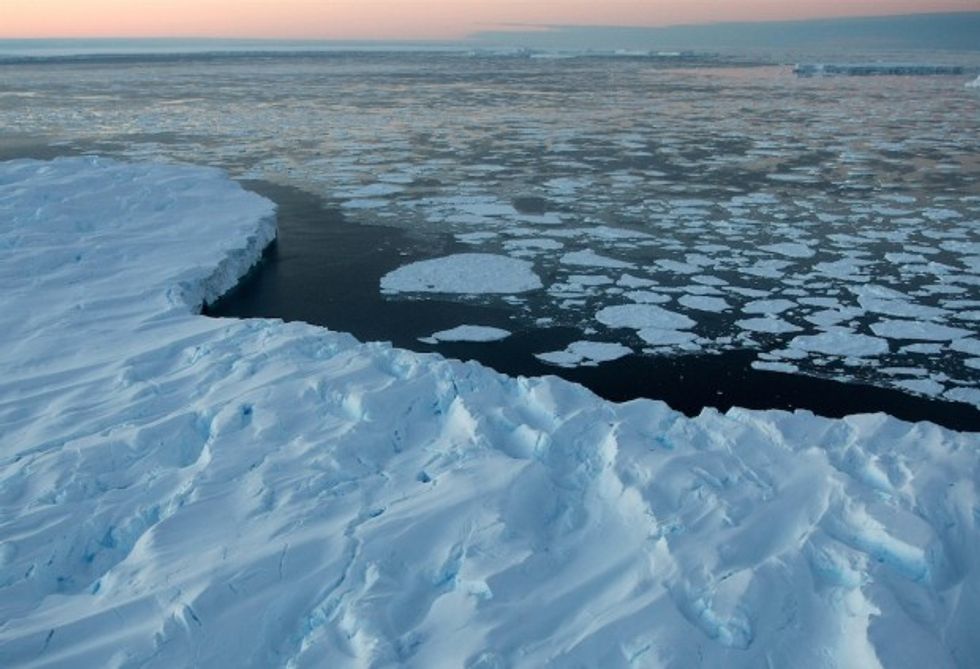 Giant tabular icebergs are surrounded by ice floe drift in Vincennes Bay on January 11, 2008 in the Australian Antarctic Territory. Australia's CSIRO's atmospheric research unit has found the world is warming faster than predicted by the United Nations' top climate change body, with harmful emissions exceeding worst-case estimates. (Photo by Torsten Blackwood - Pool/Getty Images)
From their Play-Doh days to their late nights finishing high school algebra homework, "sustainability" (exclusively as it pertains to the environment) has permeated this generation's education.
Heck, even my infant gets it at daycare.
Long story short, the idea of something being "sustainable" is more than a buzzword for my generation; it's a way of life.
To paraphrase the radio host's friend (who also happens to be the father of a millennial), the idea is that if it's such a part of millennials' mindsets, why can't that concept be applied when talking about other areas of public policy and social change?
I couldn't agree more. I think we can talk about the merits of conservative tenants till we're blue in the face (see, I've tried), but maybe we're missing the mark. Let's get logical about this. I say we take this guy's idea to its logical conclusion.
Fellow Millennials, let's talk sustainability.
Is our national debt sustainable?
Our national debt currently sits at over 19 trillion. (For context, if you asked the fifty richest billionaires in the world to fork over every dime of their worth, that's about ONE trillion. Put another way, one trillion seconds ago would be 29,672 B.C.)
The full value of all goods and services in this country (our Gross Domestic Product) is currently about 18 trillion. So, you could literally confiscate it all, and still not pay off the national debt.
But remember, that's not it. We've also made promises we haven't paid on yet ("unfunded liabilities"). That's another hundred trillion or more. That's also assuming we stop spending more than we take in—something we're currently doing at a rate over about 500 billion dollars a year.
Let's put this into global perspective. The whole entire world's GDP is just under 80 trillion dollars.
So, is our debt sustainable?
Is it sustainable to have the highest corporate income tax among developed nations?
We've established that we've got a lot of debt. We've also established that even if we confiscated 100 percent of the nation's annual value, we still wouldn't pay our current debt (or our unfunded liabilities) down.
And yet we still tax our corporations at nearly 40 percent. Is it any wonder that corporations like Burger King, Medtronic, and Frigidaire among copious other giants have left to escape this uber-burdensome tax rate?
And as companies continue to leave, taking jobs and revenue with them, where are we at on paying down this debt?
So, is our corporate tax rate sustainable?
Is it sustainable for our silver bullet to simply be to have the "rich" pay their "fair share?"
The top one percent pay 45 percent of the taxes. The top five percent pay about 60 percent. The top 20 percent pay 84 percent of the taxes. Already. Like, today.
For the record:
In other words, the "top" income earners in this country are hardly Warren Buffet. And yet they still shoulder the vast majority of the tax burden already.
Let's take it to the extreme.
Even if you taxed all households making more than $150,000 (the top 10 percent, for the record), at one hundred percent, you still couldn't knock off the entire debt.
So, is "taxing the rich" as a go-to solution, sustainable?
Is allowing anyone and everyone to come in to the country (legally or illegally) sustainable?
We've established that our debt is astronomic. We've established we don't have enough wealth in the entire world to pay it off, let alone what's coming. We've established that even imposing slavery (because that's what confiscation of goods and forced labor for no pay is, after all) in this country still wouldn't make a dent.
And yet we're doing precious little about our borders, over which millions pour each year illegally and pile into entitlement programs. That's not to mention the many who come here legally (who, ironically, aren't supposed to take part in entitlement programs as they're going through the process—but that's another story.)
Long story short—and devoid of any emotion—if we can't even pay our own bills, why is it exactly that we can somehow be the world's refuge?
So, is indiscriminate, unchecked immigration (both kinds!) sustainable?
Is addressing the weapon, not the ideology, sustainable?
As I write this article, we've just watched yet another Islamic terrorist attack unfold. This one in Turkey comes on the heels of the Orlando night club attack—after which we spent hours and hours talking about how awful guns are. We even watched as grown men and women—elected officials—sit on the floor of Congress in protest.
And yet few seem interested in talking about why this (and by "this," I don't mean "gun violence," but rather Islamic terror) keeps happening over and over again. No one wants to call it Islamic terror, even though the terrorists themselves shout it from the rooftops. Here's the thing: Has any army, anywhere, in any time period, ever won a war by not calling the enemy by its name? What's amazing is the fact that the terrorists want SO badly for us to call them Islamic terrorists that they're actually telling their minions NOT to go after minorities, because our government will use that as a distraction.
So, is addressing the weapon, not the ideology—sustainable?
Is it sustainable to ignore our Constitution whenever we feel like it?
The Constitution is something that set us apart from every other social experiment ever. It was the first of its kind to carefully and meticulously construct a governing system based on two core things: first, we are born with a right to our lives and our liberty; and second, we human beings can easily be selfish and corruptible. So basically, it enshrines our precious liberties by recognizing the inherent power of mankind to be awful.
In a world of tyranny, bloodshed, despair, and failure—this one made us the single most prosperous, freest country on the planet.
And yet, our leaders today so often look at the Constitution as "living," and moldable to whatever the cause du jour is.
In a world where oppression is the norm, do we really want a government that can do what it wants, when it wants?
So, is it sustainable to cherry-pick our constitutionally guaranteed rights?
There are literally dozens of things we could put to the "sustainability" test. So here's my challenge to you, fellow millennials. Take an issue—any issue from any party—and put it up to the sustainability test. Look at it in the context of what logically holds up in the long run, and I guarantee you won't be sorry.
Who knows—I might even get you to come over to the dark side.
Mary Ramirez is a full-time writer, creator of www.afuturefree.com (a political commentary blog), and contributor to The Chris Salcedo Show (TheBlaze Radio Network, Saturday, from noon to 3 p.m. ET). She can be reached at: afuturefree@aol.com; or on Twitter: @AFutureFree.
–
TheBlaze contributor channel supports an open discourse on a range of views. The opinions expressed in this channel are solely those of each individual author.