They say it'll give you chills.
Usher's recent unorthodox performance of his new song "Chains"—during which he appeared on stage in handcuffs—was meant to shock.
It was supposed to shed light on police brutality, largely against the African American community.
His music video (complete with interactive facial recognition that stops the video when you look away) shows a parade of people who died as a result of police, while the words "we still in chains" plays over and over.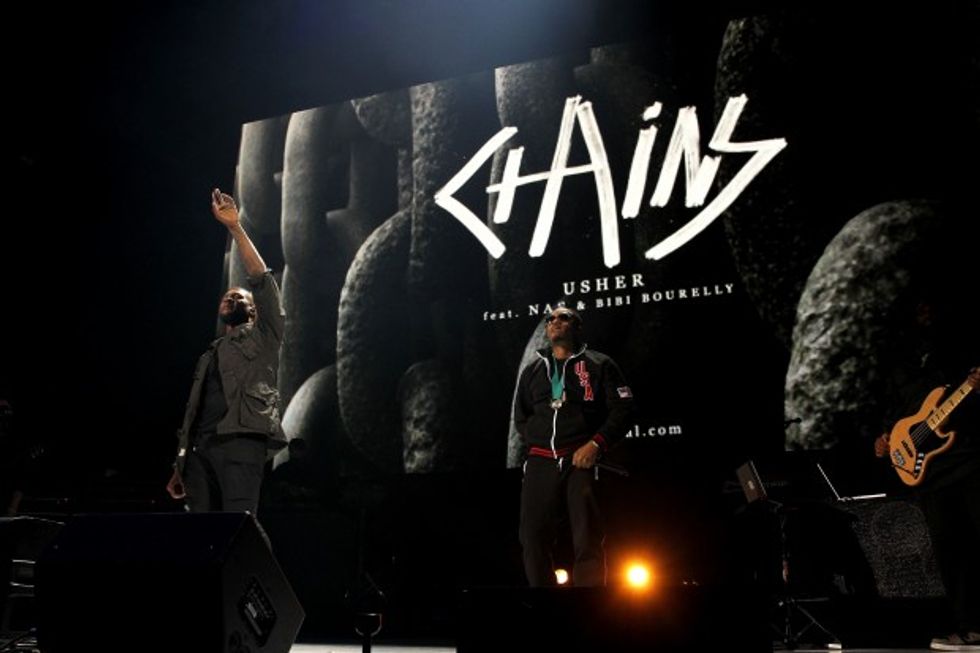 Usher and Nas perform onstage at the Tidal X: 1020 Amplified by HTC concert at the Barclays Center on Tuesday, Oct. 20, 2015 in Brooklyn, New York. (Photo by Mark VonHolden/Invision for HTC/AP Images)
The video challenges you to look in the eyes of each victim, and read their stories (though brief and largely void of detail). It constructs a grim picture—and warns the listeners that "revolution is coming."
It hurts to lose a loved one, especially a child. I have a child, and cannot even tolerate the mere thought of losing her.
I can't even begin to imagine the torturous pain. And I'm certainly not going to pretend that I can.
Each and every life is precious, and each loss of life is tragic.
But let me be blunt:
A death—black or otherwise—at the hands of police does not automatically equal injustice. I know it feels like it should; after all, the police are the ones ostensibly in power.
But, as the saying goes, "you are entitled to your opinion, but you are not entitled to your own facts."
And the facts in this case paint a different picture.
Just the Facts, Please
Claim: Police Shootings of African Americans is Rampant
Partial data from 2015 illustrates that there've actually been twice as many deaths of non-black (White—the largest figure—, Hispanic, Asian and other) individuals than there have been of black individuals this year. As the Washington Post is forced to admit, "the vast majority were armed with weapons that posed a threat to officers."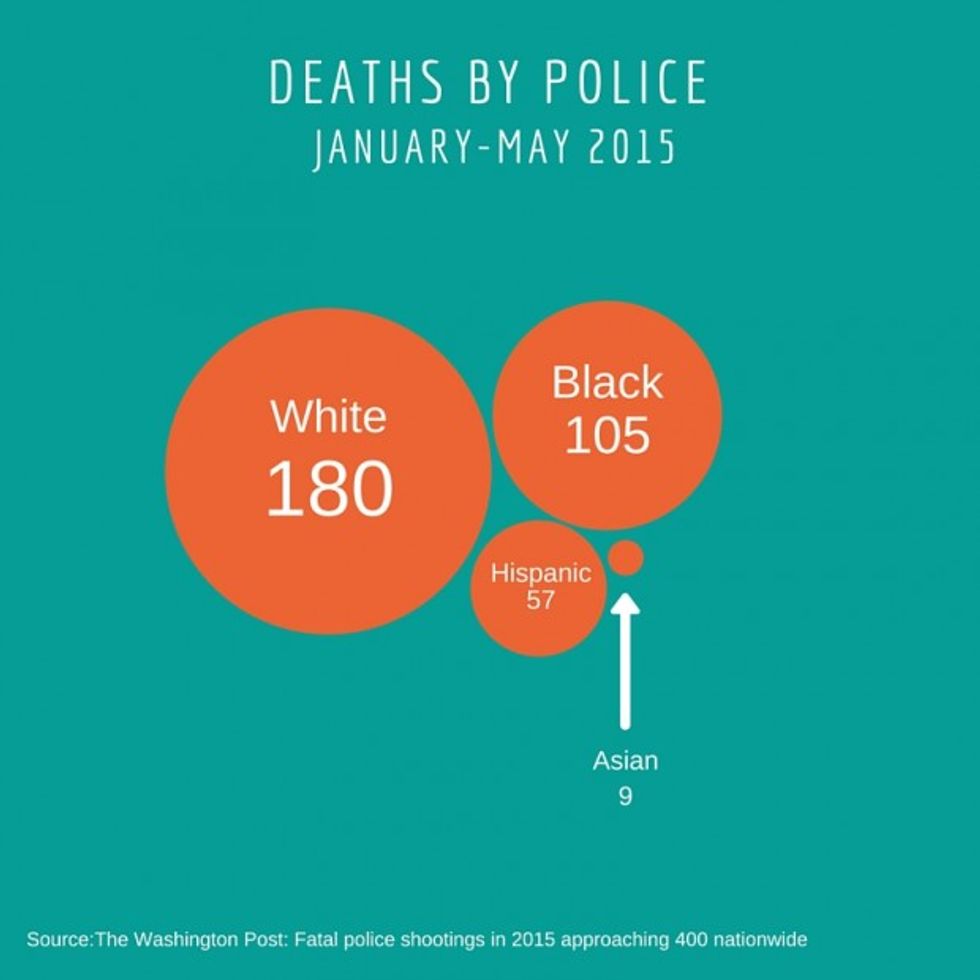 Screengrab of Washington Post chart
(For context, 102 officers of all backgrounds have lost their lives in the line of duty this year. Moreover, in 2014, 90 percent of African Americans murdered died at the hands of other African Americans, while just 8 percent died at the hands of white Americans.)
I realize that African Americans represent just 17.9 percent of the population and yet roughly 43 percent of the deaths by police on this chart are African Americans—and it's this disproportion that leads many to believe it's on purpose.
As uncomfortable as it may be to confront, African Americans are disproportionately committing violent crimes in this country—which means the chances of a confrontation with police run much higher despite comparatively small demographic. The numbers? While they represent just 17.9 percent of the population, they're committing approximately 51 percent of all murders in the country.
I don't say that gleefully. This isn't a "gotcha" moment. It's about plain and simple facts—and they paint a much different story.
Claim: Police Shootings of UNARMED African Americans is Rampant
Using the same partial year data from 2015, of the 105 African Americans killed by police, 32 percent of were "unarmed."
Here's the thing, though. "Unarmed" (regardless of race) does not automatically equal harmless, and it certainly doesn't automatically equal innocent. Remember when 17-year-old Jesse Hernandez "was killed by Denver police officers in January as she and friends allegedly tried to run them down in a stolen car"?
And yet it's used as a preface to virtually every conversation about officer-involved deaths—especially of African Americans.
I referenced this Matt Walsh excerpt last week, and I cannot emphasize this enough:
"No matter how often it happens, it will always boggle my mind that anyone could site these figures about blacks getting shot by cops without even mentioning that a large number of them were engaged in shoot-outs prompted by their decision to commit a crime."
The death of a suspect (armed or otherwise), though tragic, does not preclude the victim from guilt. And it's intellectually dishonest to pretend like it does.
When Perception Becomes Reality
The numbers don't match the narrative, which means reality doesn't match the narrative. Yet perception is everything—especially when it's perpetuated by something SO influential as pop culture.
From actress Sandra Bullock, who's recently made sure her 5-year-old black son understands "the challenges that he might face in his future, both race-related and beyond;" to singer Janelle Monae's protest song "Hell You Talmbout" which "recites the names of unarmed African-Americans killed in recent confrontations with police;" Usher is far from the only celebrity pushing this narrative.
And when we let pop culture shape this reality, we make racism commonplace. In a sense, we really are institutionalizing racism.
Huh?
We're making racism the expectation instead of the exception; the understood platform upon which we all operate.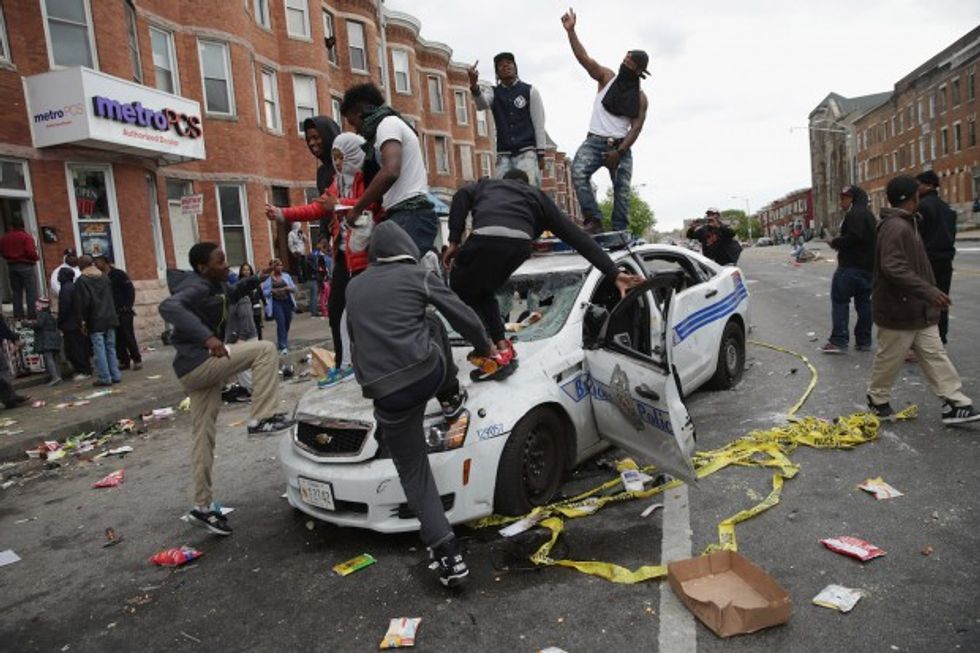 Demonstrators climb on a destroyed Baltimore Police car in the street near the corner of Pennsylvania and North avenues during violent protests following the funeral of Freddie Gray, April 27, 2015. (Image source: Chip Somodevilla/Getty Images)
Instead of realizing that evil exists in each and every heart (thus making it capable of hate) and that it DOES manifest itself from time to time as racism—we make racism the status quo default for every interaction between law enforcement and minorities.
As a result, our children are growing up to fear police instead of look at them as a force largely for good.
Our children are growing up in a world where they'll see everything through the lens of race—and nothing else.
Yes, racism does exist. Crooked cops do exist. People HAVE died as a result.
But manufacturing a narrative that every death at the hands of a cop is proof positive of institutionalized racism is the norm when the facts simply don't back it up doesn't help the cause. It doesn't root out the bad cops. It doesn't foster better relationships and understanding between police and the community. It doesn't change hearts. It doesn't bring young people back to life.
All it does is point anger and frustration at something that can't fix the issue, because it's not the main problem.
And frankly, shame on pop culture for using their immense influence to further a misleading narrative, instead of seeking real solutions.
That said, it's thankfully not every public figure's modus operandi. I'll leave you with the thoughts of NFL player Benjamin Watson following the events in Ferguson:
"I'M INTROSPECTIVE, because sometimes I want to take 'our' side without looking at the facts in situations like these. Sometimes I feel like it's us against them. Sometimes I'm just as prejudiced as people I point fingers at. And that's not right. How can I look at white skin and make assumptions but not want assumptions made about me? That's not right.
I'M ENCOURAGED, because ultimately the problem is not a SKIN problem, it is a SIN problem. SIN is the reason we rebel against authority. SIN is the reason we abuse our authority. SIN is the reason we are racist, prejudiced and lie to cover for our own. SIN is the reason we riot, loot and burn. BUT I'M ENCOURAGED because God has provided a solution for sin through ... his son Jesus and with it, a transformed heart and mind. One that's capable of looking past the outward and seeing what's truly important in every human being. The cure for the Michael Brown, Trayvon Martin, Tamir Rice and Eric Garner tragedies is not education or exposure. It's the Gospel. So, finally, I'M ENCOURAGED because the Gospel gives mankind hope."
You tell me which approach is most productive.
Mary Ramirez is a full-time writer, creator of www.afuturefree.com(a political commentary blog), and contributor to The Chris Salcedo Show (TheBlaze Radio Network, Saturday, from noon to 3 p.m. ET). She can be reached at: afuturefree@aol.com; or on Twitter: @AFutureFree
–
TheBlaze contributor channel supports an open discourse on a range of views. The opinions expressed in this channel are solely those of each individual author.