I've been feeling sorry for President Barack Obama this week. He's just a victim of the vicissitudes of Russian President Vladimir Putin's leadership style.
If Putin had moved into Syria just two years earlier we could have boycotted the Winter Olympics in Sochi and had a perfect melding of the Jimmy Carter and Obama presidencies.
There are just too many comparisons between them to be ignored. Both built their foreign policy on the belief that foreign leader's decisions are driven by the better angels of their nature.
Image source: NBC News via YouTube
Just four months into his presidency, in a commencement speech at Notre Dame, President Carter assured us that "we are now free of that inordinate fear of communism."
While the peace of Jimmy Carter's dreams was raining gently down upon the planet the Soviets moved troops and tanks into Afghanistan.
In November 1979 Carter's feckless foreign policy enticed a group of Iranian students to storm our embassy and capture 66 Americans. Women and black hostages were released leaving 52 men who were held for 444 days.
By 1980 Carter's military cuts had left one-third of our planes stranded for lack of spare parts, one-third of our ships in dry dock and our soldiers were practicing with pretend bullets.
In April 1980 President Carter ordered an unequipped military force to rescue the hostages. Three of the helicopters had mechanical problems and couldn't fly. The mission had to be cancelled at the staging area in western Iran and a retreating helicopter crashed into a C-130 cargo plane killing eight and injuring 5.
Ronald Reagan ran for president in 1980 promising that our military would again be a force second to none.
At the moment he was being sworn into office on Jan. 20, 1981 the Iranian government released the hostages.
Two months into his presidency President Obama gave a plastic "reset" button to Russian Foreign Minister Sergei Labrov in the fond hope that it would capture the imagination of the Russians and they would lie down with us as lambs.
The Obama administration is now in the process of reducing our army to pre-World War II levels. We have fewer navy ships than we had in 1916.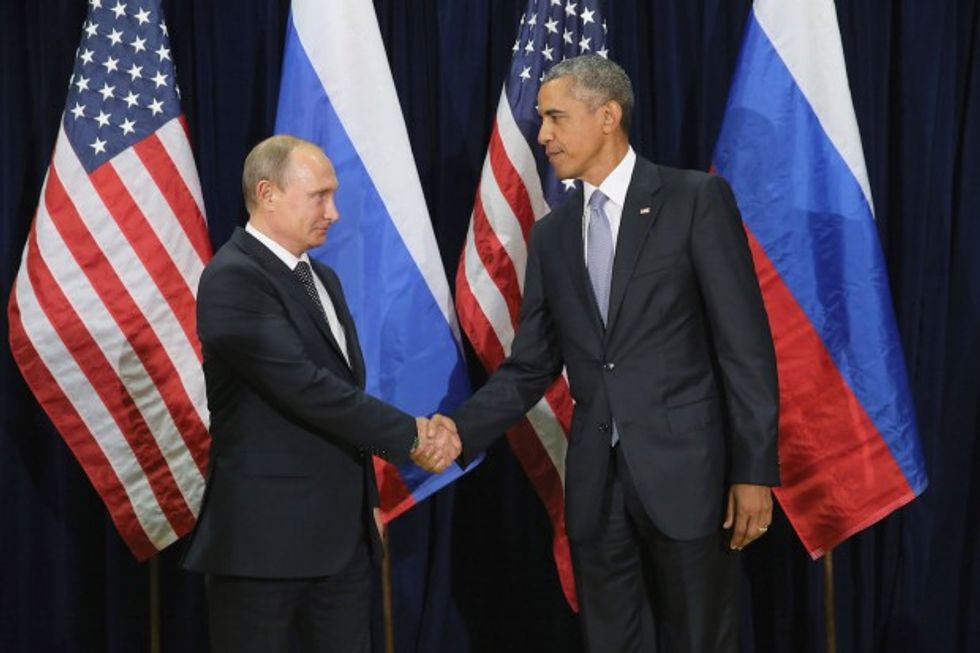 Photo by Chip Somodevilla/Getty Images
This past week at the United Nations, President Obama celebrated our successful negotiations with some of the same people who captured our hostages in 1979 and are now Iran's leaders.
Mr. Obama went on to assure the U.N. that the United States "is prepared to work with any nation, including Russia and Iran, to resolve the conflict" in Syria.
President Putin wasn't looking to partner with anyone. He was busy moving warships and fighter jets into newly constructed Russian military facilities in Syria.
As Secretary of State John Kerry was sitting back to enjoy a Courvoisier and a Cohiba in contemplation of his imminent Nobel Peace Prize for his success with Iran a Russian general strode into the United States Embassy in Baghdad to deliver an important message.
In a heated discussion, U.S. officials were told that Russia would begin bombing in one hour and that the United States was to vacate Syria and clear the skies.
Hope in Russia's willingness to fight the Islamic State in Syria soured quickly when we discovered that Russia wasn't bombing Islamic State territory, but territory held by Syrian rebels whom the CIA is arming to fight against the brutal rule of Bashar al-Assad.
Imagine our further surprise when we discovered that some of the jets moved into Syria by Russia were for air-to-air combat. Since neither the Islamic State nor the Free Syrian Army has airplanes, just whose planes might they be expecting to engage? America's? Israel's?
As President Obama was freeing up $150 billion of Iran's frozen assets Gen. Qasssem Suleimani, the leader of Iran's elite Quds Force which has killed thousands of Americans in Iraq, ignored a U.N. travel ban and met twice in Moscow to discuss Syria with President Putin.
Two weeks after their second meeting Russian bombs began to drop on our allies in Syria.
Ronald Reagan was fond of saying, "Of the four wars that happened in my lifetime, none occurred because America was too strong."
Russia would not be in Syria today if President Reagan were in office. Or George W. Bush. Depending on whom we swear into office on Jan. 20, 2017, Mr. Putin will decide whether he goes home or if he just strolls across the Golan Heights into Israel dragging the Islamic State behind him.
Do you suppose that Barack and Michelle Obama will join Jimmy and Rosalynn Carter building Habitat for Humanity houses in the new caliphate?
–
TheBlaze contributor channel supports an open discourse on a range of views. The opinions expressed in this channel are solely those of each individual author.