I turn the channel because I can't bear to watch commercials for abused dogs in their sad cages, some still hopefully if not energetically wagging a tail.
I once stood up to an entire playground of kindergarteners (I was four) when they were bullying a boy from my street. As I recall, I told them to leave him alone because his parents were divorced and a lot of other personal things I should never have known, let alone broadcast. But the kids left him alone after that.
I have a heart. I have a strong desire for fairness and justice.
What I don't have is patience for stupidity masquerading as heart. Wealth redistribution is stupid.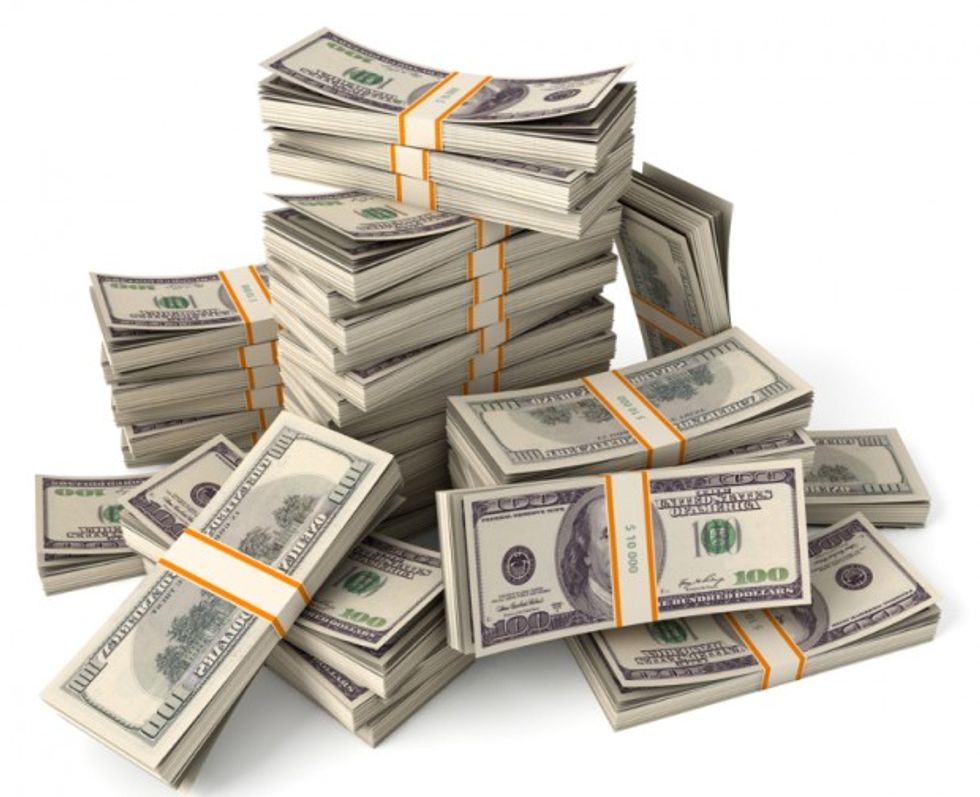 Photo credit: Shutterstock.com
First off, there is no such thing as redistribution. Think back on high school science and the ever-useful bell curve. Every single human characteristic—intelligence, physical strength, metabolism, looks, drive, courage, risk tolerance—is distributed across the human population in varying degrees.
At the tail ends of the intelligence bell curve, for instance, you have the very, very smart and the very, very dumb. As you approach the middle—the top of the bell—you find the greatest number of people (average IQ = 100).
Wealth is the result of a multitude of factors, most of which are innate human characteristics, two of which are luck and timing.
I don't deny that privilege, race, class, and education are also factors, but they are lesser influences to the degree that they can be overcome (think Ben Carson, Barack Obama, Sonia Sotomayor). It is next to impossible to overcome the limits of drive, ambition, self-discipline, and work ethic.
Knowing that wealth inequality is catnip to Democrats, Bernie Sanders makes it the red meat of his stump speech.
"Our economic goals have to be redistributing a significant amount of [wealth] back from the top 1 percent," said Mr. Sanders in July, which mission he intends to accomplish by "a progressive estate tax on multi-millionaires and billionaires," also known as a wealth tax.
To clarify the stupidity, we'll temporarily suspend the real-world consequences of wealth redistribution. In our theoretical model, devoid of real-world limitations, the wealthy continue to work just as hard and produce just as much no matter how little of their wealth they are allowed to keep.
All the wealth so generated is then distributed to the poor by the welfare state. And as Thomas Sowell argues in "Wealth, Poverty, and Politics," the welfare state, by encouraging more people to live without working—without earning income—makes income disparities worse.
Passing money around is a social policy; it makes no allowance for innate human strengths and weaknesses. Social policy has its place, but in a head-to-head with biology, it's going down.
Let's use weight redistribution as an analogy. There are way too many people burdened by cellulite while others look like mannequins and supermodels. It's not fair. We need to redistribute weight so that everyone's thighs look the same in a bathing suit. Every guy deserves six-pack abs.
Abracadabra—poof!—we're all a size 8. Or a six-pack. Time to live happily ever after? Only until the next fork in the self-discipline road where some of us choose the gym and some of us choose Krispy Kreme. The weight result that we manipulated—with the best of intentions—is not self-sustaining. The underlying factors—metabolism, self-discipline, focus, commitment, heredity—are unaltered.
Given enough time, the underlying reasons for weight gain will again work their magic to distribute us all along a bell curve. At the tail ends will be the very, very skinny and the very, very obese. The rest of us will fall somewhere in between; most of us will fall right in the middle.
Down the Krispy Kreme path, some of us will have higher metabolisms and therefore more freedom to indulge. (Did you know that when the "hot light" is on, it means the donuts are warm?)
Down the gym path, some of us will have quicker results and therefore more motivation to continue. (Did you know that nothing tastes as good as thin feels?)
In the following quote from a recent Wall Street Journal opinion piece, I've taken the liberty of replacing the word "wealth" with the word "fat."
"One common assumption is that proportionate or random levels of [fat] are the natural order of things and that some people [fatter] than others is evidence of something wrong. In fact, huge disparities are the norm, not the exception, because the genetic, cultural, and demographic factors that influence the development of [fat] tend to be unequal."
We could no more redistribute wealth than we could fat and cellulite. No matter how many times we leveled everyone's piggy banks, cream would rise to the top. Inherently smart, ambitious, self-disciplined, and hard-working people will always have the advantage in both health and wealth.
There is no such thing as redistribution of inherent traits. There is only making the most of what you have with both eyes open and trained on the right goal.
The goal isn't for each of us to have the same number of summer homes in Martha's Vineyard. The goal is for each of us to maximize the talents and opportunities we are lucky enough to be given. We all agree to a safety net below which none of us can drop.
We can't truly redistribute wealth, but we can identify traits and behaviors likely to produce more of it, and those likely to produce less. We can orient our values away from the Kardashians and lifestyles of the rich and famous.
If we absolutely must compare ourselves with others, let's compare ourselves to those whose poverty (e.g., India, North Korea, the Dominican Republic) makes us all look like kings. It's enough already.
Donna Carol Voss is an author, blogger, speaker, and mom. A Berkeley grad, a former atheist then pagan, she is now a Mormon on purpose and an original thinker on 21st century living, especially 21st century women. Her memoir, "One of Everything," traces the path through one of everything she took to get here. www.donnacarolvoss.com
–
TheBlaze contributor channel supports an open discourse on a range of views. The opinions expressed in this channel are solely those of each individual author.