We've all had that moment where the Spam filter doesn't work and some offensive, irrelevant or shocking email manages to make its way into our inbox. In the case of one state worker from California, forwarding an email like that to a friend out of disgust has cost him his job.
Background: In November of last year, Police Officer Jim Capoot of Vallejo, California, was shot and killed trying to stop a bank robbery. At the time, ABC News 10 did this report on the incident:
Well, evidently at least one state worker didn't feel badly that a defender of their community had been killed. In fact, based on the email that state worker Steve Johanson received from a colleague, they appear to have thought it was a good thing. The email contained a disgusting image (reproduced below) which evinced utter lack of respect not just for Capoot's memory, but for a certain other person who died under tragic circumstances: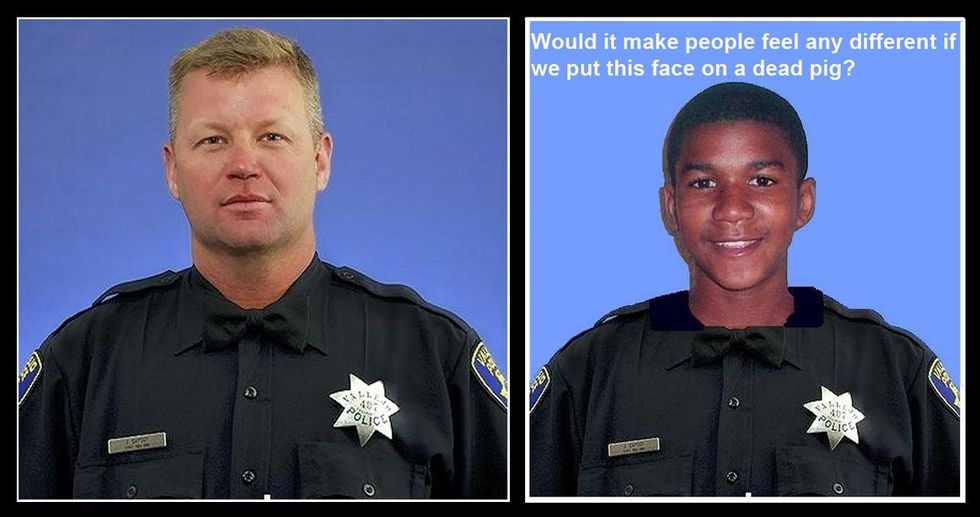 Disgusted, Johanson forwarded the email to a friend, who reposted it on his blog with an appropriately disgusted reaction. The state's reaction, however, will make you disgusted. From CBS 13 Sacramento:
Johanson knew Capoot well. He couldn't believe a colleague at work would ever send this to him.

"The person who sent it to me knew I knew Jim and worked with Jim. It was not a big secret what my former job was," he said.

This former cop forwarded the email to another ex-cop friend who posted it in disgust on his blog. Then, the state suspended Steve and fired him Thursday for improper use of work email.

It's a decision he's fighting and may sue over.

He lost his friend, and now his job. But he's gaining support from strangers as his story and the picture spread on the Internet.
CBS 13 Sacramento also put out this video report, which is worth watching for its summary of the story:
UPDATE: Steve Johanson himself has contacted the Blaze to provide information regarding his situation. We have copied the most comprehensive explanation below:
The altered photo emerged shortly after the racially charged Martin case came to light in the national media, and was captioned, "Would it make people feel any different if we put this face on a dead pig?"

On the receiving end of the email was Capoot's former law enforcement colleague, California Employment Department employee Steve Johanson. Johanson, who is white, said the offending email was sent to him by a black coworker on a state-owned computer.

Expressing grief and anger, Johanson shared the email with an associate who runs a pro-law enforcement website called "Big City Cops," which posted the image on its Facebook page. Johanson said he was seeking advice on how to respond to the email, and it wasn't his intention for the image to be posted. Facebook has since removed the controversial photo, deeming that it violated the social media website's content policies.
To be fair, this latter point implies that the employee involved was not punished, when he was. The employee, whose name has been listed by two Facebook postings, was (as indicated above) suspended. Some reports claim that the employee in question had a history of sending around racially inflammatory images to his white coworkers. The Blaze has yet to discover news reports corroborating this account, though if it is true, then it makes Mr. Johanson's case doubly problematic. Again, from Mr. Johanson's link:
EDD spokesman Patrick Joyce also declined to comment on the case, citing personnel confidentiality rules. However, a source familiar with the investigation said the employee who originally sent the email to Johanson and two other employees has been placed on suspension.
Yet the reasoning behind Mr. Johanson's firing is, as readers will see, still highly troubling:
Garcia said Johanson told him last week that he was being terminated because he violated the state's email policy by sending Garcia the image.

"I believe his only mistake was not going to management in the first place," Garcia said. "But he was afraid of retaliation. I don't think he thought the initial reaction would get the attention it got."
It seems to us that blowing the whistle on a colleague who may have had a history of sending this sort of information around should be rewarded, since that sort of history should never have been allowed to accumulate in the first place.