If you drive a Chrysler, Dodge or Jeep, there are several recalls affecting some of the models that you might need to watch out for.
Fiat Chrysler Automobiles announced its latest of three recalls Sunday affecting about 2,211 cars with its Hellcats engine, including the 2015 Dodge Challenger SRT coupe and Dodge Charger SRT sedan. The voluntary recall will replace fuel-delivery components, which the company said in a news release could leak.
Just a few days earlier, the car manufacturer announced an even larger recall of more than 467,000 SUVs that would need a new relay circuit. An investigation into the issue found that the fuel-pump relays were "susceptible to deformation," which could lead the engine to stall or even prevent the vehicle from starting. Vehicles included in this recall were the 2012 and 2013 Dodge Durango and 2011 Jeep Grand Cherokee.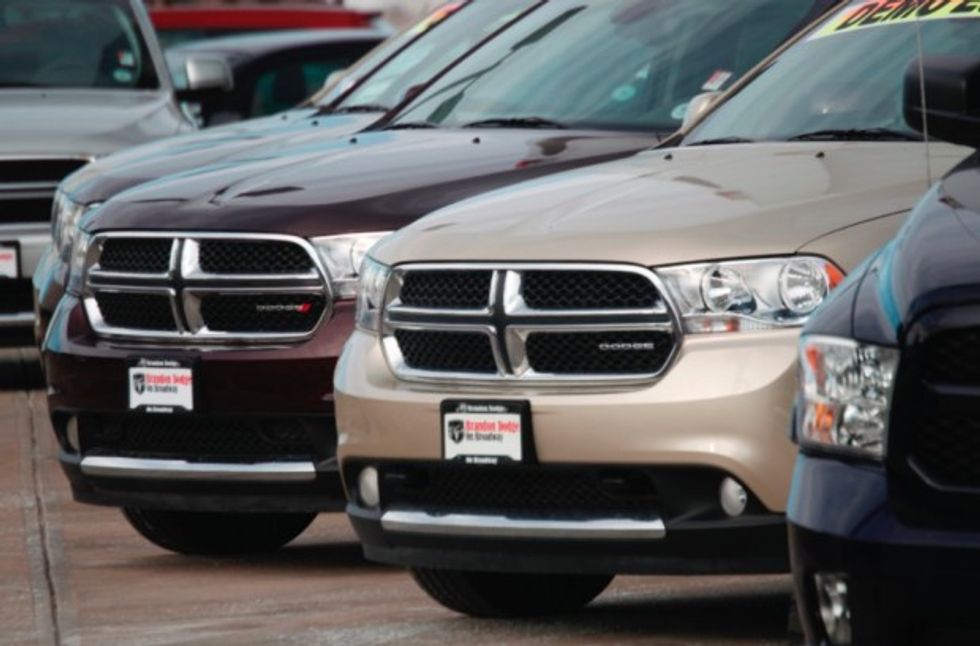 In this Sunday, Jan. 20, 2013, file photo, a line of unsold 2012 Durango sports-utility vehicles sits at a Dodge dealership in Littleton, Colo. Fiat Chrysler is adding more than 467,000 Dodge and Jeep SUVs worldwide to a 2014 recall to fix a potential stalling problem. The company says it's adding 2012 and 2013 Dodge Durangos and 2011 Jeep Grand Cherokees outside North America to a recall from September of last year. The Jeeps have diesel engines. (AP/David Zalubowski)
It's the same problem that caused the recall of 189,000 other SUVs in September of last year, bringing the total to more than 656,000. A safety advocate said the recall should be expanded even further though, contending that problems affect up to 5 million Fiat Chrysler vehicles with similar parts.
On Thursday last week Chrysler described yet another issue, this time affecting some 2015 cars that might not be put into park.
"Inconsistent assembly procedures at a supplier's plant have been linked to five reports involving customers who could not shift their vehicles into park. Without park, a vehicle may be subject to inadvertent movement," the news release from the company stated, suggesting the 26,000 or so customers with a V-6 Chrysler 200 use their parking break until they are able to get the issue fixed.
Chrysler says it has five customer complaints about the problem, but it knows of no crashes or injuries.
(H/T: SlashGear)
—
The Associated Press contributed to this report.