On Nov. 4, 2009, Patrick Zeigler's life was on the upswing.
The 28-year-old Army staff sergeant was newly engaged and back on U.S. soil after his second tour in Iraq.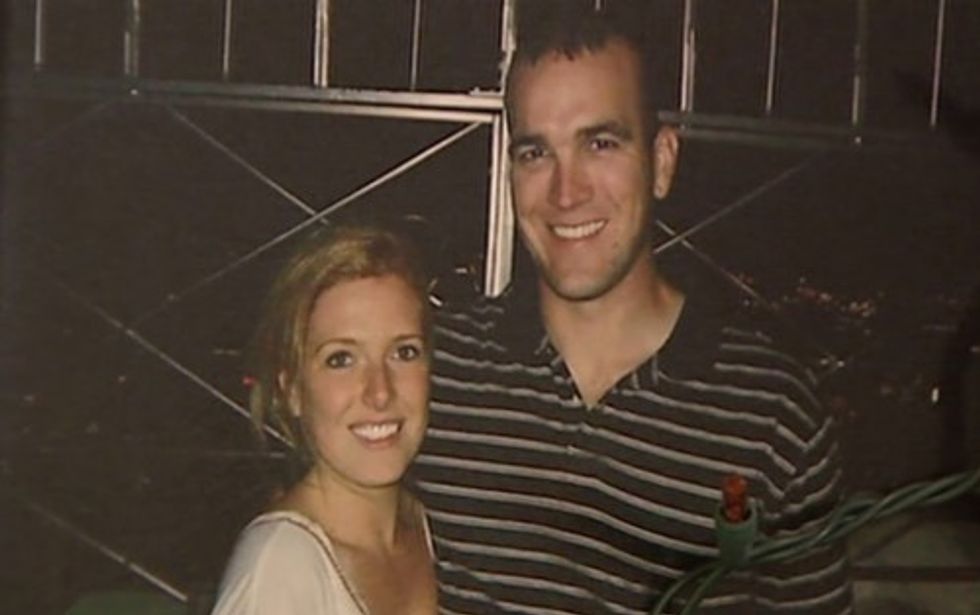 Image source: Outdoor Channel
A day later at Fort Hood, everything changed.
Zeigler was looking right at the gunman, a fellow soldier.
"I saw a red laser pointed in my direction," he recalled to Outdoor Channel, knowing full well that that meant the gunman — who would take 13 lives that day and injure dozens more — had him in his sights.
The first bullet struck Zeigler in the side of his head. It felt "like a metal baseball bat" had just slammed into his skull, he said.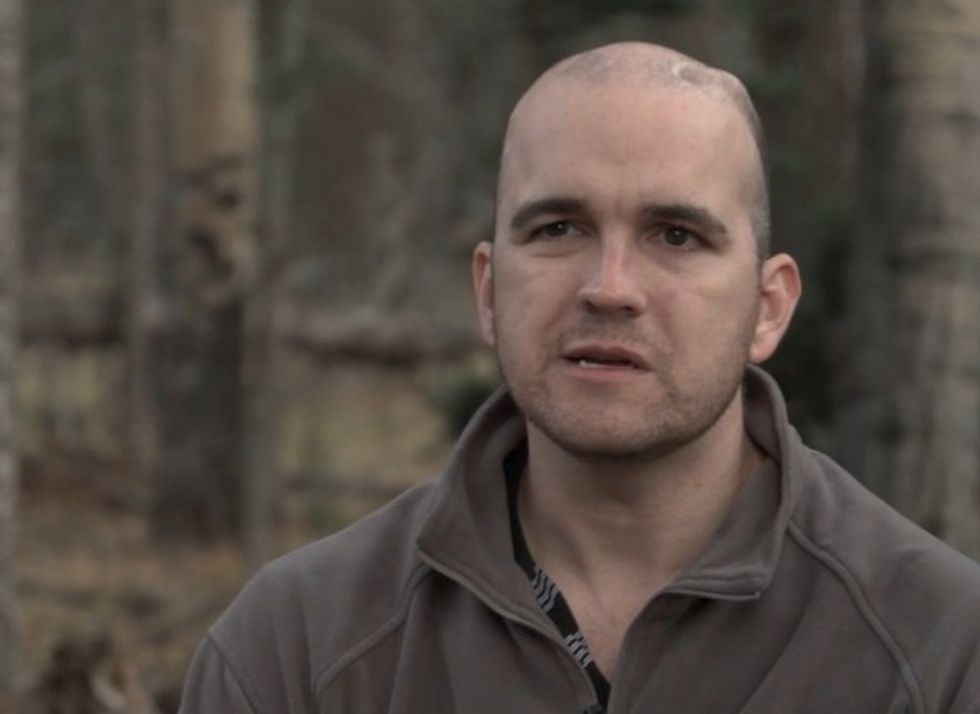 Image source: Outdoor Channel
Trying to stay focused, his adrenaline pumping furiously, Zeigler started crawling and "hauling butt" attempting to get away.
He doesn't remember the three other bullets that hit him.
While Zeigler survived the terror attack at Fort Hood, the prognosis was grim for a guy infused with a constant sense of adventure and his whole life — a life that could have been — still in front of him.
Doctors said he could lose movement in one arm.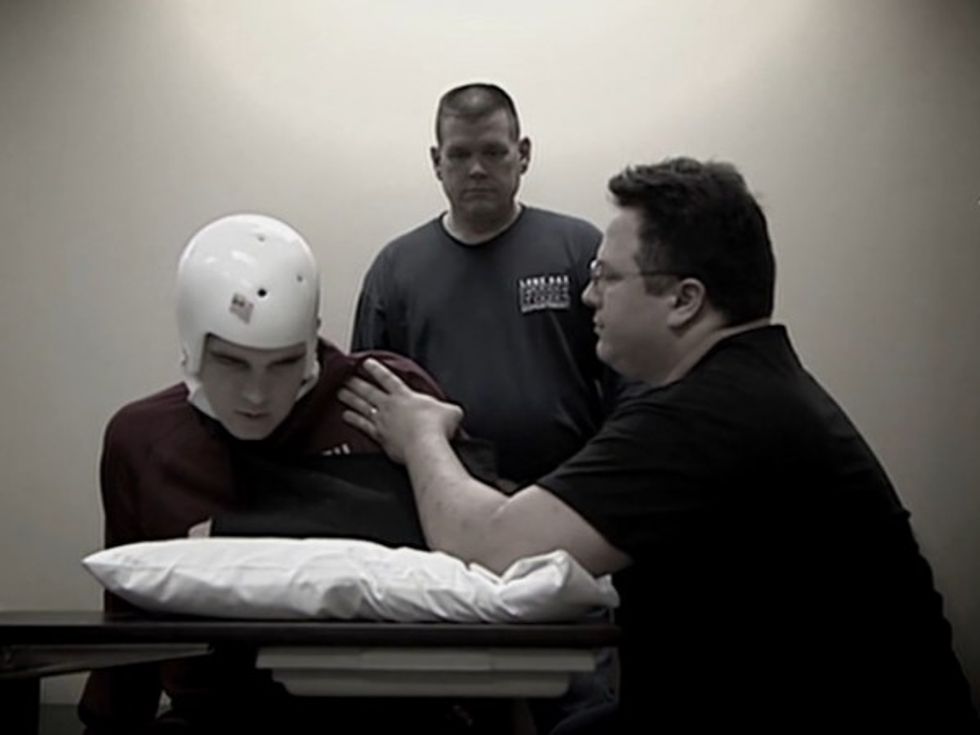 Image source: Outdoor Channel
Even worse, he might never walk again.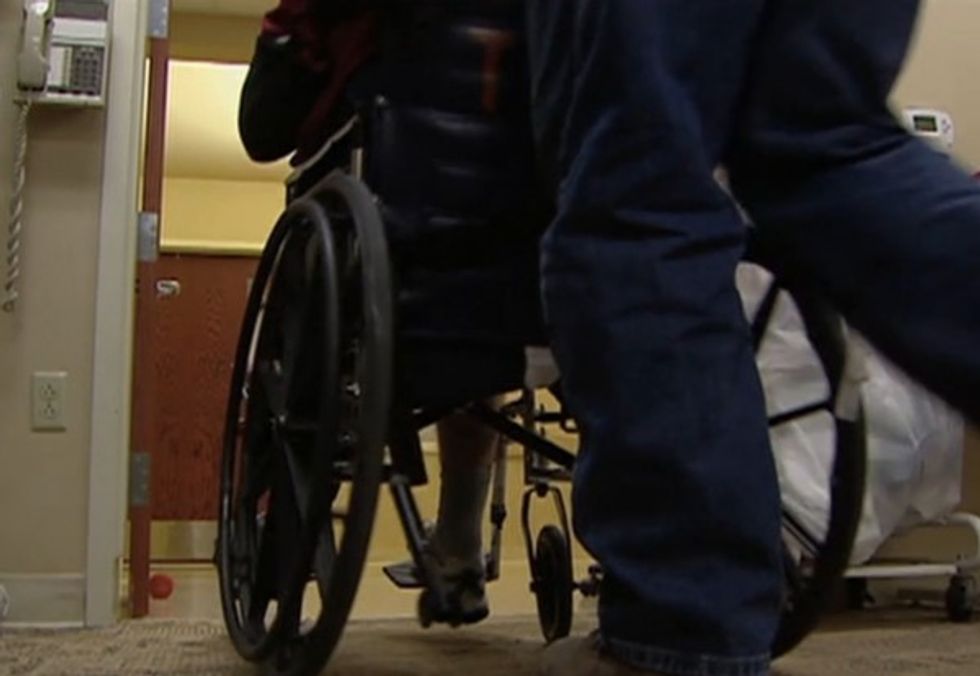 Image source: Outdoor Channel
As Zeigler began what would become years of rehabilitation, including stints at the Mayo Clinic and Walter Reed, he began thinking about what his life would be going forward — even allowing himself to consider goals and dreams.
One of the things on his bucket list was embarking on an elk hunt — something he'd tossed around in his mind when he began hunting deer before joining the Army, but had never attempted.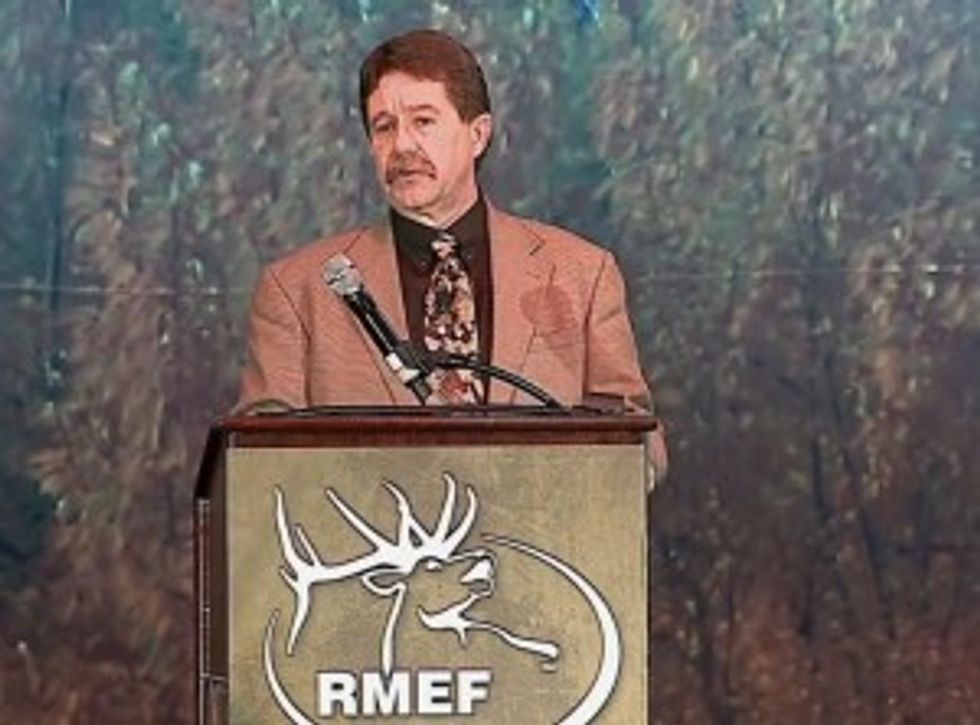 David Allen (Image source: Outdoor Channel)
When word of Zeigler's elk-hunting dream got to David Allen, president and CEO of the Rocky Mountain Elk Foundation, he sprang into action.
"We have to go all-in here and absolutely make that available to him," Allen told TheBlaze regarding his first thoughts about Zeigler's aspirations.
Of course, the veteran had to feel up to the task, and he was only in the beginning stages of rehab when he and Allen connected. There was a long, painful and often frustrating road ahead.
Zeigler admitted at times he would get "pretty depressed" during those first two years after the massacre.
"God kept me around because he has something in mind," he recalled.
And while the promise of an elk hunt was a welcome gesture that Zeigler hadn't expected, nothing could prepare him for what came after that.
You see, Allen contacted fellow members of the RMEF about Zeigler's ordeal — all 210,000 of them.
Soon cards and emails and encouraging messages flooded Zeigler's room.
"It really lifted my morale, my spirits," he said.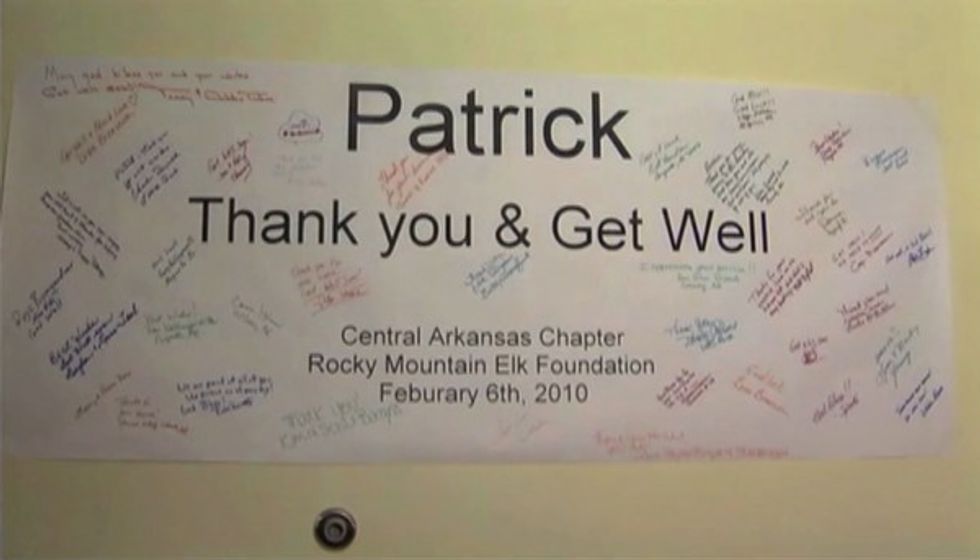 Image source: Outdoor Channel
Zeigler's now wife, Jessica, got the same boost from members of the elk foundation. While "you feel alone throughout times like this," she said the support of so many people encouraged both of them.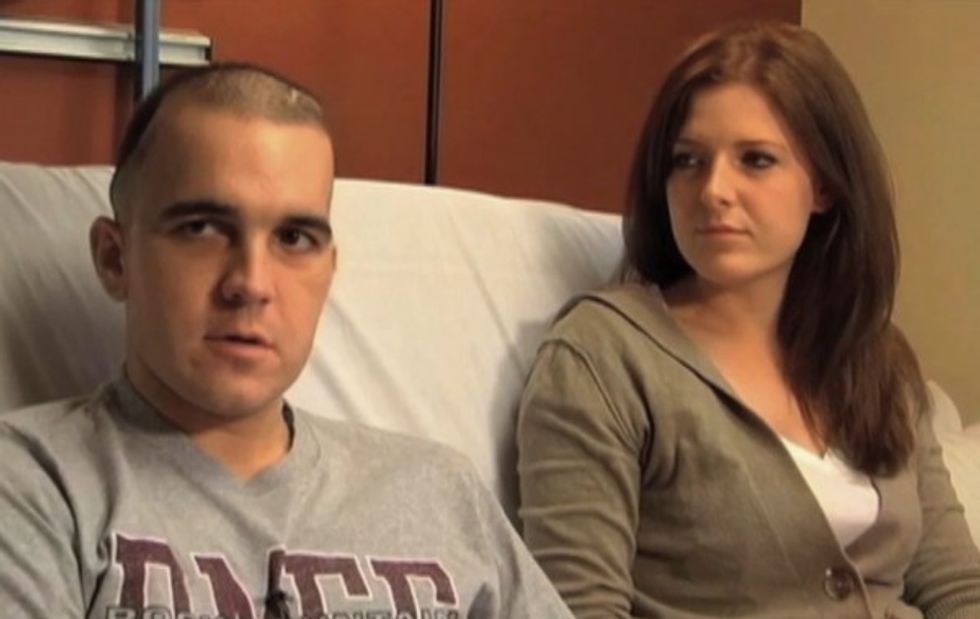 Image source: Outdoor Channel
In fact, Allen told TheBlaze that one member from Helena, Montana, got in his truck two days before Christmas and drove all the way to down to Texas to personally drop off gifts to Zeigler at the hospital.
It was an "outpouring," Allen said.
"They adopted me as one of their own," Zeigler said. "Somebody who aspired to be a hunter but obviously needed some help to get there."
So with a set of goals in mind and a big elk hunt looming in the future, Zeigler got to work.
[sharequote align="center"]"They adopted me as one of their own."[/sharequote]
Allen was an eyewitness to the remarkable progress made by Zeigler, who began his post-attack life in a hospital bed, then in a wheelchair. Despite doctors' predictions that he might never walk again, Zeigler soon tossed away the wheelchair in favor of a walker, and then a cane.
"I could tell in his voice when I talked to him how excited he was getting," Allen told TheBlaze, adding that Zeigler approached his predicament in "true soldier fashion."
"His attitude was, 'We'll see. Don't tell me I can't because I just might,'" Allen added. "He's a very strong young man."
Soon Zeigler didn't need his cane anymore — he was on his feet with no artificial assistance.
"I'm able to walk and talk," he said, adding it's "about the most you can ask for after you get a bullet in the head."
Well, almost.
By the time 2013 rolled around, Allen told TheBlaze that Zeigler got in touch with him and said he was ready for his elk hunt. Allen, who promised the vet his offer was valid "forever," made good on it — and Zeigler embarked on his adventure in the wilds of the Express UU Bar Ranch in northeastern New Mexico in October 2014.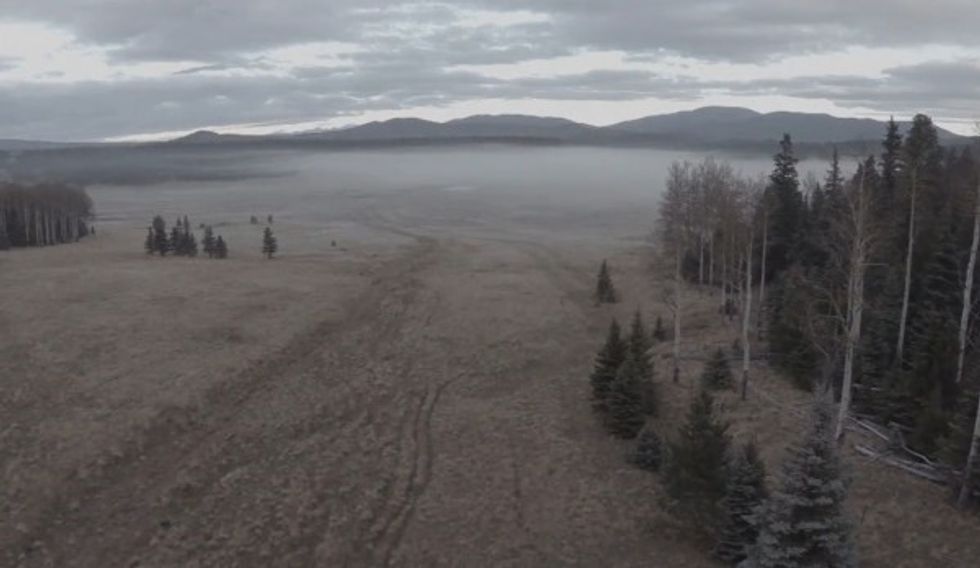 Image source: Outdoor Channel
The event — as well as much surrounding Zeigler's life and long road back — was captured in "RMEF Team Elk," which premieres Thursday night on Outdoor Channel.
Having seen Zeigler hitting the trails gave Allen a great sense of satisfaction. "We can't do enough for these vets," he said. "An elk hunt was the least we could do."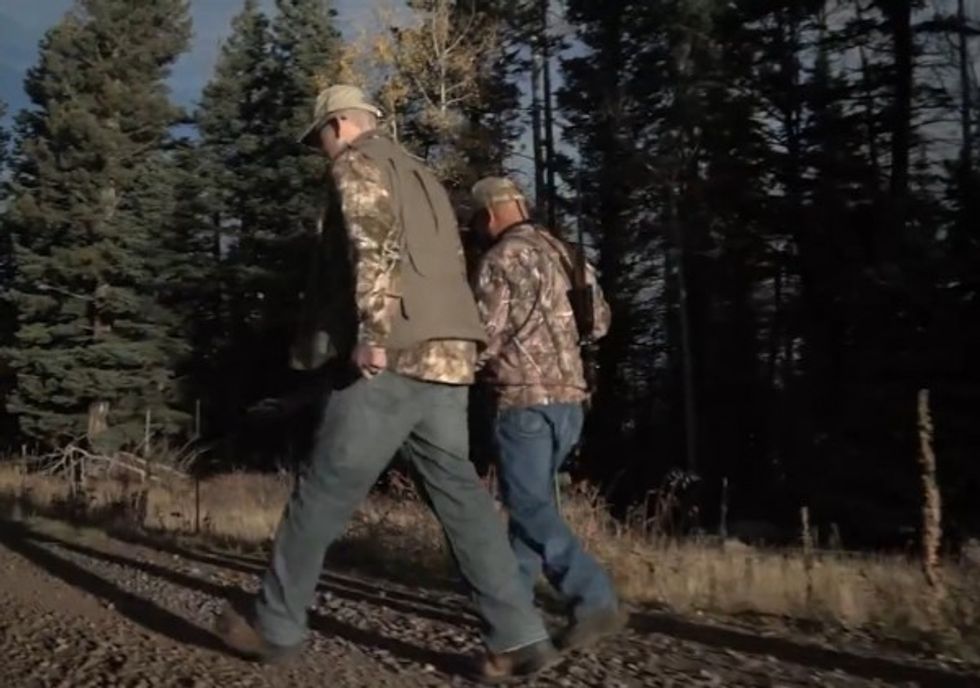 Image source: Outdoor Channel
On the hunt, Zeigler reflected on where he was at this long-awaited moment compared with where he'd been.
"I'm not a hospital patient. I'm not a Fort Hood victim. I'm not a disabled veteran out here," he said. "I'm just a normal guy who wants to get outdoors and go hunting with his family."
On an even deeper level, Zeigler said the elk hunt restored his sense of adventure. "It makes me forget about all the negative stuff," he said.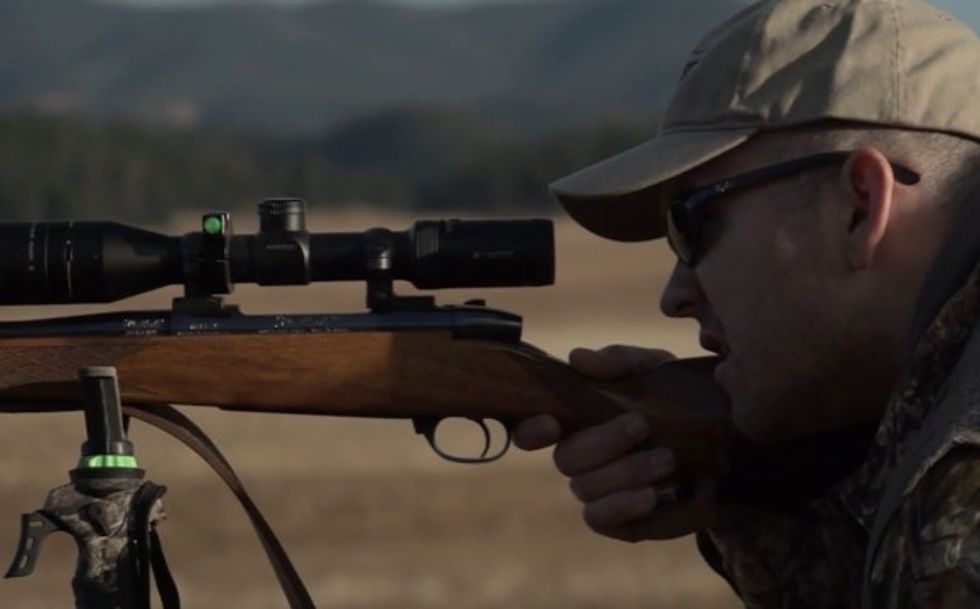 Image source: Outdoor Channel
While Zeigler had the time of his life on the elk hunt, he'll never quite be out of the woods in another respect.
Even though he can walk and talk, Zeigler likely is at risk for the rest of his life due to seizures that stem from his Fort Hood injuries.
He had a terrible fall after a seizure in 2012 at an elk foundation convention. Allen said he stayed up all night with Jessica as doctors operated on Zeigler, who had a shunt in his head at the time.
"It pointed out what the challenges are with these vets," Allen said, adding he's in awe of their mental and physical resolve. "It just never goes away for them."
[sharequote align="center"]"I can't imagine what they go through."[/sharequote]
In fact, Zeigler was unavailable to talk for this story because he'd recently taken another fall after a seizure. Although the mishap was less severe than the scary turn of events in 2012, he was staying at the Mayo Clinic as a precaution.
Allen told TheBlaze he received a message from Jessica on Wednesday that Zeigler is "still pretty groggy" and "in a fair amount of pain" but should be better very soon.
"Their lives are like this every day," Allen said. "I can't imagine what they go through."
Zeigler, however, doesn't see himself as a victim. In fact, he said he believes he's among the fortunate survivors of the terror attack and hopes to do something to help veterans who're worse off than him.
He said other have "lost limbs, eyesight, plenty lost their lives defending their country and our way of life. I'm the lucky one…My sacrifice is nothing."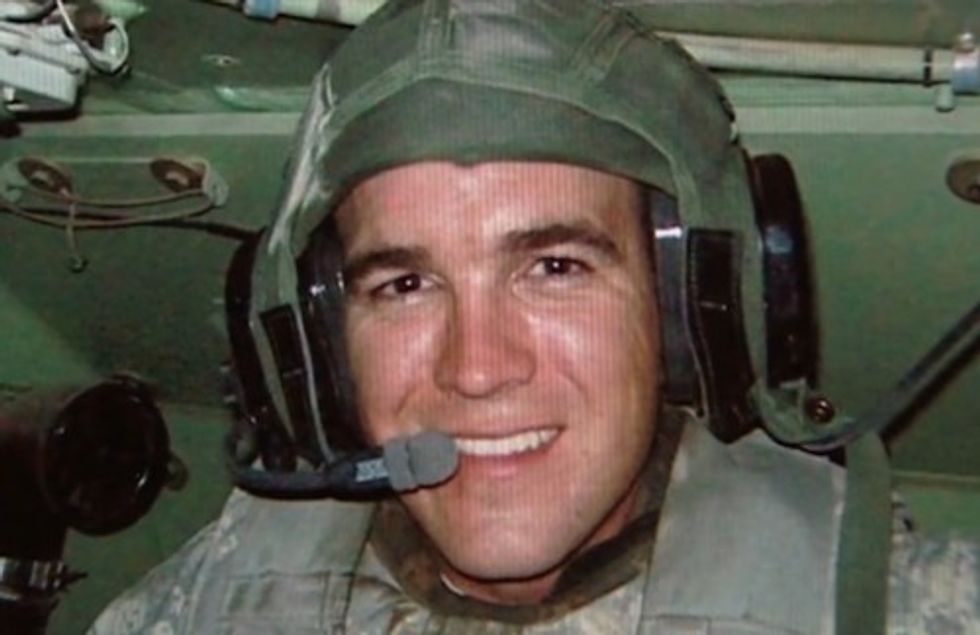 Image source: Outdoor Channel
And now taking in every bit of the wild country air on the adventure of his life — a far cry from day he fought for each breath after taking a traitor's bullet to his skull — Zeigler comes to but one conclusion: "This place makes me proud to have served."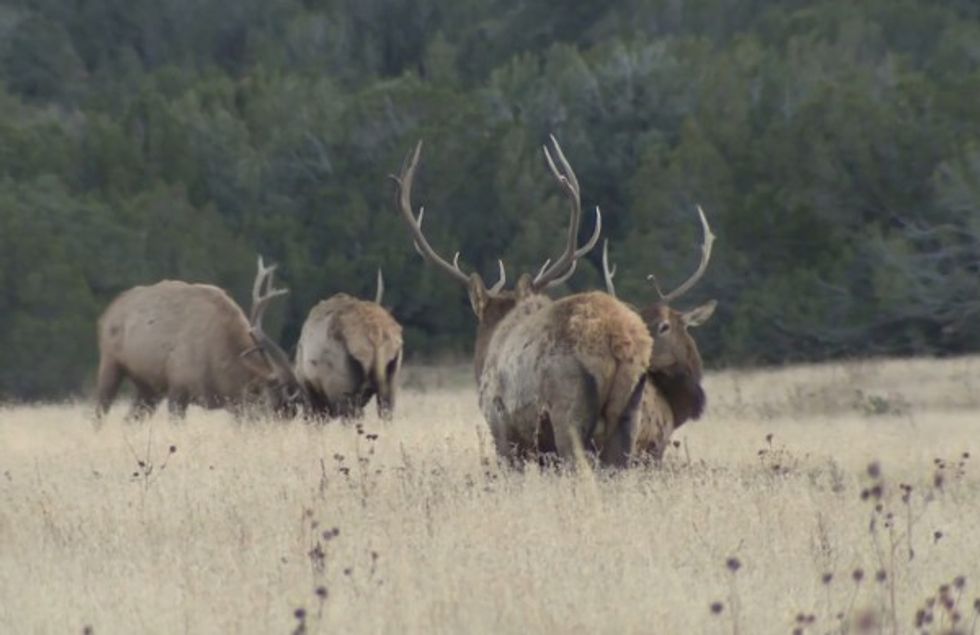 Image source: Outdoor Channel
"It reminds me that I joined the Army for a good reason," he continued. "I wanted to protect this type of place so people would have the right to enjoy it...America is something worth fighting for."
Here's a teaser trailer for Zeigler's "RMEF Team Elk" episode that airs Thursday night on Outdoor Channel at 10:30 p.m. EST:
This story has been updated.
—
Follow Dave Urbanski (@DaveVUrbanski) on Twitter