Stephane Gaudette was understandably a little nervous when he picked up a Frosted Flakes cereal box with the words "Please read the bag" written on the top with a black marker, Canadian Broadcasting Corporation Radio reported.
For the teacher from Timmins, Ontario, safety was an immediate concern. Had the box had been tampered with?
But the mystery was too powerful to ignore, so Gaudette opened the box and pulled out the bag: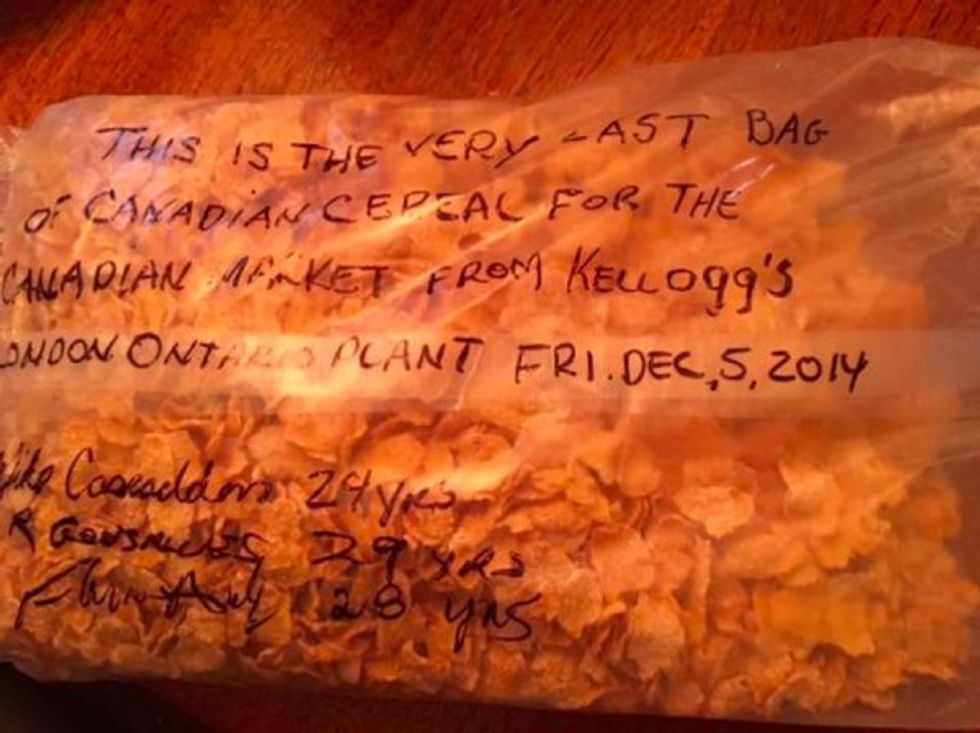 Image source: Stephane Gaudette via CBC Radio
"This is the very last bag of Canadian cereal for the Canadian market from Kellogg's. London Ontario plant. Fri., Dec. 5, 2014," the message read. Three names were written below the note, along with years — apparently how long each individual worked at the plant: 24, 29, and 28 years.
"When I saw the message, my emotions started changing," Gaudette told CBC Radio. "It led to a certain sadness and awe, in a sense. It was a very odd feeling because I realized the significance of [the package]."
Turns out the message was composed during the last shift at the plant before it shut its doors.
"The next thing that pops into your mind is 'Do you open the bag?' Then I said, 'No, there's some significance to this," Gaudette told CBC Radio. "I had toast instead."
While he couldn't decipher the names on the bag, Gaudette did get in touch with the London Free Press, and a reporter found the workers: Mike Cascadden, Ray Gonsalvez and Frasier McAuley.
Cascadden told CBC Radio that many of his relatives worked at Kellogg's over the decades and that the company "is in my DNA."
"I was a young man when I started there. I'm 47 now," he told the station about his 24 years as an employee. "I was taking under the wing of some pretty incredible guys. I want to see them again, but the reality is there's 500 people there that I worked with and probably 99 percent of them, I won't see again, so it's emotional. I grew up with these guys."
Cascadden added that he hopes he can become friends with Gaudette. "He's a family man. I'm a family man," he told CBC Radio. "And we can just sit back and tell this story to our grandchildren."
(H/T: Fox News)
—
Follow Dave Urbanski (@DaveVUrbanski) on Twitter