Conservative talk show host Rush Limbaugh explained on his radio program Monday why he believes CBS "Face the Nation" anchor Bob Schieffer grilled Republican presidential candidate Marco Rubio on gay marriage.
"It looks like Bob Schieffer wants to go out with a big, big scalp," Limbaugh said, according to a transcript available on his official website.
"It looks like Bob Schieffer wants to leave CBS News having taken out one of the Republican presidential candidates," the conservative talk show host continued.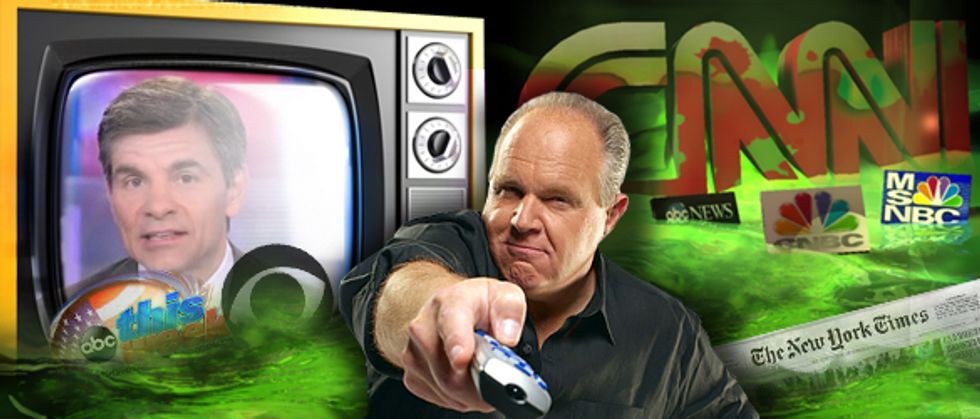 Image source: RushLimbaugh.com
Limbaugh said Schieffer's question reminded him of the 2012 Republican debate when ABC's George Stephanoplous asked Mitt Romney whether he was in favor of states having a role in the contraception debate.
[sharequote align="right"]"This is so transparent. This is so typical."[/sharequote]
"I don't even remember what his [Romney's] answer was, but it was along the lines of, 'It isn't a big deal. Nobody cares, George.' But it didn't matter what he said. All that mattered was that he did answer it, and that is how the so-called Republican War on Women was born," Limbaugh said. "It was, I am convinced, a tactic that had been planned by Stephanopoulos and others in Democrat campaign war rooms as a means of tripping Romney up. So I'm going through the audio sound bite roster.
Limbaugh contended it was clear Schieffer was trying to take out Rubio.
"I guess he's gonna leave sometime this summer, and it's clear that he wants to go out having claimed a scalp. Are you ready for this? This is so transparent. This is so typical," he said.
"Yet the very asking of the question is designed to make the low-information crowd and the rest of the audience watching this — the whole purpose of this question is not even dependent on the answer," Limbaugh continued. "The answer, if Rubio screws it up, is icing on the cake. The whole purpose here is the question: 'Do you think homosexuality is a choice?' That question sends a message, and the message is: 'Republicans are dinosaurs! Republicans are sexists! Republicans are mean-spirited! Republicans do not love people!'"
"All of that is what's wrapped up in this question. It's an irrelevant, meaningless question when it comes to the presidential campaign, irrelevant and meaningless when it comes to defining who Marco Rubio is, and it has nothing to do with the way Schieffer set it up or whether or not he supports gay marriage," the talk show host added.
(H/T: Mediaite)
—
Follow Oliver Darcy (@oliverdarcy) on Twitter