His name is Peter. He's a "concerned 8-year-old citizen." And when it comes to expressing his concerns about the direction America is headed, he sugarcoats nothing.
Peter's shoot-from-the-hip sentiments were on full display in a blistering handwritten letter he penned to first lady Michelle Obama, which appeared in the Weekly Standard.
So why wasn't the letter addressed to the president? Apparently Peter initially got miffed over the first lady's much-maligned school lunch calorie cutback — even though he attends a private school — and simply added other issues to the letter: "He said something about wanting to 'give a voice to the voiceless,'" his father said.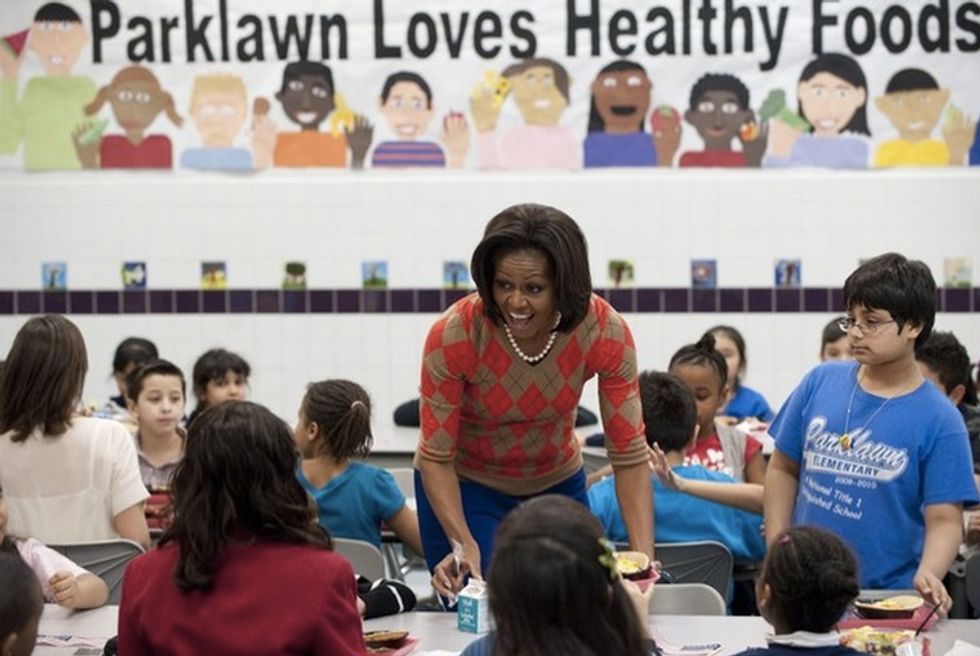 Getty Images
Sidetracked by anger over the issues, Peter's dad said it took his son about six months to complete the missive.
After ridiculing Michelle Obama's efforts to curtail ketchup packs — which is "taking away" from patriotism — young Peter offered other tips: "I also think you should stop doing nothing and go send some troops to the Middle East," he wrote, adding that the president "disipionted millons [sic] of Americans by not bombing Syria."
Prefacing a sentence with "If you do not know," Peter instructed the first lady that the Islamic State is destroying thousands of homes in the Middle East.
[sharequote align="center"]"I also think your husband needs to work on his speeches."[/sharequote]
If that wasn't enough, he also noted the commander in chief's communication skills need some polishing: "I also think your husband needs to work on his speeches."
Peter ended his critique with what appeared to be a friendly question: "Is the White House comfortable?"
While there are no apparent reactions from the first lady or the White House, some commenters didn't take too kindly to Peter's sentiments:
"Well, from the hand writing it certainly has the mature look of a Tea Party activist!" Olu Alemoru commented.

"This borders on child abuse," Roch Cherry wrote. "He'll figure out what jackasses his parents are in a few years. He'll hopefully become a productive member of society and not another right-wing mental midget who votes against his own interests. Good luck Peter!"

"Do you suppose that 'private' school he attends just might be a 'private Christian' school?" Kenneth Metal asked.

"Are we sure Peter is not a sixty something year old 'proud and patriotic' member of the Tea Party who wants to 'take his country back'??????" Jan Cameron wondered. "To this former teacher of 2nd graders, this letter just does not pass the smell test..."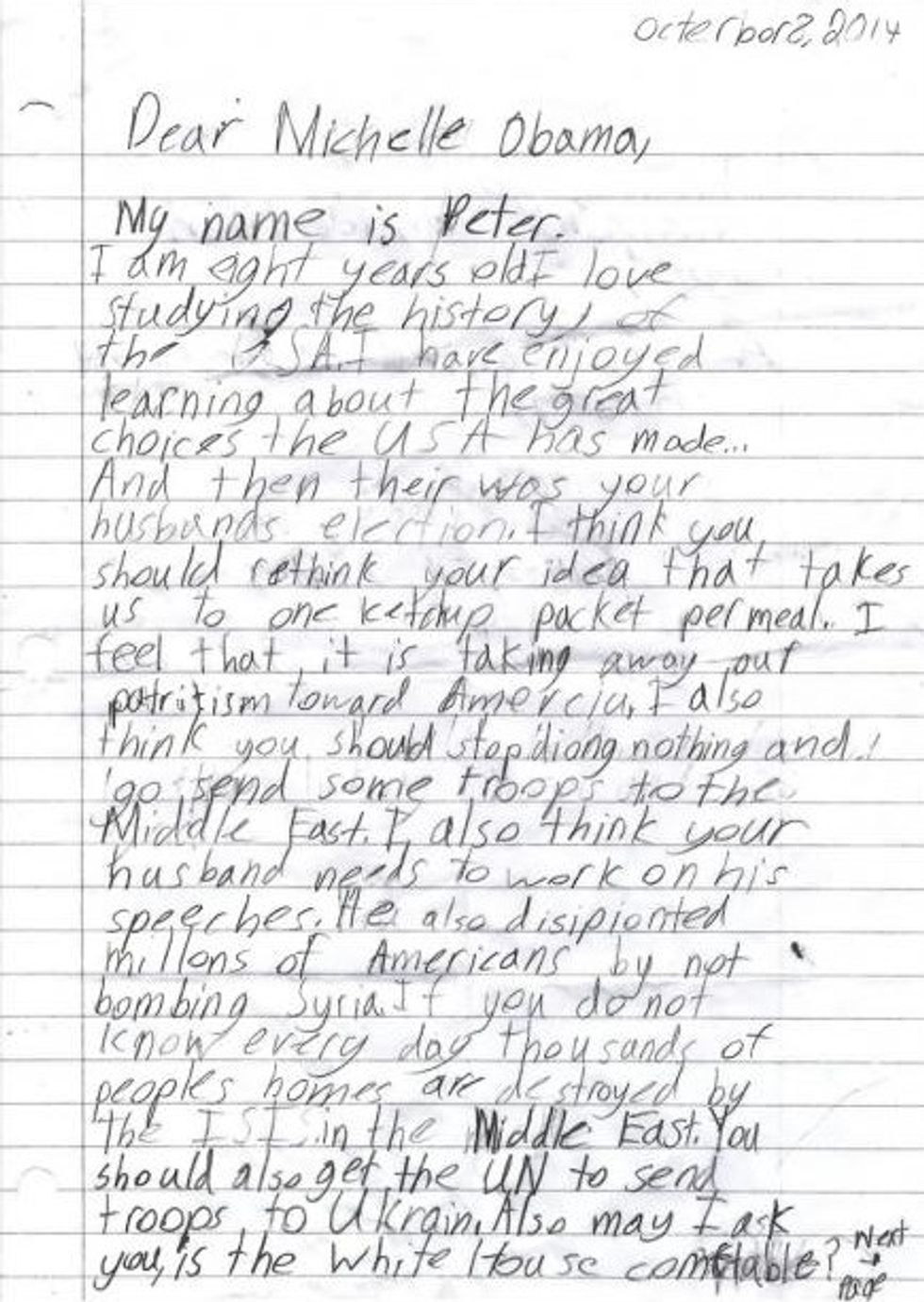 Image source: The Weekly Standard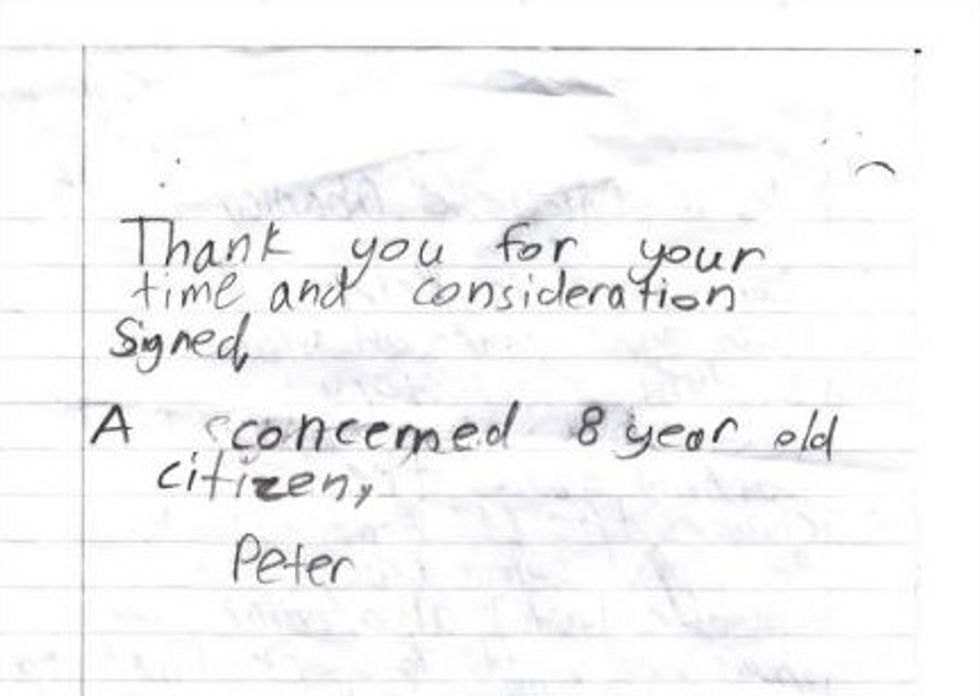 Image source: The Weekly Standard
(H/T: Daily Mail)
—
Follow Dave Urbanski (@DaveVUrbanski) on Twitter