A day after admitting a counterterrorism strike against an Al Qaeda compound mistakenly killed an American and Italian hostage in January, President Barack Obama heralded intelligences officials for how serious they take their jobs.
"We all bleed when we lose an American life. We all grieve when any innocent life is taken," Obama said Friday in a speech marking the 10th anniversary of the Office of Director of National Intelligence. "You don't take this work lightly. I know that each and every one of you understand the magnitude of what we do. These aren't abstractions and we're not cavalier about what we do. We understand the solemn responsibility given to us."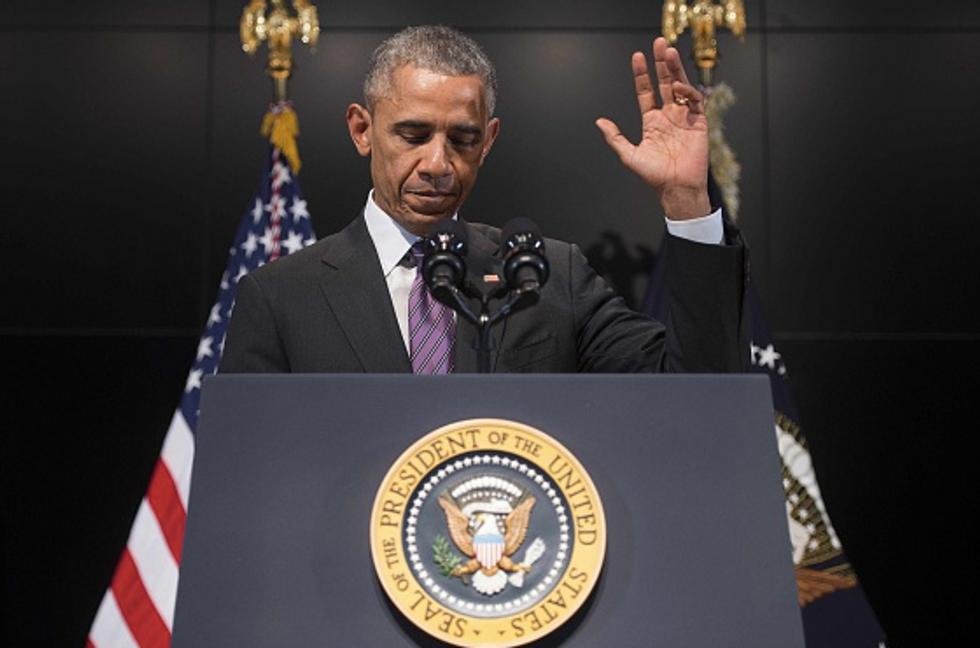 President Barack Obama waves after marking the 10th anniversary of the Office of the Director of National Intelligence in McLean, Va., April 24, 2015. (JIM WATSON/AFP/Getty Images)
The American hostage Dr. Warren Weinstein and Italian hostage Giovanni Lo Porto were humanitarian workers captured in Pakistan in 2011 and 2012, respectively.
Obama told intelligence professionals they do not get adequate credit for the good they do.
"We can't always talk about the challenges," Obama said. "The one thing I know about people in the [intelligence community], they don't seek the limelight. That means that sometimes the world doesn't always see your successes, the terrorist attacks you thwart or the lives you save. But I don't want you in the intelligence committee to forget the difference you make everyday."
The U.S. also announced Thursday it had killed two American Al Qaeda members, Adam Gadahn, a California native who served as an Al Qaeda translator and spokesman, and Al Qaeda leader Ahmed Farouq. Farouq was killed in the same operation that killed Weinstein and Lo Porto.
Questions about the killing of the two American Al Qaeda members came up several times during Friday's White House press briefing.
"Our preference would be to capture, detain, debrief and prosecute them. We have a strong track record of successfully doing that," White House press secretary Josh Earnest told reporters. "The fact is there are some regions of the world, including this region of the world that are so remote and where local authorities have limited capacity, where it's just not feasible to capture or detain them. This is why these Al Qaeda terrorists are hiding out here."
But Obama's policies have made collecting solid information more difficult, which can lead to tragic missteps, said Fred Fleitz, who previously worked for the CIA, the Defense Intelligence Agency and House Intelligence committee staff.
"They don't have sufficient human intelligence," Fleitz told TheBlaze. "This administration has a kill and not capture policy. That makes it difficult to get information."
Fleitz, now a senior fellow with the Center for Security Policy, defended the enhanced interrogations that were during the Bush administration, but said any detention and interrogations would be an improvement.
"This doesn't even have to be enhanced interrogations. It could be the interrogations they consider acceptable. But they don't detain people. They want to empty Guantanamo," Fleitz said. "It's not just a lack of interrogations. We lack the human intelligence on the ground to talk to sources and get information."