On the day the Supreme Court heard arguments about same-sex marriage, Hillary Clinton's campaign sent out a message from a gay man who appeared in her campaign kickoff video, portraying her as a champion of marriage equality – despite her opposition until just two years ago.
"Our country has made so much progress in just the last 10 years that marriage equality can often feel inevitable," said the email message from Jared Milrad. "But that is, unfortunately, wishful thinking. It can all be turned back with just one election."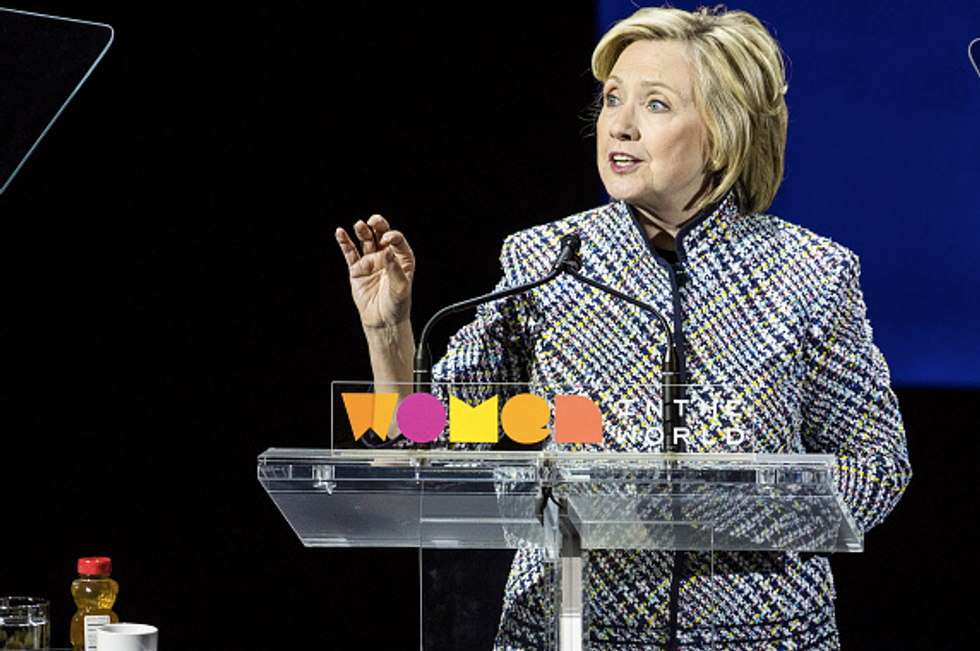 Democratic presidential hopeful and former Secretary of State Hillary Clinton addresses the Women in the World Conference on April 23, 2015 in New York City. (Andrew Burton/Getty Images)
The case before the high court is about 1996 Defense of Marriage Act, signed into law by President Bill Clinton in 1996.
The message from Milrad goes on to say: "That's why I'm writing to you, and why I was proud to help launch Hillary's campaign. She's been an advocate for equality for gay, lesbian, bisexual and transgender Americans. She understands that my family is like her family and yours. We all deserve equal rights."
Though she supported civil unions, Hillary Clinton opposed gay marriage as a presidential candidate in 2008, as did her Democratic primary opponent, Barack Obama. In March 2013, she changed her position.
The Clinton campaign message from Milrad also took a swipe at the religious freedom law in Indiana.
"As we saw just last month in Indiana – and as we continue to see around the world – people who are committed to discrimination can still find ways to act on it," Milrad wrote.
Regarding the Supreme Court case, Milrad explained that he and his own personal situation but never mentioned the court ruling could potentially overturn part of Bill Clinton's presidential legacy.
"My partner Nate and I don't need to wait for the decision," Milrad wrote. "We got engaged at the historic Stonewall Inn in New York -- and like we shared in Hillary's campaign launch video, we're getting married in Chicago this summer."