Despite making 71 arrests, Cleveland authorities said Saturday's protests over the acquittal of a white police officer who fired 49 shots at an unarmed black couple in a car were for the most part orderly.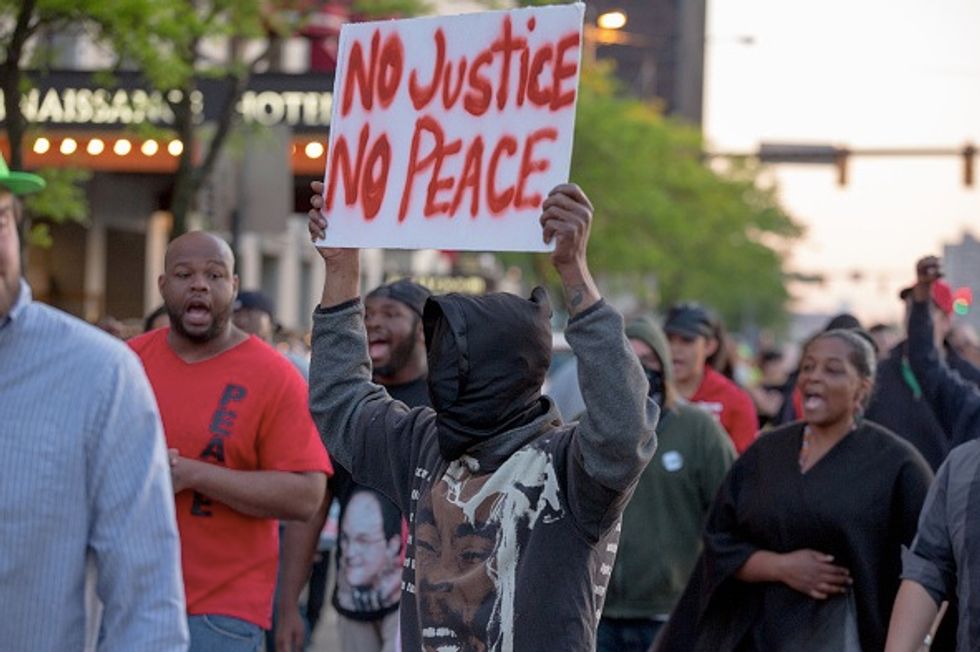 Protesters outside of Tower City in Public Square demonstrate in reaction to Cleveland police officer Michael Brelo being acquitted of manslaughter charges after he shot two people at the end of a 2012 car chase in which officers fired 137 shots May 23, 2015 in Cleveland, Ohio. (Image source: Ricky Rhodes/Getty Images)
Among the protesters who didn't classify as orderly were those who pepper-sprayed customers sitting at downtown outdoor cafes, WSYX-TV reported.
E. 9th/Prospect, officers responding for reports of disruptive members of large crowd spraying random citizens with pepper spray.

— Cleveland Police (@CLEpolice) May 24, 2015
"We had incidents of protesters actually pepper-spraying patrons that were seated at restaurants," Police Chief Calvin Williams said Sunday, adding that "one of the protesters actually picked up a sign at one of the restaurants on the sidewalk and threw it at a patron." That patron was hit in the head, he added.
In the below video, Williams' comments begin just after the 40-second mark:
(H/T: The Gateway Pundit)
—
Follow Dave Urbanski (@DaveVUrbanski) on Twitter