The priest who claims that he was fired from his Catholic university post after sharing a Facebook photo about LBGT discrimination has a major revelation: he's gay.
The Rev. Warren Hall, who was the director of Seton Hall University's campus ministry in South Orange, New Jersey, until he says that sharing a simple photo of himself with the message "NOH8" on his cheek last year on Facebook led to his dismissal.
"The best way to live is to live honestly," Hall said, sharing his sexuality in a recent interview with Outsports. "Honesty with oneself is the most important thing, but you have to be honest with other people."
The priest said that, until now, only a few people knew about his sexuality, but that he now feels compelled to come forward.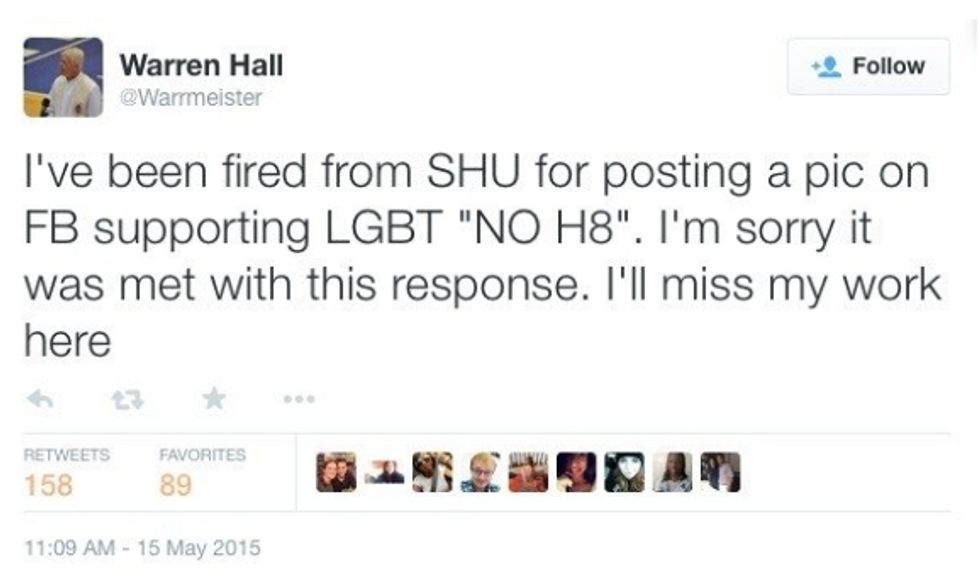 Up until graduation last year when a student approached him and asked, he said that he had never told anyone at Seton Hall that he was gay; for the first time while serving there, he was honest with her.
"I have to be myself," he told Outsports. "I can't worry what other people think."
Despite his admission, Hall said that he has maintained his commitment to the Catholic faith, including his vow of celibacy.
As TheBlaze previously reported, Hall revealed his apparent firing on Twitter earlier this month. 
"I've been fired from SHU for posting a pic on FB supporting LGBT 'NO H8,'" Hall wrote before later deleting the message. "I'm sorry it was met with this response. I'll miss my work here."
He said that he was terminated from his position five months after a fellow priest reported him for sending the photo and that he will be reassigned by the Archdiocese of Newark; he's hoping to take a sabbatical while he considers what's to come.
Hall said that the Facebook message he posted was intended to combat bullying and not to support gay marriage, but that the archbishop accused him of having an agenda and said that he could not continue at Seton Hall.
The archdiocese has denied that Hall was fired, claiming, instead, that his tenure at the school has merely ended.
"His tenure is ending at the university as director of campus ministry and he is available for another assignment … I think people are misconstruing an awful lot," spokesman Jim Goodness said in a statement to the Huffington Post. "The church has long taught that every person is to be treated with dignity and respect."
(H/T: Out Sports)