South Carolina Sen. Lindsey Graham stayed heavy on his national security record while announcing his presidential campaign Monday.
"I am more experienced on national security that any candidate in the race. That includes you, Hillary," Graham said in front of a crowd in South Carolina.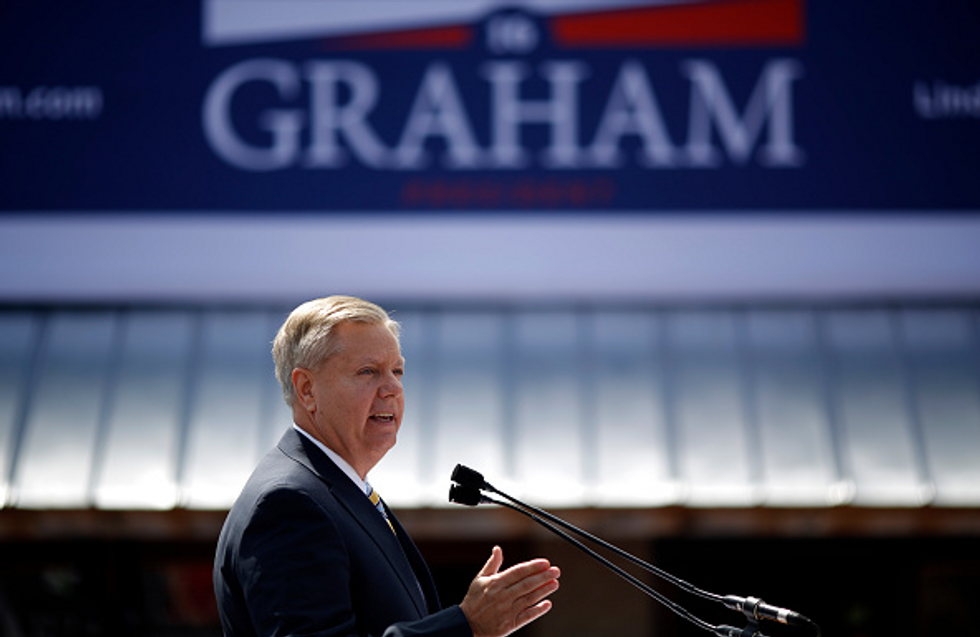 Sen. Lindsey Graham, a Republican from South Carolina, announces he will seek the Republican Party nomination for president in Central, South Carolina, Monday, June 1, 2015. Graham, a member of the Senate Armed Services Committee, has indicated that his campaign will emphasize his foreign policy expertise and his approach to fighting national security threats such as the Islamic State. (Luke Sharrett/Bloomberg via Getty Images)
With the timing of his announcement, Graham may be most noted for who he isn't: The hawkish senator and Air Force veteran is in many ways the antithesis of Kentucky's libertarian Sen. Rand Paul, the GOP presidential candidate who held up passage of the USA Patriot Act and accused Republican hawks of being partly responsible for the emergence of the Islamic State.
Graham made no mention about the Patriot Act debate, but seemed to make a veiled reference to Paul.
"Those who believe we can disengage from the world at large and be safe by leading from behind, vote for someone else. I am not your man," Graham said. "Those who believe the best way to defend ourselves is to lead the world and make history rather than be overwhelmed by it, I ask for your support."
He also asserted, "Barack Obama has made us less safe."
"Speeches alone won't make us safe. If that were true, we'd be really safe. Superior power and resolve is the only way to be safe. I'm running for president of the United States because I'm ready to be commander-in chief on day one," Graham told the crowd. He later added. "Our allies feel the weakness of American leadership. Our adversaries are taking advantage of it."
Graham was an early and staunch supporter of the invasion of Iraq in 2002 and the 2007 troop surge. He has been a consistent critic of Obama administration for not being strong enough on Iraq, Afghanistan and the general war on terrorism. He even lumped Paul and Obama together in criticizing the proposed nuclear deal with Iran.
"The world is exploding in terror and violence but the biggest threat of all is the nuclear ambitions of the radical Islamist who control Iran. Ladies and gentlemen, there are no moderates in Iran running their government," Graham said Monday. "If the United States isn't firm in our intention to deny them such weapons, Iran will trigger a nuclear arms race in the least stable region on earth, making it more likely that the people who aspire to genocide will have the most effective means to commit it."
He was also among the most aggressive senators in seeking the truth about the 2012 Benghazi terrorist attacks that killed four Americans, including U.S. Ambassador to Libya Chris Stevens. After the administration swapped five Taliban detainees for the return of Army Sgt. Bowe Bergdahl, Graham invoked impeachment if Obama made any more such deals without informing Congress.
However, on domestic issues, he has caused much angst among conservatives.
Graham has been a leading Republican supporter of providing a pathway to citizenship for 11 million illegal immigrants in the United States, seeking to pass climate change legislation and advocating tax hikes to reduce the debt. He also prompted anger from conservatives for supporting President Barack Obama's Supreme Court nominees. He is a close ally of 2008 Republican presidential nominee John McCain, the Arizona senator who also raises the ire of the right.
Graham was first elected to the Senate in 2002 in a very conservative state, filling the seat of the polarizing Sen. Strom Thurmond.
Graham is the ninth announced candidate to enter the Republican nominating contest, and more are expected to join the crowded field. Though he barely registers in most polls, South Carolina is the first southern primary, and since 1980 has picked the winner of the Republican presidential nominating contest, with the exception of 2012.
That alone doesn't necessarily make him a favorite in the state, where he faced six primary opponents in the 2014 Republican Senate primary.
But he touted himself as a conservative in his announcement, and invoked Ronald Reagan's peace through strength doctrine that helped win the Cold War. Graham said only security through strength would be achievable in the war on radical Islam.
"We will never enjoy peaceful co-existence with radical Islam whose followers want to destroy our way of life," Graham said. "Security through strength will protect us."
Graham was first elected to Congress in 1994, winning an open House seat, the first Republican to win that district since 1877. It was in the House where he gained national prominence in the 1998 impeachment and 1999 Senate trial of President Bill Clinton on charges of perjury and obstruction of justice as part of the Monica Lewinsky scandal. He was among the House Republican impeachment managers, playing the role of a prosecutor in unsuccessfully trying to persuade the Senate jury to remove the president from office.