Archaeologists say it's the oldest known depiction of a music-filled celebration ever found in Israel.
The design on a 5,000-year-old seal impression portrays a "sacred marriage" ceremony of a king and a goddess in Mesopotamia, including depictions of a musical instrument being played, the Israeli Antiquities Authority announced last week.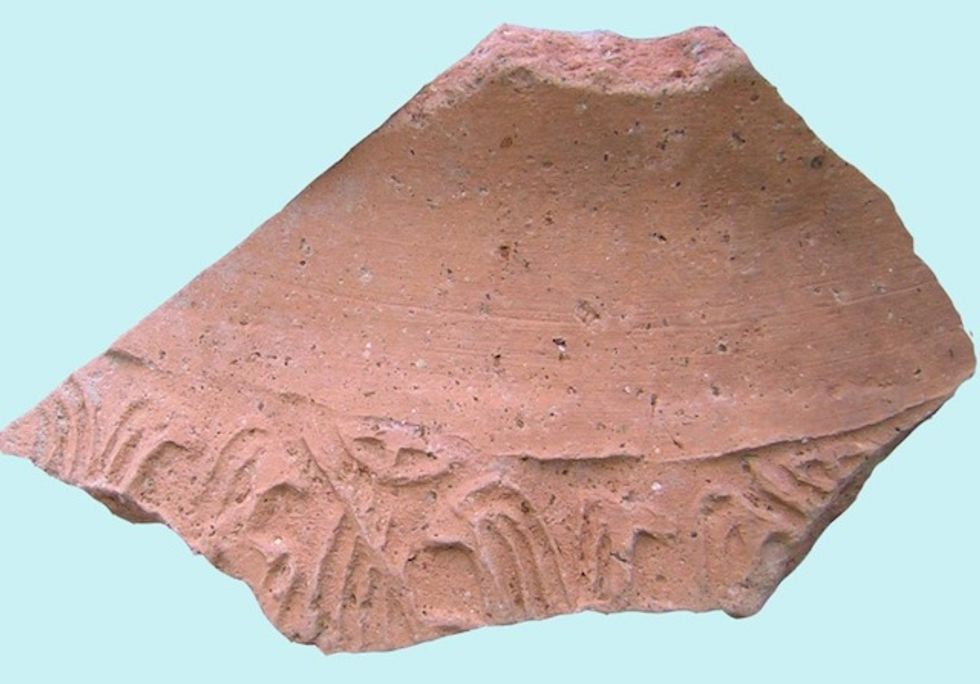 The impression depicted an ancient marriage ceremony that included music. (Photo courtesy Israel Antiquities Authority/Nimrod Getzov)
The celebration was part of an elaborate ceremony which besides music included dancing, a banquet and the sexual union of the couple, researchers said.
"This is the first time it is definitely possible to identify a figure playing an instrument on a seal impression from the third millennium BCE," the Antiquities Authority said in a statement. "This is when most of the 'cultic' impressions from Israel depict dancing figures or the feasting scene in which the female and male figures are shown facing each other, in the rite just before their sexual encounter."
The repeating design, which archaeologists Yitzhak Paz, Ianir Milevski and Nimrod Getzov of the Antiquities Authority believe is from the Early Bronze Age, was created by using a cylinder seal which was rolled along a clay surface then fired.
The archaeologists suggested the scene includes three women, one who is sitting and playing an instrument that may be a lyre, an ancient string instrument.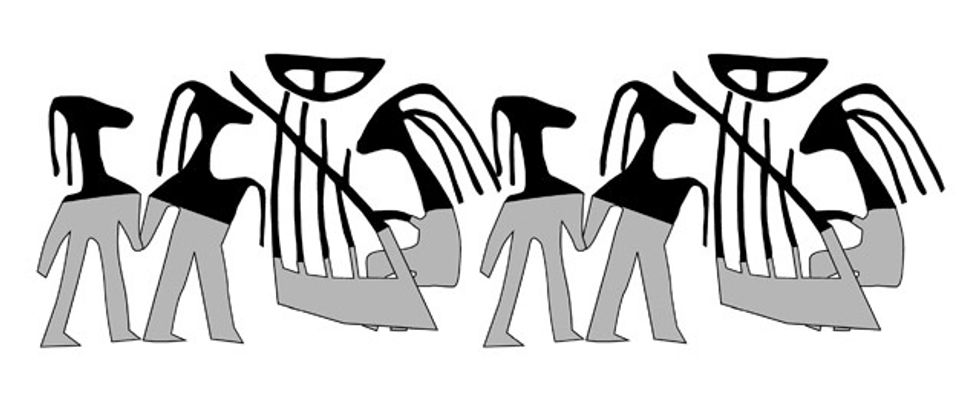 One of the researchers offered an artistic rendering to envision how the full the seal originally appeared. (Photo courtesy Israel Antiquities Authority/Nimrod Getzov)
Though the archaeological hypothesis about its content is new, the seal impression was found on the fragment of a large storage vessel during an archaeological dig in the 1970s in Beit HaEmek in northern Israel's western Galilee region.
"The importance of the scene lies in the possible symbolic context, it being part of a complex ritual known in Mesopotamia as the 'sacred marriage,'" the archaeologists said in a statement, adding that the symbolic union ceremony joined a king and the imagined depiction of a goddess, who was modeled on a priestess.