Despite it happening every year, officials in Texas say they don't know exactly what causes "tar balls" to turn up on its Gulf Coast beaches.
According to ABC News, Jim Suydam, spokesman for the Texas General Land Office, calls it "tar ball season" and said "we don't have a source for the oil." He added that U.S. Coast Guard analysis determined that this year it is in fact a "crude oil product" from "two different sources."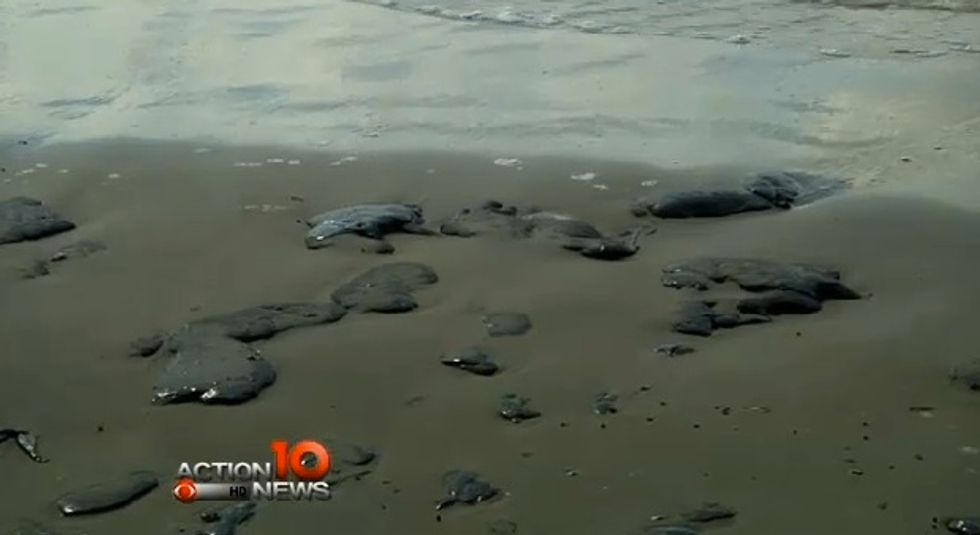 Image source: KZTV-TV
If the sources could be identified, Suydam told ABC the office would "seek compensation."
KZTV-TV reported that this year's tar ball season is concerning because it is happening during turtle nesting season. Conservationists fear that the tar could harm turtle eggs.
See footage of the so-called "tar balls" in KZTV's report:
Reports about the tar balls come up nearly every year. Two years ago, the Houston Chronicle reported on a study that found Vibrio vulnificus, a type of "flesh-eating" bacteria, in the tar. In 2010, CBS News reported that a Coast Guard official speculated the tar balls that year could have been brought into the area by a ship.
Either way, the mystery regarding the icky substances continues.