Upon landing in Boise, Idaho, passengers aboard an Allegiant Air plane were forced to evacuate onto the wing of the plane as fumes leaked into the cabin that held 163 passengers.
A strong scent of fuel began to circulate throughout the plane's cabin as the plane, traveling from Los Angeles on Friday, descended. By the time the plane taxied to the gate, passengers reported seeing smoke and "vapors" coming out of the air vents.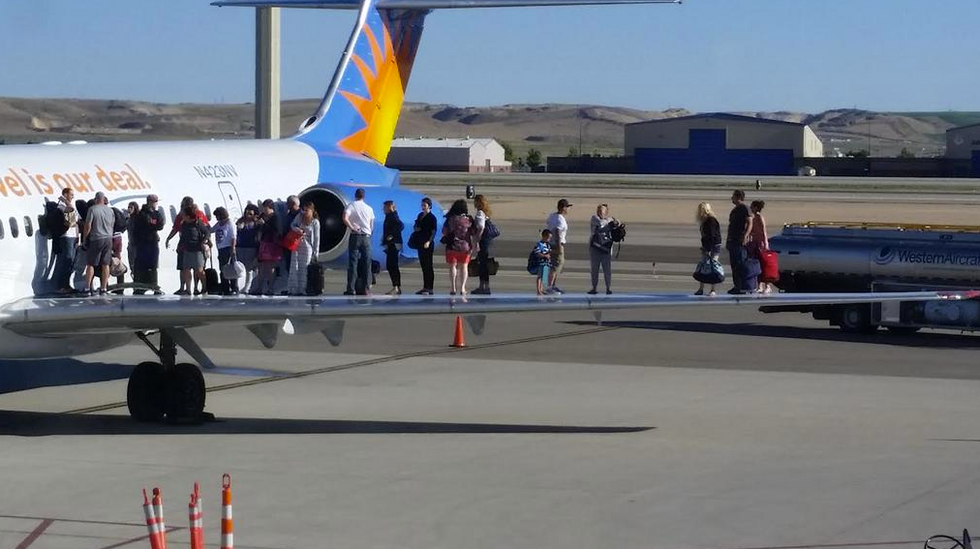 (Image via Twitter @IdahoStatesman)
"When the plane started descending you could start smelling the (fuel)," Blanca Robles, a passenger on Flight 330, told the Idaho Statesman. "When we landed it started getting stronger."
"You only have whatever is in the cabin (for) air and all that was coming in was gasoline. I was trying to breathe through my sweater," Kelly Graf said. "Realistically I didn't know how much longer I could stand there without getting sick."
Passengers aboard the plane have been critical of how the Allegiant Air crew handled the situation -- claiming that the passengers were on their own and did not receive any directions or assurance from the crew.
"I didn't see (any) flight attendants around," Martin Lopez told the Statesman. "Nothing was done. Nothing was said."
Lopez said he went to the hospital afterwards as he felt so ill from breathing in the fumes for so long.
Graf told the Statesman that if the crew had been more up front with what was happening and told the passengers what to do, people would have panicked less. The pilot did come on the speaker once, according to a passenger, to announce that the vapors were condensation, not smoke. Yet multiple passengers had already evacuated onto the wing of the plane and did not hear the announcement.
However, in a statement, the airline claimed the passengers and crew were never in immediate danger.
"At Allegiant the safety of our passengers and employees is our number one priority," the statement said. "Upon arrival at the gate, normal deplaning procedures were in progress during which a fuel smell was observed within the cabin. Passengers then initiated an evacuation through the over wing doors."
"A review of the incident confirmed that at no time were the passengers or crew members on board the plane in danger," Allegiant Air's statement said.
According to the Daily Mail, the smell of gasoline was so strong that it was detected by those sitting inside the terminal.
Passengers who were scheduled to be on the return flight to Los Angeles were able to board a new plane five hours later and offered a $50 voucher from the airline. Lopez and Graf said they did not receive the same offer of a voucher.