NEW YORK (AP) -- A second college student was arrested on Wednesday in the investigation of an alleged plot to support the Islamic State group by using homemade explosives to attack New York City targets.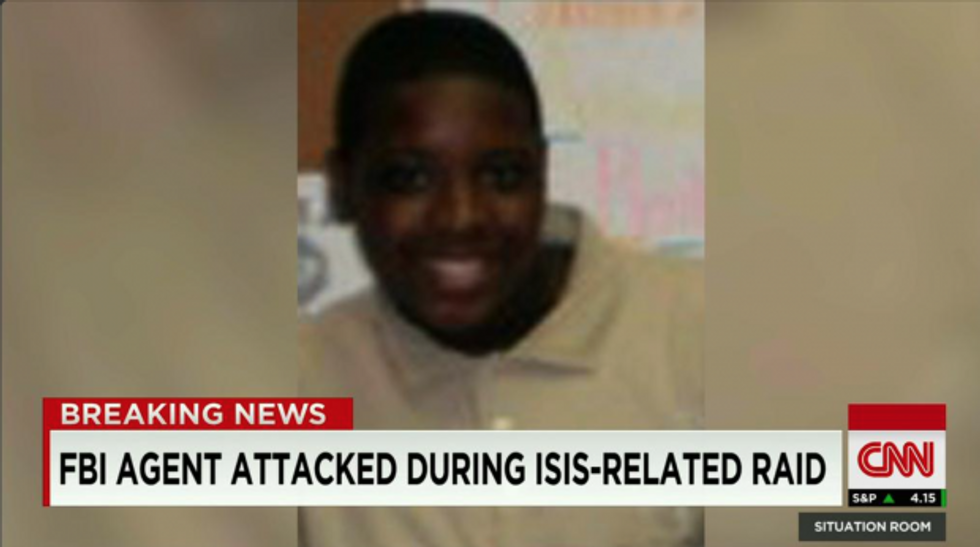 CNN
Fereed Mumuni, 21, was ordered held without bail on attempted murder charges accusing him of trying to kill an FBI agent with a large kitchen knife in a struggle while agents who were executing a search warrant at his Staten Island home. The agent escaped serious harm thanks to his body armor, authorities said.
Mumuni became the latest defendant in the spate of cases in the city involving young men and women allegedly radicalized by Islamic State propaganda. Most have been accused either of trying to travel abroad to fight with the militant group or of talking about attacks on U.S. soil on the group's behalf, but not getting far enough to put civilians at risk.
After his arrest, Mumuni told investigators he had pledged allegiance to the Islamic State, according to government papers. If he couldn't join the group overseas, he intended to attack law enforcement officers at home, the papers added.
Outside federal court in Brooklyn, defense attorney Anthony Ricco denied that Mumuni was an Islamic State convert. Ricco said his client is a practicing Muslim with a clean record who attends the College of Staten Island.
The arrest surprised his family, who "know him as a quiet, soft-spoken person," Ricco added.
Court papers described Mumuni as a co-conspirator of Munther Omar Saleh, another college student whose arrest on charges of supporting terrorism was announced Tuesday.
The papers say Saleh has described himself as a "full-fledged" member of the Islamic State. Electronic surveillance revealed that he had researched how to build a pressure-cooker bomb and looked up New York City landmarks and tourist attractions on the Internet, the papers say.
In one intercepted conversation, Saleh told a confidential source, "I'm in NY and trying to do an Op," the papers say. In a later conversation, Saleh said he was under orders from Islamic State officials to cut off contact with the source, the papers say.
Saleh and Mumuni discussed building a pressure-cooker bomb, the papers say. Saleh also instructed Mumuni it was best "to use a bomb and to run over law enforcement with a vehicle, seize the weapons of any victims and use the weapons to shoot other victims," they say.
There was no immediate response to a message left Wednesday with Saleh's attorney.
---