A would-be robber was no match for a young girl in Santa Ana, Calif., Monday morning.
While Genesis Ramos' mother, Grace, went inside a 7-Eleven to withdraw cash from an ATM, she left her two daughters and her wallet sitting in the car with the doors unlocked. A man came out of the store, saw Grace's wallet in the car and swiped it.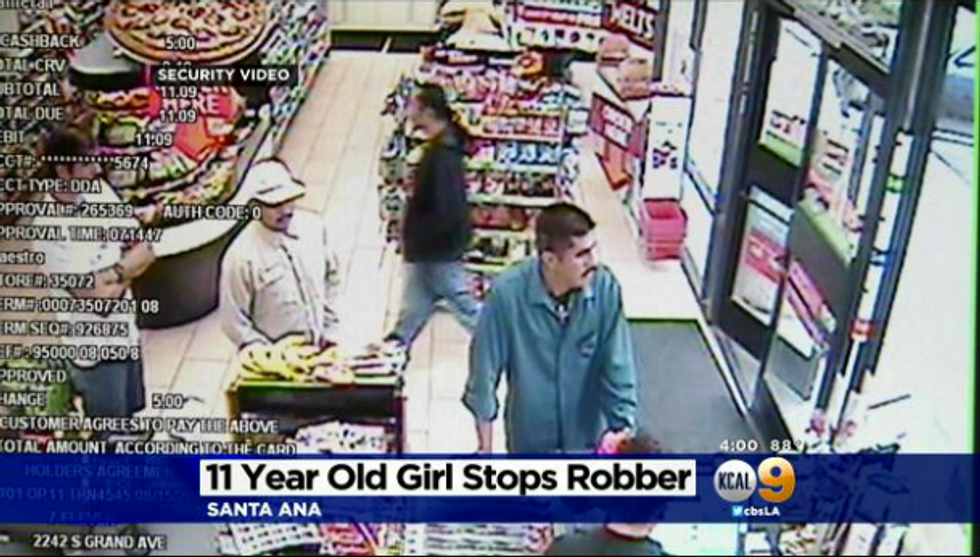 (Image source: CBS Los Angeles)
Instead of letting the thief take off with her mother's wallet, Genesis chased after him back to his silver minivan and prevented him from closing the door. After Genesis screamed for bystanders to call 911 and continued to yank on his car door, the man relinquished the wallet and drove away -- but not before Genesis snapped a photo of his license plate on her cell phone.
"I didn't know (what was happening) because the ATM was at the end of the store," Grace told the Orange County Register. "I saw my daughter crying and hugging the wallet."
Local media outlets seem to be conflicted about Genesis' age (reports claim that she is either 9-, 10- or 11-years-old), but Santa Ana police officer Cpl. Anthony Bertagna told the Register "what she did is something very special for a child her age."
"I was brave but (mom) said next time to not do that, to let him go because my life is worth more than her wallet," Genesis told NBC.
Police are still searching for the man, who was caught on a surveillance video in a blue denim shirt, who they believe stole batteries and candy from the 7-Eleven. Supposedly he is a regular customer at the store.