The financial crisis in Greece is rapidly worsening as banks reportedly are running out of cash and industries are shutting down, according to the Telegraph.
Business leaders have been asking the Bank of Greece to release emergency funds to pay for food imports and medicine, the paper added.
"We are on a war footing in this country," Yanis Varoufakis, Greece's finance minister, said.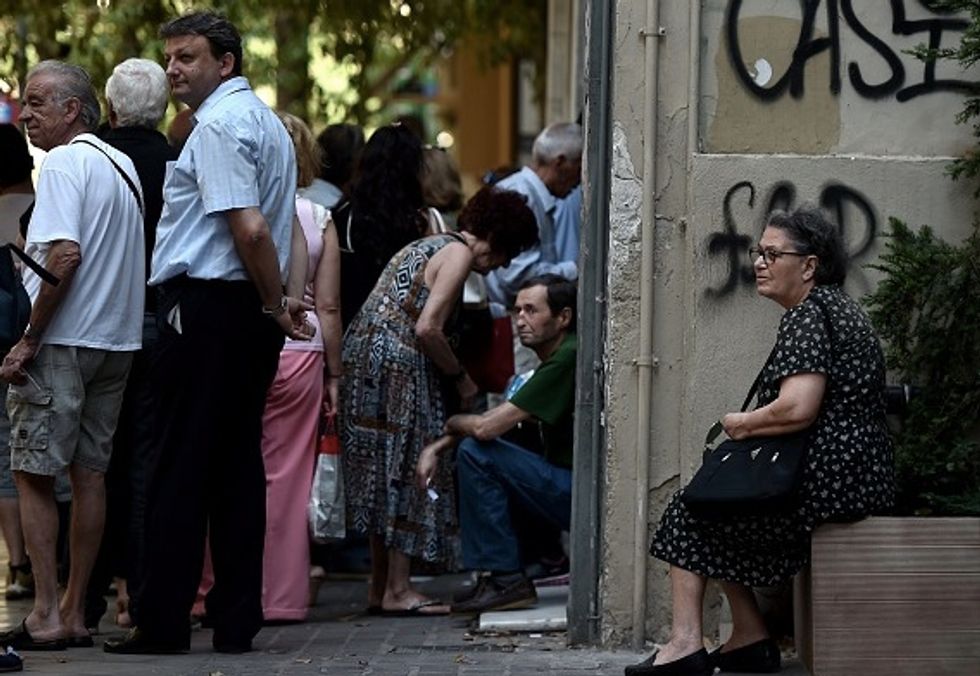 People wait outside a bank in Athens on July 3, 2015. Greece's government and international creditors raised the stakes on July 2 over a weekend referendum seen as decisive for the nearly insolvent EU country's political and financial future. While Prime Minister Alexis Tsipras has urged Greeks to vote 'No' to the austerity measures demanded by international creditors, opposition parties including the centre-right New Democracy are campaigning for a 'Yes' vote in the referendum on July 5. (Image source: ARIS MESSINIS/AFP/Getty Images)
The daily cash allowance from many ATMs has dropped from 60 euros to 50 euros (about $66 to $55 in U.S. currency), the Telegraph reported — apparently because 20 euro notes are running out.
"We are reliably informed that the cash reserves of the banks are down to €500m," Constantine Michalos, head of the Hellenic Chambers of Commerce, said. "Anybody who thinks they are going to open again on Tuesday is daydreaming. The cash would not last an hour."
Indeed, many gas stations and small businesses have stopped accepting credit cards, the paper said.
"We are in an extremely dangerous situation," Michalos added. "Greek companies have been excluded from the electronic transfers of Europe's Target2 system. The entire Greek business community is unable to import anything, and without raw materials they can't produce anything."
The Telegraph added in a separate article that British vacationers in Greece won't be able to buy food or medicine within days if a deal isn't reached to reopen the banks.
(H/T: Drudge Report)
—
Follow Dave Urbanski (@DaveVUrbanski) on Twitter