Like a scaled back version of the Disney movie "Up," a Canadian man attached his lawn chair to more than 100 large helium balloons and took off. But the stunt is costing him more than just the several thousand dollars worth of the gravity-defying gas he needed for liftoff.
According to Calgary police, 26-year-old Daniel Boria was arrested and charged with one count of mischief causing danger to life after he parachute landed from his joy ride Sunday. In the process, the Toronto Star also reported that he injured his foot.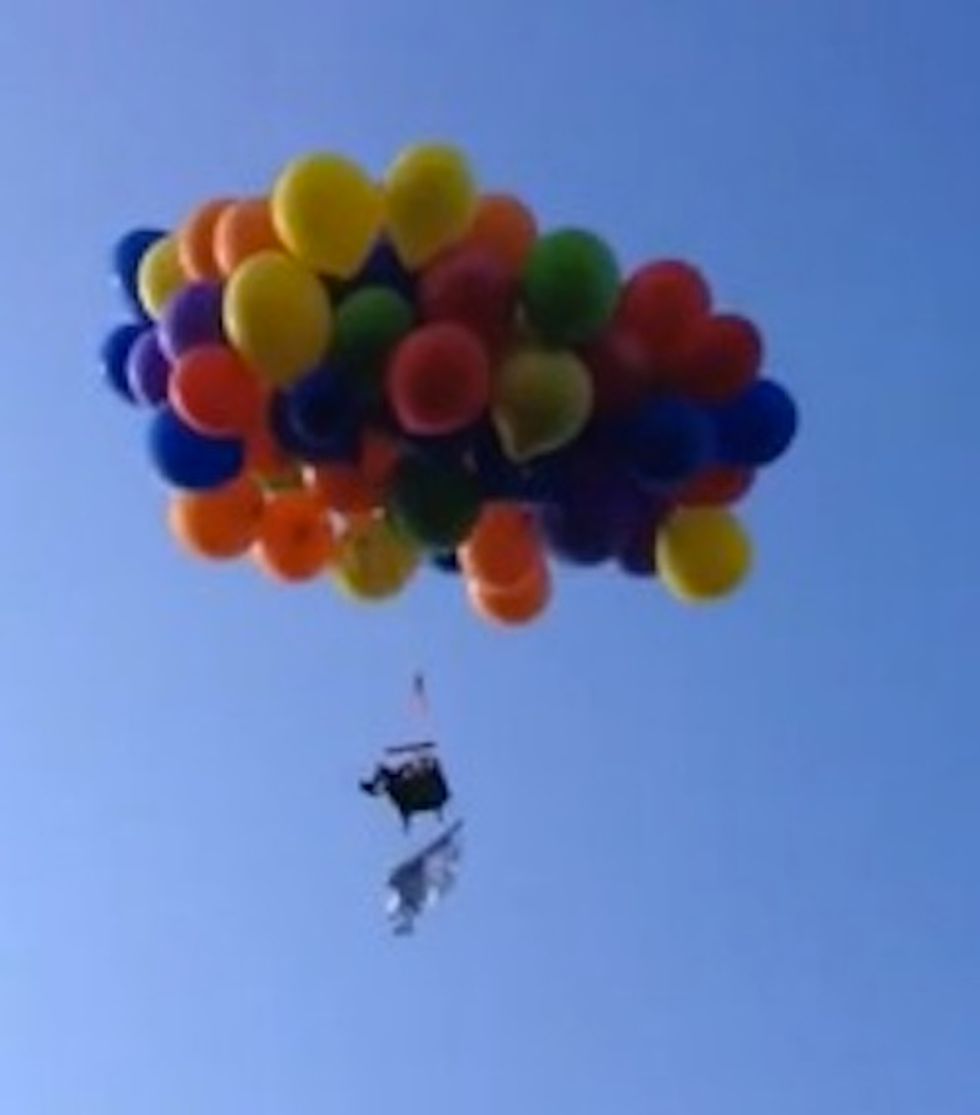 Image source: YouTube
He could face federal charges for potentially violating airspace regulations as well.
"I did anticipate they would be a little upset," he told the Star of law enforcement's reaction. "It's already worse than I thought it would be."
Watch the stunt (Content warning: strong language):
A police spokesperson told the newspaper that "a stunt like this would require authorization from Transport Canada." Inspector Kyle Grant told the Calgary Sun Boria's actions were "irresponsible."
"That chair has to come down and there's the possibility it could land on a person, a vehicle, a house and cause damage ... this is where that plan wasn't thought out very well," Grant said.
The Star has more on exactly why Boria did it:
The "dream" was concocted as a marketing stunt to draw attention to his company All Clean Natural. Boria was searching for a lofty idea to help his small start-up stand out against competitors with larger marketing budgets.

Eight months ago, with very little previous experience, he travelled to the U.S. in search of a skydiving license and managed to accumulate "just enough" skills to make his plan a possibility.

Finding someone else reckless enough to facilitate the idea was less simple.

"We couldn't find anyone who could get me to that altitude," Boria said. "No pilots were willing to lose their license to fly me into controlled airspace.

"We went as far (as) to consider bringing a Mexican into the country as a temporary worker to fly the plane. That's when we turned to helium."
Boria seems to think that the risk was worth the exposure for his company.
"Sometimes you've got to live life on a limb if you truly believe in your company," he told the Star.
At one point, Boria reached an altitude where he said he could see airplanes below him.
"I can't specify the altitude I went to. I was looking down at a 747. It was a surreal experience," he told the Calgary Sun.
After he jumped from the makeshift craft, the newspaper reported that Justin Jamison and his friends found it in a ditch.
"It was just a chair and some balloons and we thought someone fell out of the sky," Jamison told the Sun. "We were wondering 'should we be looking for someone?'"
Because Boria's cleaning company is supposed to be promoting natural products, he's had to respond to criticism that the stunt wasn't good for the environment as well.
"We chose very strong latex to try and ensure when popped the balloons stayed attached to the strings which in turn where attached to the chair via complicated planned out carabiner system," All Clean Natural said on Facebook. "The chair in turn was tracked. But as you know you can't completely predict the wind and the chair flew a bit further and landed sooner than expected. This is why it was not initially claimed by a member of All Clean Natural. We do care immensely about the environment and tried our hardest to protect it."
—