Outrageous new video shows a man shattering a bus window by head-butting it after he found out his fare was going to cost him an extra $2 – and the priceless reaction from another man who witnessed it all go down from a few feet away.
The driver of the bus in Winter Haven, Florida, said the man tried to get back on board after apparently getting off at the wrong stop. But after being informed that would cost him another two bucks, the man apparently became angry and decided to take it out on the door, WTSP-TV reported.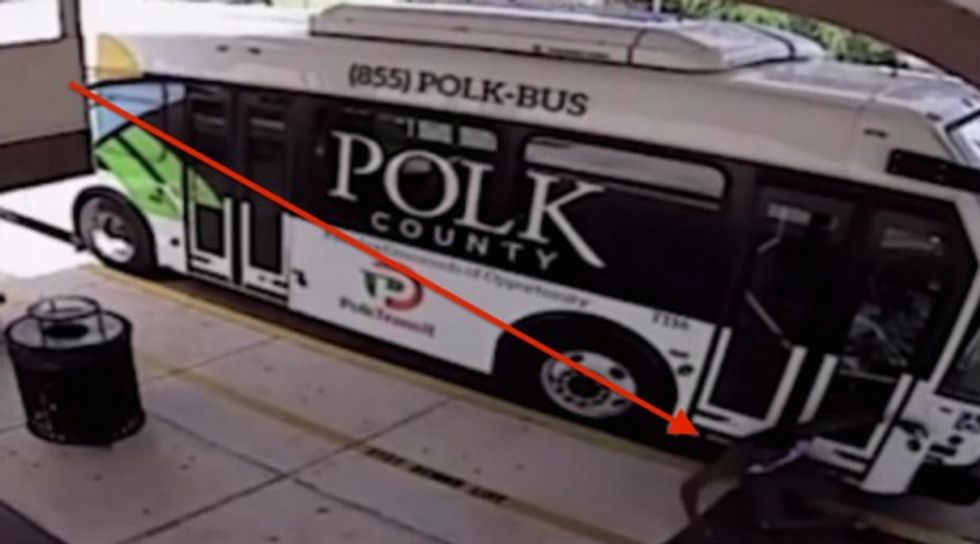 Image source: Winter Haven Police Department
The footage shows the man lunging toward the window of the closed door headfirst, resulting in him smashing the glass and knocking himself out. Another man sitting on a bench nearby is seen turning his own head sideways, as if in disbelief, but doesn't approach the suspect before he eventually jumps up off the ground only moments later and darts away.
The video was uploaded to social media by the Winter Haven Police Department with a description that read, "File this under what NOT to do when you get mad regarding bus fare - ouch."
Police were still looking for the suspect as of Thursday afternoon. He was described as being 5 feet 9 inches tall with a slim build and glasses.
"It is what is is. You look at it and you just shake your head," Jamie Brown of the WHPD told CBS News. "There's no point in trying to be staunch when it's obviously comical. You should just make light of it."
"Criminals do silly things," Brown added.
See the outrageous moment when the man head butts the door and knocks himself to the ground:
(H/T: WTSP-TV)
–
Follow Jon Street (@JonStreet) on Twitter