LONDON (TheBlaze/AP) -- Burglars ransacked the rented French Riviera villa of Formula One driver Jenson Button and his wife, Jessica — possibly after pumping anaesthetic gas through air-conditioning vents.
Button and his wife were on vacation with friends in St. Tropez on Monday when thieves broke in as they slept, making off with jewelry. Among the items stolen was Jessica Button's five-carat engagement ring, which is valued at about $388,000.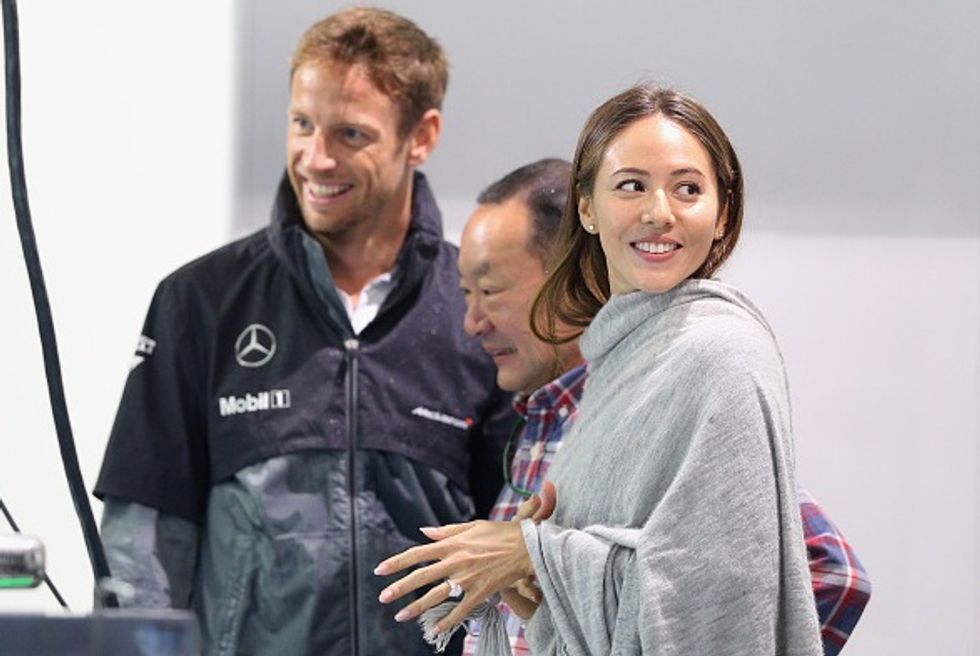 Jenson Button (far left) and his wife Jessica Button (right) are seen ahead of the Japanese Formula One Grand Prix at Suzuka Circuit on October 2, 2014 in Suzuka, Japan. In August 2015, the couple said the villa they were vacationing at was burglarized while the slept after perhaps being gassed. Among the items stolen was Jessica Button's engagement ring. (Clive Mason/Getty Images)
Button's representatives said in a statement Friday that police have told them such thefts have become a growing problem, with thieves pumping in the gas to give them free rein in the properties.
No one was hurt, but the statement said the couple were "unsurprisingly shaken" by events.
Here's more from Button's official Facebook fan page:
Jenson, Jessica and friends were on holiday in a rented villa in St Tropez when on Monday evening two men broke into the property whilst they all slept and stole a number of items of jewellery including, most upsettingly, Jessica's engagement ring. The police have indicated that this has become a growing problem in the region with perpetrators going so far as to gas their proposed victims through the air conditioning units before breaking in. Whilst unharmed everyone involved is unsurprisingly shaken by the events.
Watch this report about the incident:
The 35-year-old former world champion, who drives for McLaren Honda, married his model wife in Hawaii in December.