Brilliant Books in Traverse City, Michigan is offering customers who bought Harper Lee's new controversial novel, "Go Set a Watchman," a full refund.
In a statement posted online, the independent bookstore claimed that the novel was not a sequel or prequel to Lee's bestselling novel "To Kill a Mockingbird." Instead, Brilliant Books claims, the novel was a "first draft that was originally, and rightfully, rejected."
"We suggest you view this work as an academic insight rather than as a nice summer novel. This situation is comparable to James Joyce's stunning work 'A Portrait of the Artist as a Young Man', and his original draft 'Stephen Hero,'" the statement read. "'Hero' was initially rejected, and Joyce reworked it into the classic 'Portrait'. 'Hero' was eventually released as an academic piece for scholars and fans—not as a new 'Joyce novel'. We would have been delighted to see "Go Set A Watchman" receive a similar fate."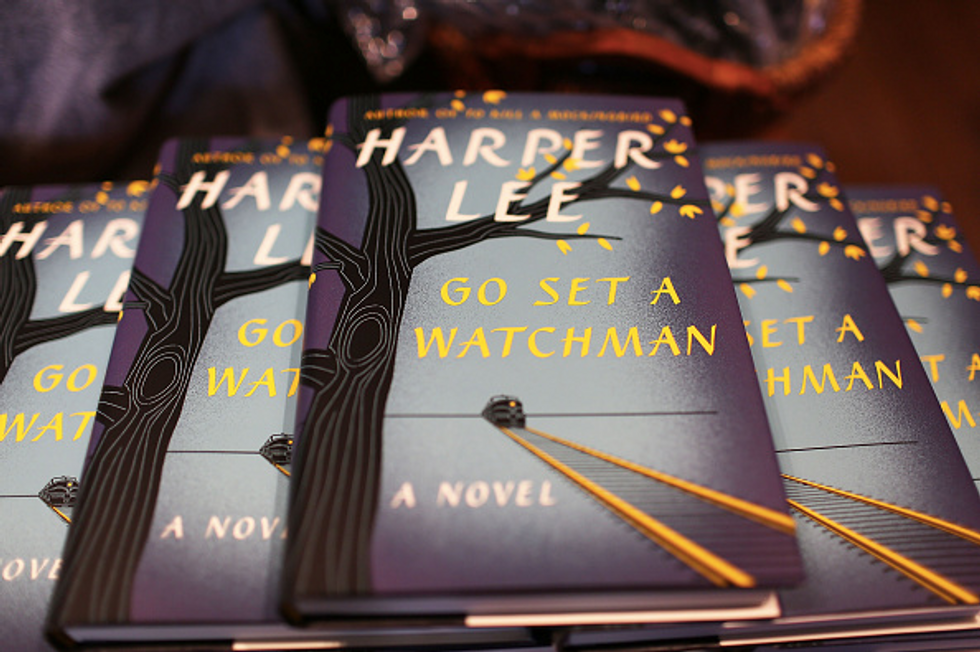 CORAL GABLES, FL - JULY 14: The newly released book authored by Harper Lee, 'Go Set a Watchman', is seen on sale at the Books and Books store on July 14, 2015 in Coral Gables, Florida. The book went on sale today and is Lee's first book since she released her classic, 'To Kill A Mockingbird' ,55 years ago. (Photo by Joe Raedle/Getty Images)
"It is disappointing and frankly shameful to see our noble industry parade and celebrate this as 'Harper Lee's New Novel,'" the statement continued. "This is pure exploitation of both literary fans and a beloved American classic (which we hope has not been irrevocably tainted.) We therefore encourage you to view 'Go Set A Watchman' with intellectual curiosity and careful consideration; a rough beginning for a classic, but only that."
Peter Makin, the bookstore's owner, told Melville House Books that the store blamed HarperCollins Publishers for their "desperate attempt to get folks to buy the book before they realized what it actually was."
"We believe GSAW should have been an academic piece for scholars and fans, as we said. Not marketed as the next big thing," Makin said. "But I do think this whole episode points to a much larger issue in the publishing world. There's a much repeated myth that independent bookstores are thriving. They aren't. Some might be, and yes, there are more of them than ever, but that increase in capacity isn't matched by an increase in overall book sales at independent bookstores."
Makin told the Detroit Free Press that one woman who bought the book from their store expressed her disappointment in the novel.
"Her disappointment was palpable, so I immediately apologized for being complicit in the marketing, and offered her a refund, which she accepted," Makin said. "I realized then that we needed to offer the same thing to all our customers, of which there were dozens across the country, and explain why."
"We are not offering refunds based on the quality of the book or its content. We are offering refunds to those who bought the book based on marketing that led them to believe it was something other than what it actually was," he added. "If you find yourself complicit in misleading a customer, you should make amends. Again, this isn't about whether they liked the book. Its about being misled by the marketing."
Makin said his store will continue to see Lee's novel but wish for readers to know exactly what they are purchasing.
CBS News reported that the novel set sales records on the day it was released.