Republican presidential candidate Carly Fiorina said that defunding Planned Parenthood would be a matter of America's "moral character," as she blasted the organization under fire after officials were shown in a series of undercover videos discussing the sale of aborted fetal body parts.
Fiorina also claimed Planned Parenthood is "pushing women into late-term abortions so they can more successfully harvest body parts."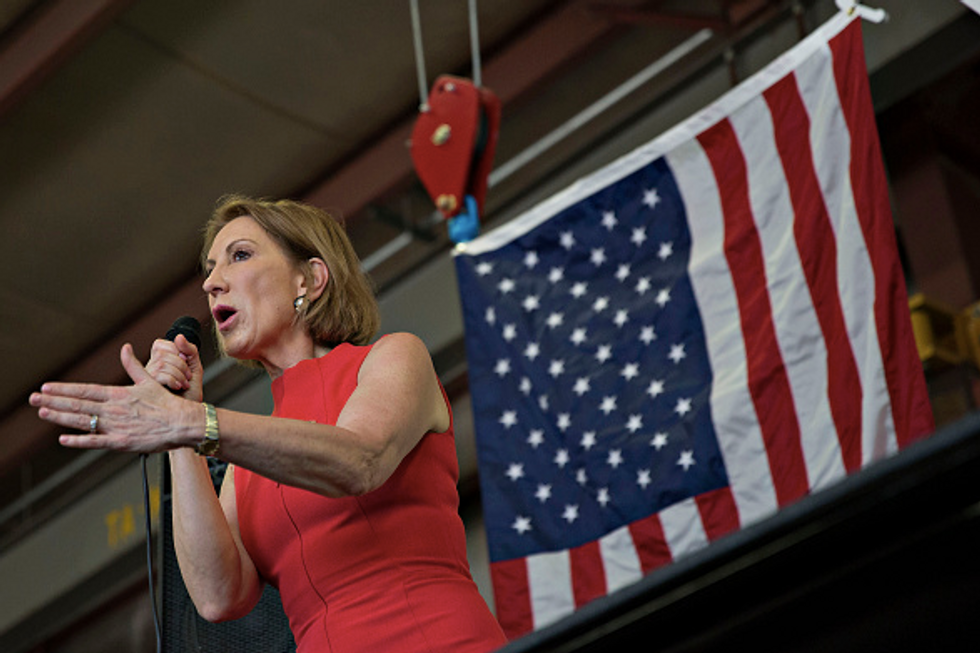 Daniel Acker/Bloomberg via Getty Images
An anti-abortion group has released a series of videos over the last month that show Planned Parenthood executives talking casually about fetal parts being obtained and sold for research purposes. Planned Parenthood has questioned the integrity of the videos, which are heavily edited.
"I am pro-life. I believe science is proving us right every day, but you do not have to be pro-life to understand the hideous nature of what is going on here," Fiorina, the former Hewlett Packard CEO, said at the Iowa State Fair Monday, one of the biggest political events leading up to the first nominating contest in the nation in February 2016. "This is about the moral character of our nation."
She also took what seemed a veiled swipe at Republican frontrunner Donald Trump, who said last week that he doesn't want to cut off federal funding for Planned Parenthood.
"There is no excuse, Planned Parenthood must be defunded and I believe anyone who buys the Democrat argument, with all due respect, that this is about women's health, you need to look at all of the other facilities that provide women's health services," Fiorina said.
"You need to go look at the facts of how many mammograms they usually do," Fiorina continued. "You need to go look and understand the foundation of Planned Parenthood, which from the foundation of its very inception targeted poor women, African-American women, and Hispanic women. There are more African-American lives aborted in New York City every year than are born alive. That, ladies and gentlemen, is not right."
Fiorina began taking questions almost immediately after coming to the stage, whereas most candidates who spoke at the fair delivered a stump speech then took a hand full of questions at the end during the 20 minutes allotted to them. Fiorina talked about other issues, including tax reform and opposition to the Iran deal. But the biggest reaction from the crowd seemed to be her response to a question about Planned Parenthood funding.
"If Congress does not have the courage to defund Planned Parenthood, I'll tell you what, a President Fiorina, when we go to zero-based budgeting, I simply will not provide the money to fund Planned Parenthood," Fiorina said.