Texas deputy constables say the driver of a Dodge Charger nearly hit them while they were working the scene of a separate vehicle stop in Montgomery County, north of Houston.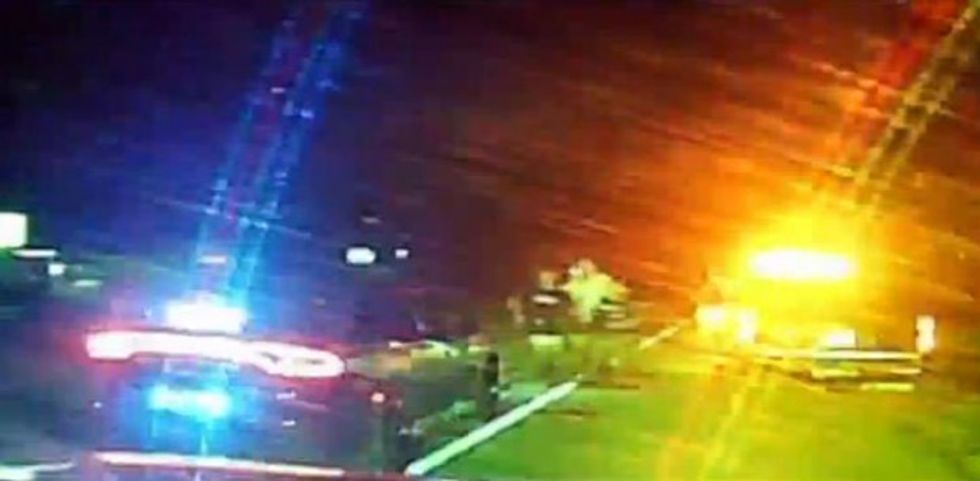 Image source: KHOU-TV
The first stop came late Tuesday when the deputies stopped a white pickup truck with three men inside. The officers had reportedly spotted the men throwing something out of the window.
When deputies stopped the vehicle one of the men got out and started running away into the woods, but one officer later caught up to him and took him into custody. The officer suffered an injury to his knee during the pursuit, KHOU-TV reported.
Another deputy constable arrived on the scene about 30 minutes later and, while talking with the constables who were already there, a Dodge Charger came barreling toward the group of officers. But one citizen wasn't about to let any of those officers get taken out.
The man pushed the officers out of the way of the speeding car, thus keeping them from being run over and, possibly, injured or even killed. The entire incident was caught on one officer's dash cam, which you can see below.
The violent incident quickly escalated into a full-on police chase, with the vehicles involved topping speeds of more than 100 mph. The high-speed chase ended when the suspect who was driving saw that police had set up spike strips in the road, forcing him to pull over and resulting in his arrest.
Anthony Joel Shelton, 32, was taken into police custody and charged with aggravated assault on a public servant, theft of a motor vehicle and evading arrest with a motor vehicle, all felonies. His bond was set at $131,000.
The Dodge Charger that Shelton was driving had been stolen just the day before in Jasper, Texas, a city about two hours away.
The Montgomery County Sheriff's Office did not immediately return a request for comment from TheBlaze when asked if anyone else has been arrested in connection with Tuesday's events.
(H/T: KHOU-TV)
–
Follow Jon Street (@JonStreet) on Twitter