Pope Francis will become the first pope ever to address a joint session of Congress on Thursday morning, with much anticipation surrounding what he will tell America's leaders.
The pontiff, who delivered comments about the environment, among other issues, during a welcome ceremony at the White House on Wednesday, also briefly previewed his Thursday morning congressional speech, saying that he'd like "as a brother of this country to offer words of encouragement to those who guide the nation's political future in fidelity to its founding principles."
So, what will he tell Democrats and Republicans, alike? That's currently unclear.
On his U.S. trip thus far, Pope Francis has address a number of subjects. In addition to repeatedly speaking on the climate, he spoke up fervently for the lives of immigrants and the unborn during a prayer meeting with U.S. bishops on Wednesday.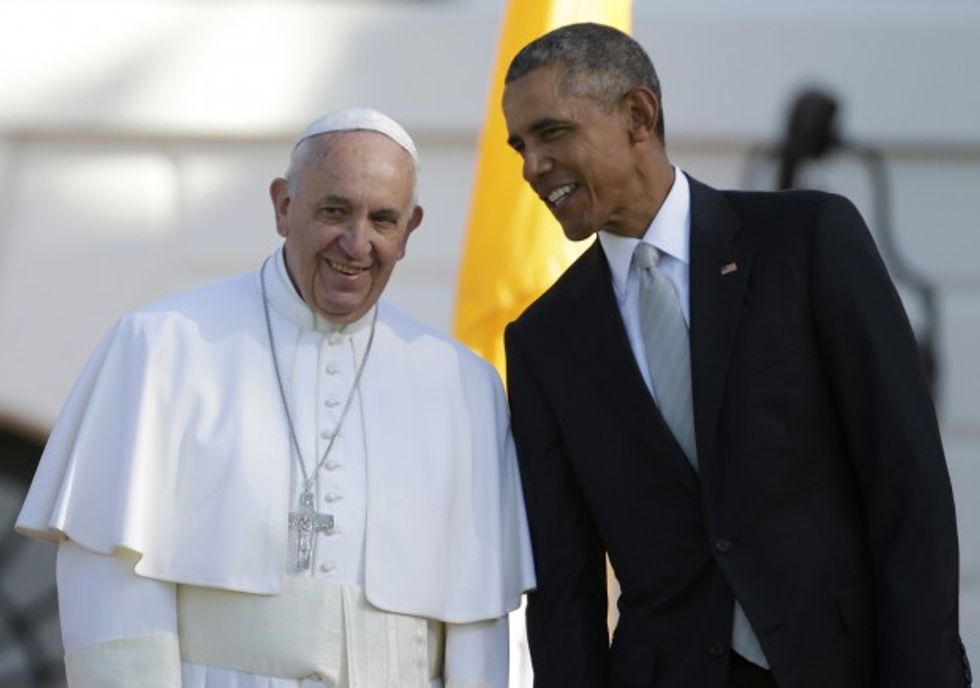 President Barack Obama leans over to talk to Pope Francis during a state arrival ceremony on the South Lawn of the White House in Washington, Wednesday, Sept. 23, 2015. (AP Photo/Pablo Martinez Monsivais)
Encouraging the bishops to "confront the challenging issues of our time," the pontiff, who met with Catholic faith leaders at the Cathedral of St. Matthew the Apostle in Washington, D.C., mentioned some of the key issues that he believes are plaguing the world today, including abortion, the plight of Middle Eastern refugees, terrorism and other related issues.
"The innocent victim of abortion, children who die of hunger or from bombings, immigrants who drown in the search for a better tomorrow, the elderly or the sick who are considered a burden, the victims of terrorism, wars, violence and drug trafficking, the environment devastated by man's predatory relationship with nature – at stake in all of this is the gift of God, of which we are noble stewards but not masters," Pope Francis said, according to prepared remarks. 
The pontiff went on to mention the importance of the "gospel of the family," as an issue that is no less pertinent than the others, and also shared his appreciation for the Catholic Church in America, encouraging bishops to work to unify communities.
"Our mission as bishops is first and foremost to solidify unity, a unity whose content is defined by the word of God and the one bread of heaven," he said. "With these two realities each of the Churches entrusted to us remains Catholic, because open to, and in communion with, all the particular churches and with the church of Rome which 'presides in charity.'"
Pope Francis' Thursday schedule — much like his Wednesday marathon — will be packed with notable events, including the much-anticipated address before a joint session of Congress at 9:20 a.m. E.T.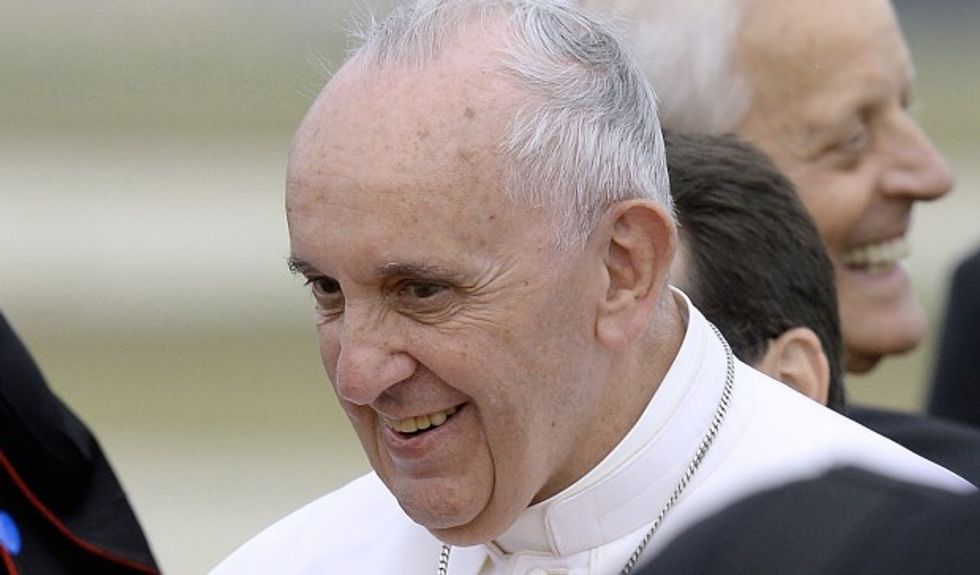 Pope Francis (Olivier Douliery-Pool/Getty Images)
The pope will then meet with hundreds of poor, immigrant and homeless individuals at St. Patrick's Catholic Church in Washington, D.C., at 11:15 a.m. E.T. — individuals who are clients of the Catholic Charities of the archdiocese of Washington, NPR reported.
The pontiff is also scheduled to have lunch with some poor and homeless residents in Washington, D.C. as well.
Pope Francis will leave Washington around 4 p.m. E.T. and will arrive in New York City around 5 p.m. E.T., before heading to an evening prayer service at St. Patrick's Cathedral in Manhattan. For more about his schedule, go here.
(H/T: Christian Today)