Erin Worthen, of Murray, Utah, never really thought of the American flag as any sort of "holiday decoration."
You can imagine her surprise when her homeowners association recently told her that she could only fly the flag within ten days of a holiday.
Now, she's speaking out against the policy on the national stage, and isn't ruling out a lawsuit.
Speaking out to Fox News on Sunday, Worthen said that the association sent her a notice last week — with a $75 fine — instructing her to "please remove your flag from the common area." She refused to take her flag down, saying that it shouldn't be subject to only being flown on certain days.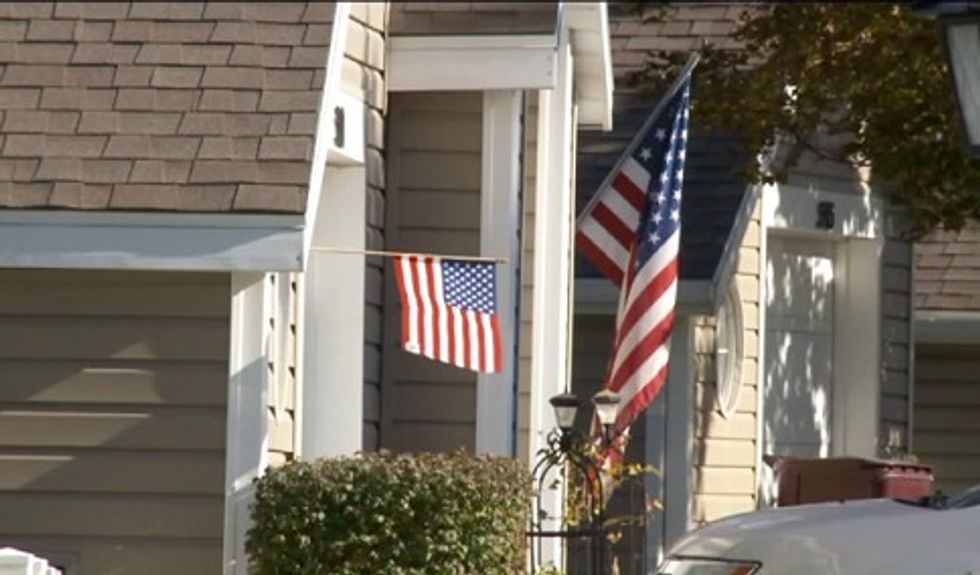 Image source: KSTU-TV
"It's just my way of saying thank you to them and honoring their sacrifice that they do every day – day in and day out – and not just on holidays," Worthen said.
Worthen and other members of the living community tried to address their concerns before homeowners association board members at one of their scheduled meetings on Thursday, but it was canceled at the last minute. The HOA's lawyer said the meeting was canceled because one board member couldn't make it.
Worthen managed to get in a word with members who were there before they could leave, saying, "I have a legal right to fly my American flag and there's not a damn thing you can do about it."
Worthen said she's contacted more than half of the nearly 60 homes in the community and said that a majority of residents she's spoken with agree that flags should be allowed to be flown year-round and not just around holidays.
Lyn Steinbergen has since resigned as HOA president, but it's still unclear whether further changes will be made. The association did not immediately respond to TheBlaze when asked whether the policy would be reversed or remain in place.
(H/T: Fox News)
–
Follow Jon Street (@JonStreet) on Twitter