UPDATE 12:28 a.m. ET Monday: No charges have been filed against the shooting suspect, WHBQ-TV reported late Sunday night, adding that the suspect's name won't be released until charges are filed.
Residents who live near where the shooting took place told WMC-TV the suspect caused disputes in the neighborhood.
"I'm not really surprised something bad happened," neighbor Karen Lax told the station, adding that she saw the suspect get angry with another neighbor previously after the neighbor's dog defecated in his yard.
"He was just going at him and at him," Lax told WMC. "He was right up on top of him, like come on, I can't say what he called him. It was like 'Come on mother trucker.'"
She added that the suspect is married with a 9-year-old son.
"He shot that man a man that lived here trying to protect us," Lax said, "and it made no sense to me whatsoever."
—
UPDATE 7:50 p.m. ET: Here's a report from WHBQ-TV that includes a photo of slain Memphis police officer Terence Olridge:
—
UPDATE 6:55 p.m. ET: The sister of the suspect in the officer's fatal shooting said her brother indicate someone pulled a gun on him earlier in the day, WMC-TV reported, adding that her brother was washing his car when he got into an argument with the officer.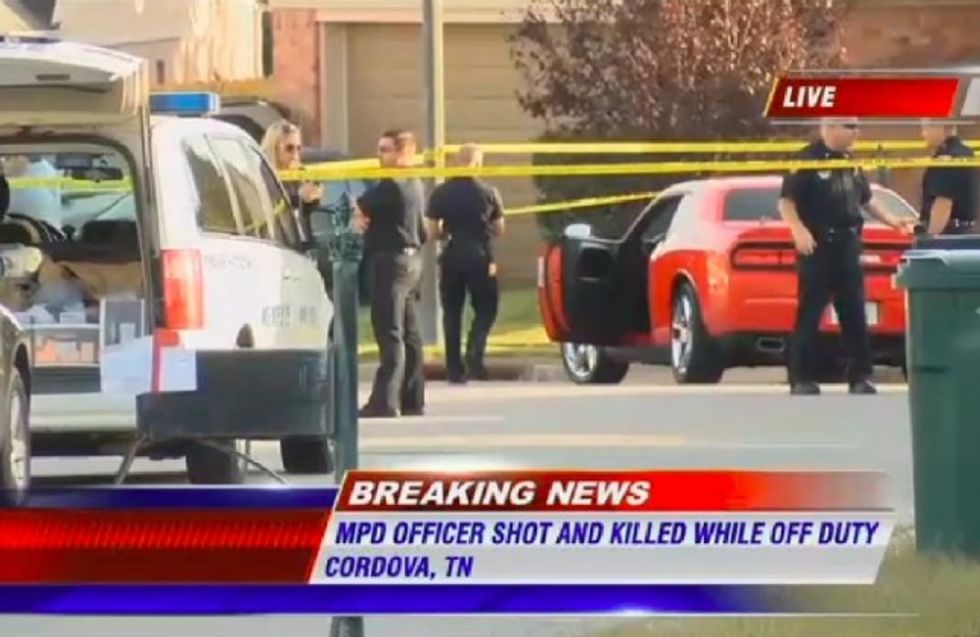 Image source: WMC-TV
Neighbors told the station they heard at least 15 gunshots.
WHBQ-TV spoke to Olridge's aunt and uncle who said he was on his way to work when the shooting occurred.
"We just got a call, told us he'd been shot on his way to work, that he made his way back to the door some kind of way," Jerry Kelly, Oldridge's uncle, told WHBQ. "I don't know exactly how he made it back, but made it back to the garage door."
Olridge's fiancee was in the house when the shooting occurred; the couple were to be married this year, WHBQ noted.
"It's sad, sad it keeps on happening in Memphis," Kelly told the station. "Just another life gets taken, someone's life gets taken another day. It's sad."
WMC Action News 5 - Memphis, Tennessee
Original story below
MEMPHIS, Tenn. (TheBlaze/AP) — An off-duty police officer died Sunday after being shot multiple times, the fourth Memphis police officer to be fatally shot in slight more than four years, authorities said.
Memphis Police Director Toney Armstrong said 31-year-old Terence Olridge was taken to the Regional Medical Center in Memphis on Sunday where he later died.
Armstrong said officers got a call around 1 p.m. about a shooting at a home in the Memphis suburb of Cordova. He said a male suspect is in custody, but didn't say whether the person has been charged.
Armstrong said Oldridge had a fiancee who is 4-months pregnant, adding that the investigation is ongoing and that "details are sketchy."
In August, Memphis police officer Sean Bolton was fatally shot in the line of duty.
Police have charged 29-year-old Tremaine Wilbourn, who was on probation for an armed bank robbery, with first-degree murder in Bolton's death. Bolton was white, and Wilbourn is black.
In past shootings, Armstrong has addressed the media outside the Regional Medical Center. "I didn't think that we'd be here again so soon," a somber Armstrong told reporters on Sunday.
WMC Action News 5 - Memphis, Tennessee
This is breaking news; updates will be added.
—
Follow Dave Urbanski (@DaveVUrbanski) on Twitter