Casting aside extensive historical documentation — including information found in Islamic texts — the top Muslim cleric in Jerusalem made the claim over the weekend that the Temple Mount has been the site of a mosque "since the creation of the world" and was never a Jewish worship site.
"The Al-Aqsa mosque is an Islamic mosque since the creation of the world," Sheikh Muhammad Ahmad Hussein told Israel's Channel 2.
Asked if the Temple Mount was ever a Jewish worship site, Hussein said, "It was never, [it was] only a mosque."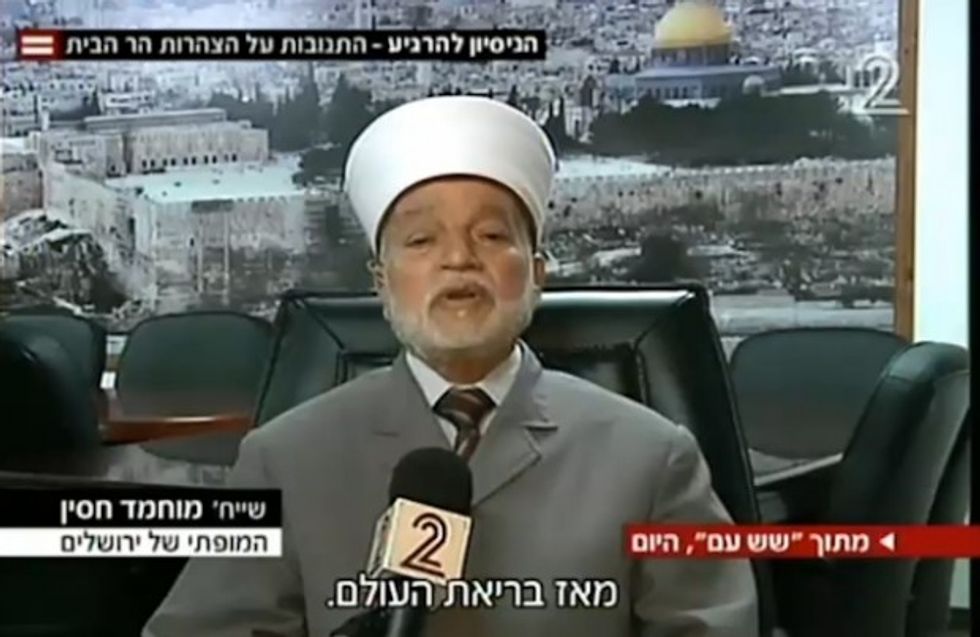 Mufti of Jerusalem Sheikh Muhammad Ahmad Hussein speaks to Israel's Channel 2. (Image source: Channel 2)
The Muslim cleric was loose in dating the construction of the mosque, which he said stood "3,000 years ago and 30,000 years ago."
"This is the Al-Aqsa mosque that Adam, peace be upon him, or during his time, the angels built," the mufti said.
The Al-Aqsa mosque was built in the eighth century. The Prophet Muhammad was born in 570 A.D., a full thousand years after the construction of the Jewish Second Temple. Preceding the Second Temple, Solomon's Temple, which is described extensively in the Bible, stood at the Jerusalem site.
The Jewish link to the Temple Mount has been extensively documented in both historical and religious texts, not only in the Hebrew Bible, but also Muslim historical writings.
Archaeologist professor Gabriel Barkay who heads the Temple Mount Sifting Project told TheBlaze earlier this month, "Muslims themselves built the Dome of Rock [on the Temple Mount] as a replacement of Solomon's Temple, and they call Jerusalem the 'City of the Temple' in Islamic literature."
The Times of Israel reviewed other historical Islamic citations that make reference to the Jewish connection to the Temple Mount:
The 10th-century Muslim historian Muḥammad ibn Aḥmad Shams al-Din al-Muqaddasi wrote in his description of Syria and Palestine that "in Jerusalem is the oratory of David and his gate; here are the wonders of Solomon and his cities," and that the foundations of the Al-Aqsa Mosque "were laid by David."

A guide to the Haram al-Sharif, as the Temple Mount is known in Arabic, published by the Muslim Waqf in 1924 also mentioned the presence of two Jewish temples atop the Jerusalem compound in antiquity.
The Temple Mount is the holiest site in Judaism, and for Muslims is the third holiest site after Mecca and Medina in Saudi Arabia.
The Palestinian Authority has accused the Israeli government of working to change prayer arrangements on the Temple Mount, known as the "status quo," according to which Muslims are allowed to pray there, but Jews, Christians and other non-Muslims are allowed only to visit and not pray.
Israeli Prime Minister Benjamin Netanyahu has time and again asserted that Israel has no designs to change the status quo, a statement he repeated again Sunday.