A Texas middle school student said Tuesday she was "shocked" by the demand her teacher allegedly made after she provided an answer to a God-related question on a class assignment.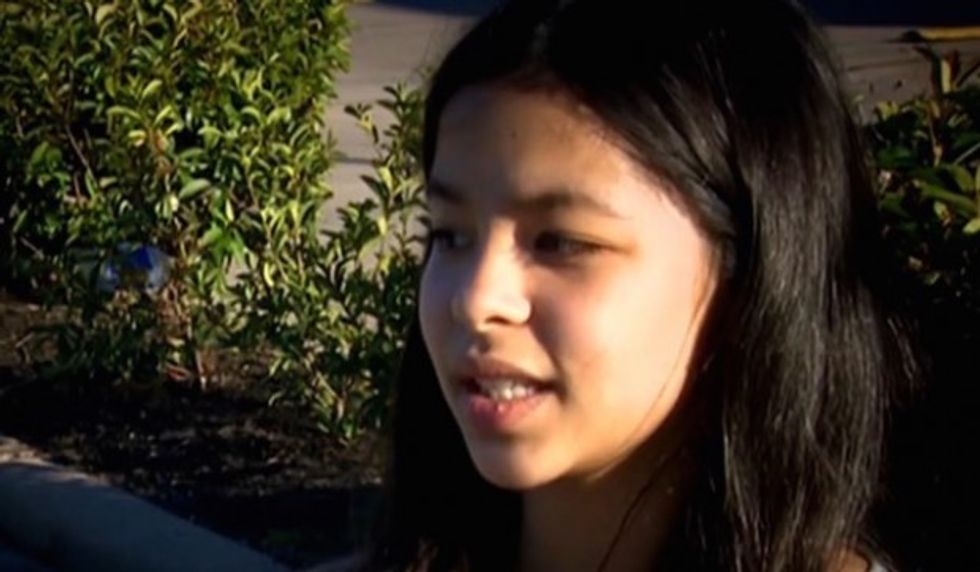 Image source: KHOU-TV
Jordan Wooley told KHOU-TV that her West Memorial Junior High School reading teacher handed students an assignment that asked them to classify several phrases into three categories: a factual claim, a commonplace assertion, or an opinion.
This was part of graded assignment and #katy middle schooler says she was told she had to say God wasn't real #khou https://t.co/5EQ5EnSYi7

— Josh Chapin (@Josh Chapin)1445987286.0
Wooley said when she arrived at the phrase "There is a God" she responded with two answers.
"I said it was fact or opinion," she said.
According to the seventh grade student, her teacher told her the answers were wrong and demanded she say God isn't real.
"It was really confusing to me at first because I didn't really know what to do, so the first thing I did was tell my mom," Wooley told KHOU.
Her mother Chantel echoed the concern.
"That a kid was literally graded against her faith in God in a classroom so who would want to be known," Chantel told KHOU.
The school released a statement Tuesday saying the assignment aimed to spur critical thinking and was not intended on questioning the religious beliefs of students. Administrators did, however, conceive it wasn't a well-thought out lesson.
"Still this does not excuse the fact that this ungraded activity was ill-conceived and because of that, its intent had been misconstrued," Katy Independent School District said, adding that the teacher should not be attacked for the assignment.
Wooley disputes the districts statement, telling KHOU it was a graded assignment.
"I love reading so for me personally to have to fail reading because of what my beliefs are just shocked me," Wooley said.
—
Follow the author of this story on Twitter and Facebook: