Until Friday, Texans will have the opportunity to participate in early voting on seven new state constitutional amendments — including an amendment that would protect their right to hunt.
According to KLTV, Texas has the highest number of paid hunting license holders in 2015. One of the seven proposed amendments in the state includes one that would guarantee Texans the right to fish and hunt in the state — something many didn't know wasn't already a right.
"I don't like that we have to vote on something like that, that should be a natural right in my opinion to be able to provide for yourself and your family and others around you," Logan Doherty told KLTV.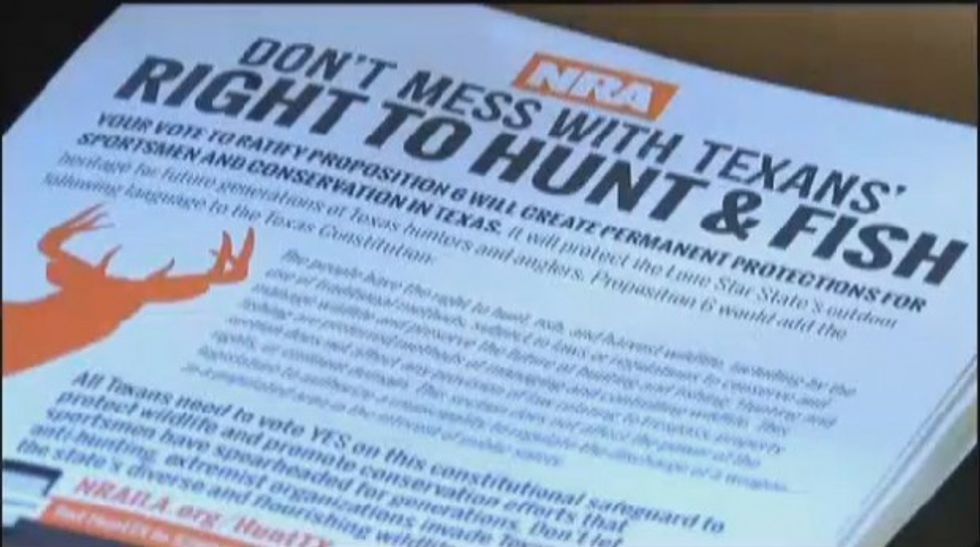 Image source: KLTV
Shawn Wilson told KLTV that as a hunter he approves of the proposition especially as property owners oftentimes need to protect their land from wild animals such as hogs.
"They'll come in and just destroy fields, habitats where our cows are at and other animals," Wilson said. "And so we're doing that to remove that, but at the same time we get to have a good time, and we also can bring home meat."
However, opponents to the proposition argue that it could endanger more vulnerable animals. According to KLTV, the amendment would not change any licenses or permits, and hunters who violate the law would still face repercussions, including having the right to hunt stripped away.
If the proposition passes, Texas would become the 18th state to have such an amendment. Other amendments on the ballot include: repealing a previous amendment that required state elected officials to reside in the state capital; allowing professional sports teams' charitable foundations to conduct charitable raffles; and authorizing counties with a certain population to commission private road construction and maintenance.
(H/T: KLTV)