A headline run by the website Gawker just hours after the death of former Sen. Fred Thompson was so "vile" and "disgusting" that it made the satire website The Onion "look like the New York Times."
That's what users on Twitter are saying after Gawker published this headline on Thompson's passing Sunday evening: "Actor, Former Senator, and Predatory Home Refinancing Shill Fred Thompson Dead at 73."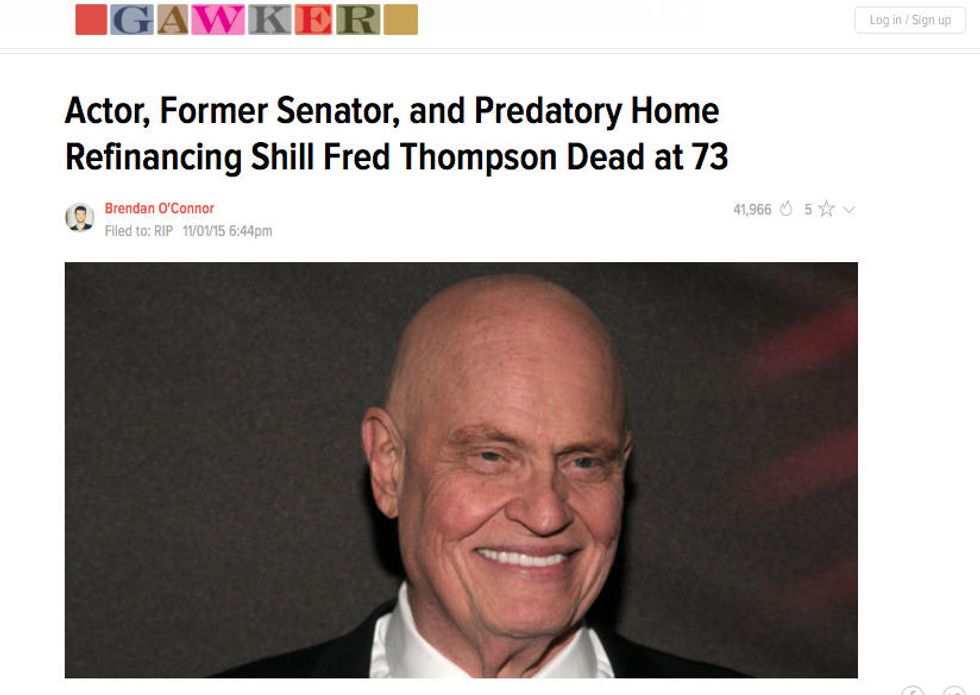 Image source: Gawker
Gawker was referring to Thompson's role as a spokesman for American Advisers Group, often seen on TV commercials promoting reverse mortgages, which allow seniors 62 and older to convert the equity in their homes into cash.
Gawker tweeted the article shortly after publication, prompting a number of social media users to express their distaste with the website's choice of words. Here are a few replies:
@Gawker AYFKM? The man just died. Get some class.

— e pluribus unum (@e pluribus unum) 1446424118.0
.@Gawker You are truly horrible, horrible people. Have you no souls? Really vile.

— Lady L. North (@Lady L. North) 1446438473.0
@Gawker Really lousy article Gawker. So disrespectful.

— Colette (@Colette) 1446425438.0
Thompson, who was a Republican senator from Tennessee, ran for president in 2008. He was also an actor cast in a number of roles, including his role as a senator in "Born Yesterday" and as New York district attorney in NBC's "Law and Order."
Thompson died Sunday. He was 73.
(H/T: BizPacReview)
–
Follow Jon Street (@JonStreet) on Twitter