CNN commentator Marc Lamont Hill was being pelted with harsh criticism on Wednesday after he posted a photo of communist Cuban soldiers in celebration of Veterans Day.
He quickly deleted the Twitter and Instagram posts after social media users expressed outrage, though nothing on the Internet is ever really "deleted."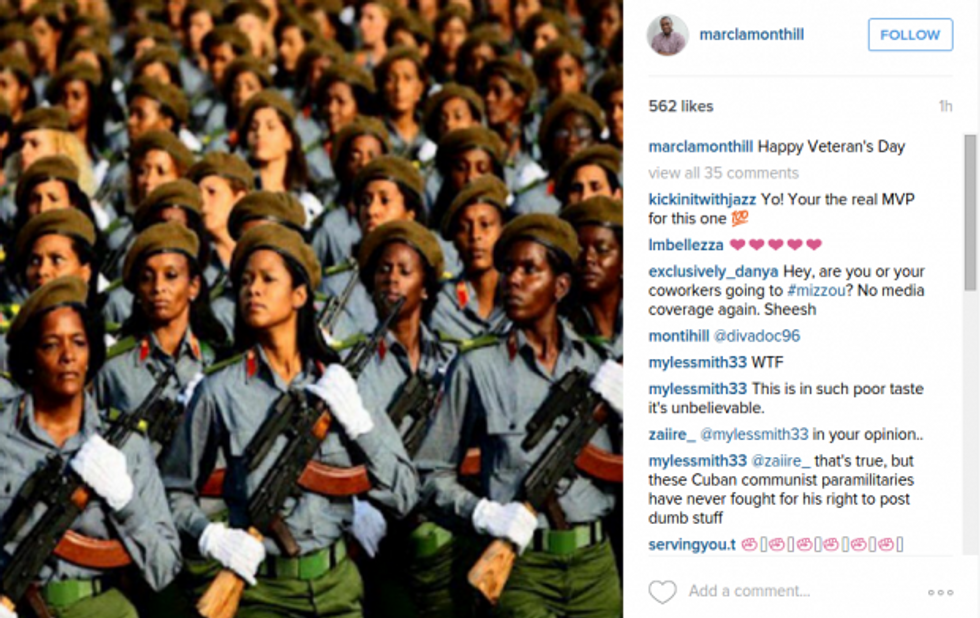 Instagram
Just as surprising was Hill's excuse for posting the photo afterwards — he claimed he didn't realize they were Cuban soldiers.
@nharmon I just realized that. And deleted.

— Marc Lamont Hill (@marclamonthill) November 11, 2015
He also shared his thoughts on what Veterans Day means to him.
For me, Veteran's Day is not just about celebrating courageous service. It's also about committing to end unjust war and invest in veterans.

— Marc Lamont Hill (@marclamonthill) November 11, 2015
It's one thing to honor Veterans. It's another, more important, thing to invest in resources so they return home with dignity and honor.

— Marc Lamont Hill (@marclamonthill) November 11, 2015
It means nothing to honor soldiers while placing them in harm's way through our growing use of war as a primary instrument of foreign policy

— Marc Lamont Hill (@marclamonthill) November 11, 2015
---
UPDATE: Marc Lamont Hill responded to TheBlaze on Twitter after the publication of this story to further explain the Veterans Day photo, calling it a "non-story." See his comments below:
@theblaze this is a non-story. I attempted to post a West African female battalion. Posted the wrong pic and deleted.

— Marc Lamont Hill (@marclamonthill) November 11, 2015
@theblaze Im not afraid to post controversial stuff and stand by it. But that wasn't the case this time.

— Marc Lamont Hill (@marclamonthill) November 11, 2015
@theblaze I wanted to give love to freedom fighters around the globe, especially women. Plus the image was beautiful!

— Marc Lamont Hill (@marclamonthill) November 11, 2015
@theblaze My beliefs on Veterans and Veteran's Day are clear. Probably different than your readers. But certainly transparent.

— Marc Lamont Hill (@marclamonthill) November 11, 2015
---