COLUMBIA, Mo. (TheBlaze/AP) -- University of Missouri police said Wednesday they have arrested a suspect accused of making online threats against black students and faculty, threats that added to racial tensions on campus that resulted in the departure of two senior university officials.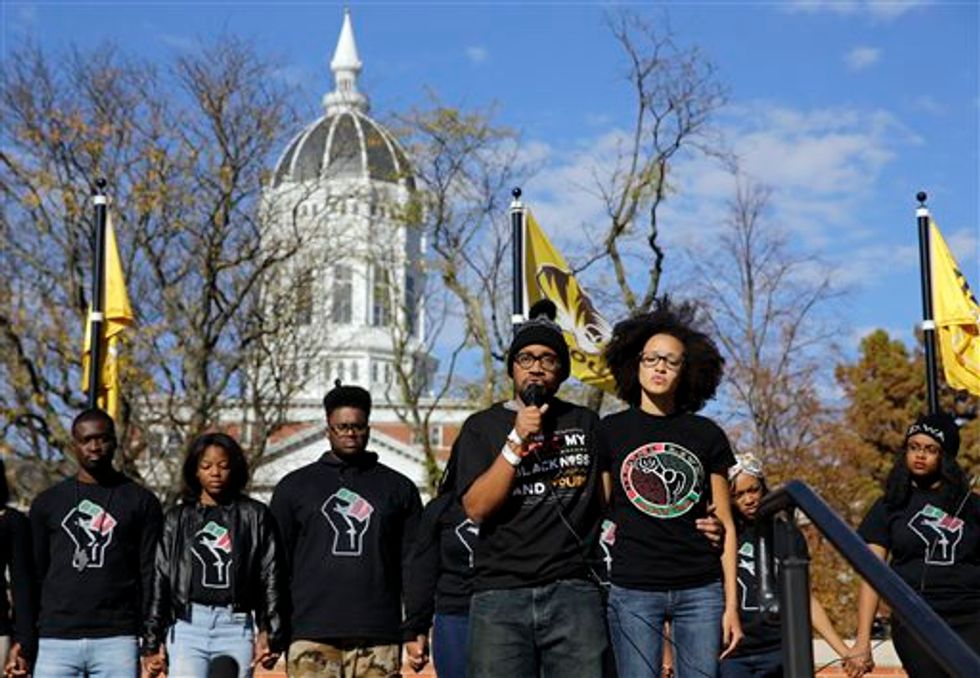 Jonathan Butler, front left, addresses a crowd following the announcement that University of Missouri System President Tim Wolfe would resign Monday, Nov. 9, 2015, at the university in Columbia, Mo. Butler has ended his hunger strike as a result of the resignation. (AP Photo/Jeff Roberson)
Police said they arrested 19-year-old Hunter Park around 1:50 Wednesday morning, the Columbia Tribune reported. Park was not on or near the university's Columbia campus when the threat was made.
Have apprehended suspect who used multiple accts to threaten @Mizzou students. He was never physically near campus @MUalert

— R. Bowen Loftin (@R. Bowen Loftin) 1447243778.0
"We had additional officers on patrol last night and the campus remained safe," Major Brian Weimer said in a statement. "We investigated a number of reports and tips and take every one of them seriously."
The online posts discovered on the anonymous location-based messaging app YikYak and other social media Tuesday threatened to "shoot every black person I see."
The threats follow the resignations Monday of the university system's president and the Columbia campus' chancellor after student protests over the university's handling of complaints about racism.
There were other threats, and authorities didn't say if additional arrests are possible. Another threat said: "Some of you are alright. Don't go to campus tomorrow." The message seemed to echo one that appeared on the website 4chan - a forum where racist and misogynistic comments are common - ahead of the deadly campus shooting at an Oregon community college last month.
The posts were widely disseminated across the Internet and local media.
Weimer told The Associated Press additional officers were already on campus before the university learned of the threats. University police were working with other state and local agencies to ensure the campus was secure, he said.
A university spokesman couldn't immediately be reached for further comment, but the school's online emergency information center tweeted, "There is no immediate threat to campus," and asked students to not spread rumors.
There is no immediate threat to campus. Please do not spread rumors and follow @MUAlert at https://t.co/6BXzIBsDxU for updates.

— MU Alert (@MU Alert) 1447219156.0
On campus about 8 a.m. Wednesday, student foot traffic was muted as Steven Loughrige made his way to class. He said he never took the threats seriously because they appeared on social media.
"I'm just disappointed that it escalated," said Loughrige, a white junior studying engineering.
It has been a tumultuous week for the flagship campus of the University of Missouri system.
The student government president reported in September that people shouted racial slurs at him from a passing pickup truck, galvanizing the weekslong protest movement. A graduate student went on hunger strike to demand the resignation of university system President Tim Wolfe over his handling of racial complaints, then more than 30 members of the Missouri football team went on strike in his support. Those developments came to a head Monday with the resignation of Wolfe and hours later, the top administrator of the Columbia campus, Chancellor R. Bowen Loftin, was forced out.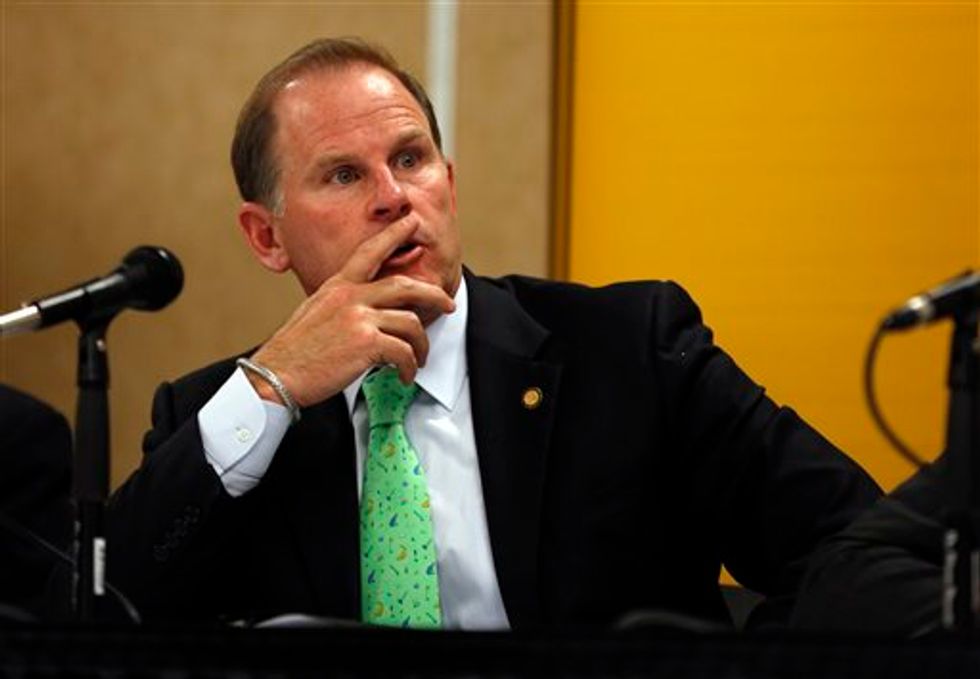 In this Friday, April 11, 2014, file photo, University of Missouri President Tim Wolfe participates in a news conference in Rolla, Mo. Missouri football players announced Saturday, Nov. 7, 2015, on Twitter that they will not participate in team activities until the university president is removed from office. The move aligns the team with campus groups who have been protesting the way Wolfe has dealt with issues of racial harassment during the school year. (AP Photo/Jeff Roberson, File)
A plaza that had been the site of a sit-in by protesters was entirely empty Tuesday night and only a handful of students were seen walking around campus. Police officers from the campus department and city of Columbia were on patrol.
Gaby Rodriguez, a senior, said she was at work when she heard about the online threats.
"It's really disheartening and proves the point of why these protests and boycotts were necessary," Rodriguez said. "I don't think I've ever felt this unsafe at Mizzou," she said, referring to the college by its nickname.
Some students, faculty and alumni have said the protests and top leaders' resignations are the culmination of years of racial tension.
Among other recent events, members of the Legions of Black Collegians, whose founders include a recently retired deputy chancellor, said slurs were hurled at them by an apparently drunken white student while practicing for a homecoming performance.
The university has promised changes.
Chuck Henson, a black law professor and associate dean, was appointed Tuesday as the university's first-ever interim vice chancellor for inclusion, diversity and equity.
The university system's governing body, the Board of Curators, also announced a number of other initiatives, including more support for the hiring and retention of diverse faculty and staff and a full review of all policies related to staff and student conduct.