Asked whether he would follow the lead of newly elected Canadian Prime Minister Justin Trudeau and hire 50 percent women in his cabinet, Donald Trump responded by saying he would not but noted that he already employs "about 50 percent" women at his companies.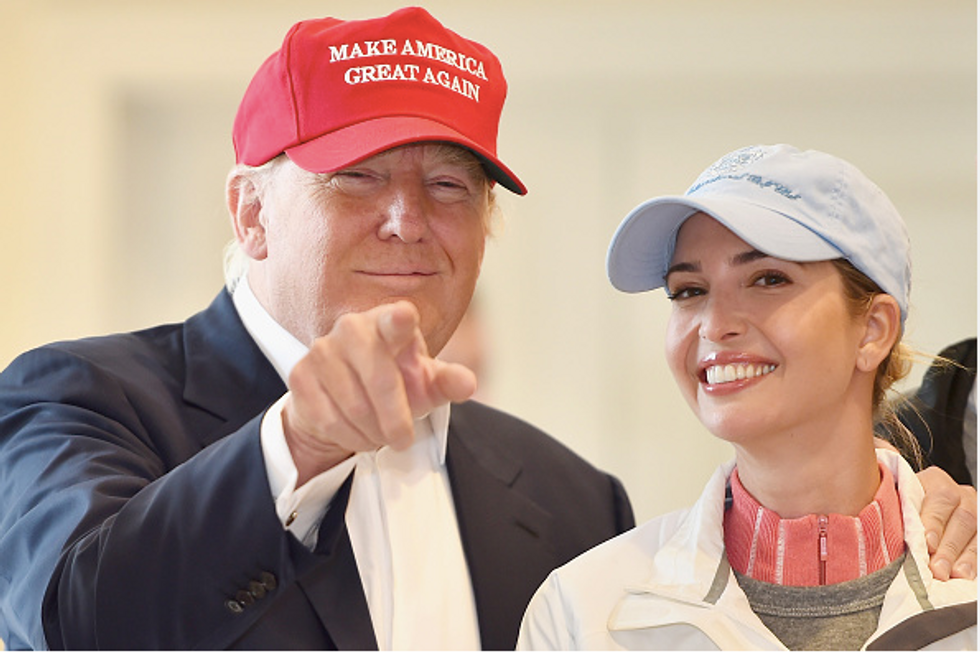 Republican presidential candidate Donald Trump visits his Scottish golf course Turnberry with his daughter Ivanka Trump in Ayr, Scotland. (Jeff J Mitchell/Getty Images)
MSNBC "Morning Joe" co-host Mika Brzezinski asked Trump the question in New Hampshire Wednesday, just hours after the GOP frontrunner participated in the fourth GOP presidential primary debate in Milwaukee, Wisconsin.
"The new prime minister of Canada has pledged to hire 50 percent women — 15 men, 15 women — in his cabinet and he was asked why, and he said because it's 2015," Brzezinski told Trump.
Brzezinski then asked the billionaire businessman if he would make a similar pledge to appoint women to his presidential cabinet.
"Well, I think you know a lot about my company, and I have many, many women in my company. Probably more than almost anybody, proportionally," Trump replied. "It's just about 50 percent. It might even be more than 50 percent."
"So I'm not one that has to make a pledge, and I wouldn't want that because I will tell you, I want the best person at each position," Trump added.
Watch the interview below (relevant portion begins around 14:28):
–
Follow Jon Street (@JonStreet) on Twitter