A British television network went undercover for a year among female supporters of the Islamic State group in London and reportedly found British mothers preaching that Allah will destroy Western militaries, that the "man-made" laws of Britain are to be rejected and that Muslims must travel to Syria to join the jihadist group.
In the program, "ISIS: The British Women Supporters Unveiled," Britain's Channel 4 reported that its investigation spanned the past year until about four weeks before the Paris attacks, which killed 129 people.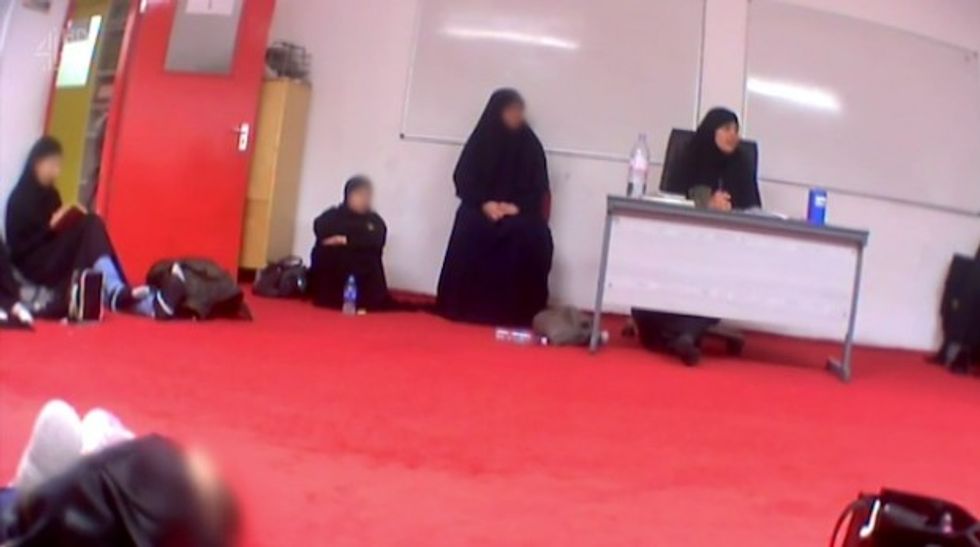 Those who attend secret meetings in London hear female Islamic preachers bashing the military coalition fighting the Islamic State group: "Allah, one by one, he will destroy them." (Image source: Channel 4)
The undercover reporter, dressed in full Islamic garb, including covering her face, penetrated the closely guarded group by first setting up fake social media accounts that she used to communicate with three leading female Islamic State supporters in the U.K. who go by the names Umm Usmaan, Umm Saalihah, and Umm L, whom Channel 4 said it could not name for legal reasons.
The reporter, who presented herself as a woman named "Aisha," said she is a Muslim who grew up in London and was willing to undertake personal risk in order to discover what has motivated an estimated 700 British Muslims to travel to Syria to fight for the jihadist group — among them 100 girls.
"Aisha" attended secret lectures in London, during which women preached the evils of the U.K. and democracy and described Jews as "filthy," often with teenage and younger girls present.
The women pushed the notion that man-made laws are not to be followed, only the laws of Islam; therefore, democracy should be rejected.
"We do not submit to the law of any country, any nation," said one of the women.
One of the women tweeted against wearing the traditional poppy on one's lapel in honor of servicemen killed in war, describing a person who wears the red flower as an "apostate."
Accusing Israel of killing Muslim children, the radical female activist Umm L said, "The amount of Muslim children — I won't even use the word 'Palestinian' — Muslim children that are in custody of those filthy Jews."
On the videos, Umm Usmaan frequently quoted Islamic religious texts to encourage people to travel to Syria, while Umm Saalihah told Muslims online to go work for the caliphate, the documentary reported.
Repeatedly, the British women attacked Britain for allegedly waging a war against them.
"Allah, one by one, he will destroy them," one female preacher said regarding coalition fighters targeting jihadists.
Those launching air strikes on the Islamic State group in Syria were described as "cowards" and engaged in "killing innocent people."
"Aisha" the undercover reporter saw online messages encouraging girls to travel to Syria.
"Start saving for a plane ticket and don't tell anyone," social media activists told the impressionable young Muslim women.
The documentary can be viewed at Channel 4.