On the heels of the news that she would once again become a grandmother, Hillary Clinton tried to seize on the opportunity by connecting with Hispanic voters, less than a year away from the 2016 election.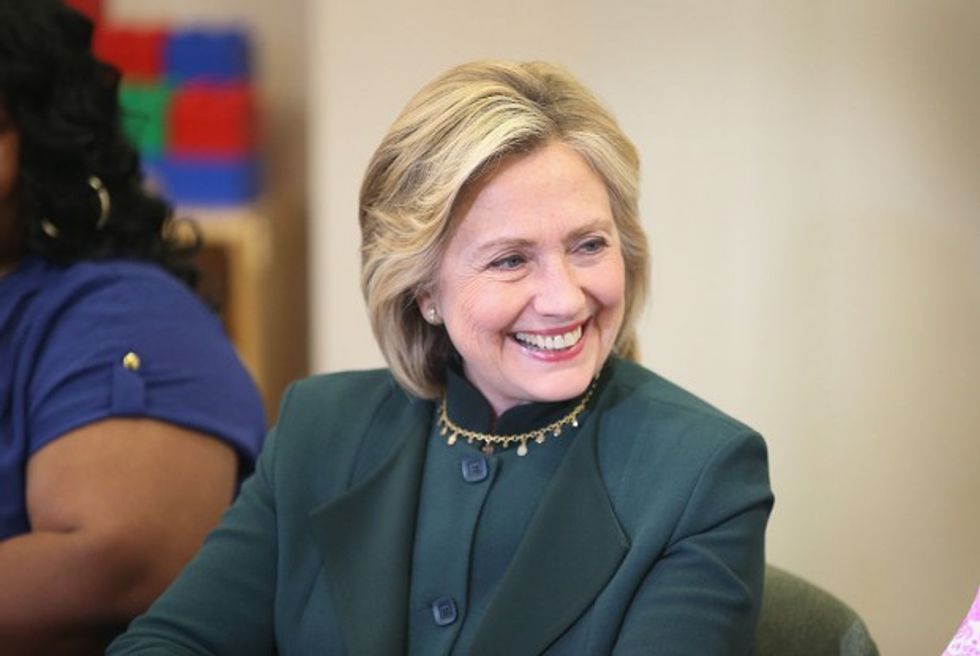 Democratic presidential front-runner, Hillary Clinton, (Getty Images/Scott Olson)
But it was a blog post on her campaign website, "7 things Hillary Clinton has in common with your abuela," that backfired, even inspiring a viral hashtag on twitter.
The post claims that Clinton is like an ordinary Hispanic "abuela," which is the Spanish word for "grandmother," because she "worries about children everywhere," "reads to you before bedtime," and demands "respeto," which is the Spanish word for "respect." The post is peppered with photos, even one of Clinton with famous Latin singer Marc Anthony.
However, twitter users took issue with the post because, according to Hispanics, Clinton isn't like their abeula after all. They included the hashtag "#NotMyAbuela" in their tweets.
One of my abuelas, from Utuado, worked washing the dishes and picking coffee since she was 11 years old. Hillary is #NotMyAbuela

— LaÍnsulaAlucinada (@LaÍnsulaAlucinada)1450810397.0
Maybe try discussing our issues, not pandering and patronizing, in order to get our votes. #NotMyAbuela @HillaryClinton

— Lóre (@Lóre)1450805836.0
Latinos aren't one size fits all. It takes more than a few Spanish words & cute pictures to get the Latino vote. #hillaryabuela #NotMyAbuela

— Vanessa Oden Show (@Vanessa Oden Show)1450823603.0
My Abuela came from poverty. Came to this country for the betterment of my family only to face racism and discrimination. #NotMyAbuela

— Eliel Cruz (@Eliel Cruz)1450818138.0
Hillary is #NotMyAbuela

— 𝚑𝚒𝚜𝚙𝚊𝚗𝚒𝚌 𝚙𝚒𝚡𝚒𝚎 𝚍𝚛𝚎𝚊𝚖 𝚐𝚒𝚛𝚕 (@𝚑𝚒𝚜𝚙𝚊𝚗𝚒𝚌 𝚙𝚒𝚡𝚒𝚎 𝚍𝚛𝚎𝚊𝚖 𝚐𝚒𝚛𝚕)1450803322.0
This is new low for @HillaryClinton comparing herself to my hardworking&poor abuelas who lived in mountains of Guatemala #notmyabuela

— Latin America IS NOT your backyard!!! (@Latin America IS NOT your backyard!!!)1450815585.0
HRC is like my abuela? lol no #notmyabuela https://t.co/ryit92LTjR

— Riot Studies with Prof Tenure (@Riot Studies with Prof Tenure)1450816998.0
When outrage began to ensue Tuesday, the Clinton campaign quickly altered the title of their blog post to its current headline from, "7 ways Hillary Clinton is just like your abuela." It too was called out on twitter.
Before and after #NotMiAbuela. Nice try, @HillaryClinton, but screenshots don't disappear the way your emails do. https://t.co/5NelbSbXwF

— Aura Bogado (@Aura Bogado)1450819484.0
—
Follow the author of this story on Twitter and Facebook:
[facebook //www.facebook.com/plugins/like.php?href=