The State Department said Wednesday that a Michigan woman who recently posted a video supporting Palestinians who stab Jews once served as a volunteer on a State Department program that works to create positive change in the Middle East.
Responding to questions TheBlaze posed to the department Sunday, a State Department spokesperson said Wednesday that the video inciting to violence "does not represent the values" of the program in which the woman served.
Lina Allan, the pro-Palestinian activist, posted a video on YouTube last week titled "Is Stabbing Jews Haram [Forbidden]?" in which she blasted Muslims who argue that stabbing attacks are forbidden under Islamic law.
The Middle East Media Research Institute, which translated the Arabic-language video, reported that Allan told Jordan's Roya TV in 2012 that she had represented the State Department's U.S.-Middle East Partnership Initiative at the Jameed Festival in Jordan, a food and culture event honoring rural women.
A State Department spokesperson told TheBlaze via email Wednesday, "Lina Allan was one of many independent volunteers that helped organize a single activity in Jordan."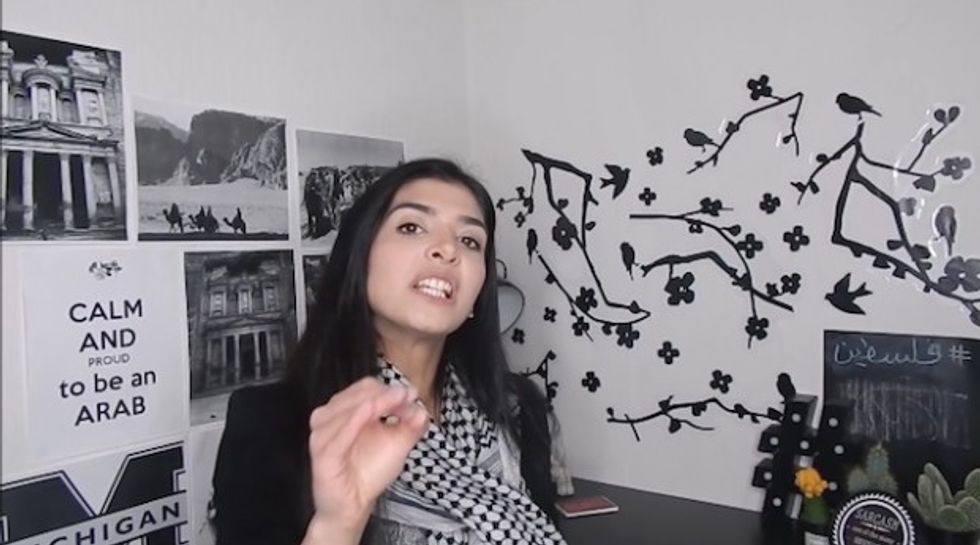 "Allan's video does not represent the values of the MEPI program or its alumni community," the State Department said. (Image source: YouTube)
As Allan had claimed, the activity was the Jameed Festival. The objective of that activity was to help rural women work toward financial independence, the State Department explained.
"That activity was implemented by the MEPI Alumni Network in Jordan which regularly engaged individuals from the public as volunteers," the spokesperson said, adding, "This is the only affiliation that Lina Allan has ever had with the MEPI Program."
"It goes without saying that Allan's video does not represent the values of the MEPI program or its alumni community," the State Department spokesperson said. "Obviously we condemn any acts of violence against innocent civilians."
The State Department's MEPI program — established during President George W. Bush's administration — sponsors groups and individuals that are "striving to create positive change in the society," its website states.
In her video, Allan notably used the word "Jews," not "Israelis," when describing attack victims.
The gist of her criticism was aimed at Muslims who believe Islam does not allow stabbing attacks, as she accused them of trying to be "muftis" and told them to "go back to watching Turkish soap operas."
She also appeared to compare Jews to animals, likening Muslims who oppose stabbings to defenders of "animal rights — not human rights, but at best, animal rights."
"I, Lina Allan, do not support the Palestinian government or any party. I support the Palestinian people, and I support any decision made by the Palestinian people, in order to regain its rights and its land," she said in reference to a wave of nearly daily Palestinian stabbing attacks against Israelis that began in September.
Here is the English-subtitled video via MEMRI:
Since MEMRI translated her video to English, Allan has removed the video from her YouTube channel. After highlighting the pro-stabbing video on her other social media accounts, this week, she made those accounts private.
Here's how her YouTube page previously appeared. The entry on the bottom-left is the video titled "Is Stabbing Jews Haram?":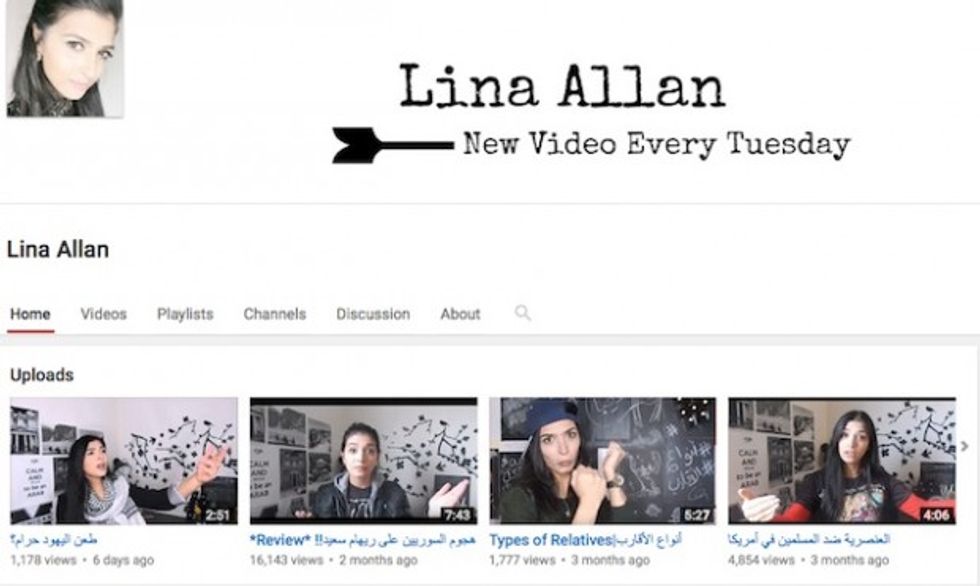 Screenshot: YouTube
Regarding the stabbing phenomenon, the State Department reiterated its long-held position that "we remain deeply concerned about the situation in Israel, Jerusalem and the West Bank and continue to urge all sides to take affirmative steps to restore calm and prevent actions that would further escalate tensions."