Dean Strang, one of two former defense attorneys for Steven Avery — the man convicted in 2007 of murdering 25-year-old photographer Teresa Halbach — believes that there is one key fact that presents "very powerful evidence" in his view "that [Avery], in fact, is not guilty."
It is Avery's unwavering claims of innocence in the wake of being charged and throughout his trial that Strang finds quite compelling, especially in light of what he said typically happens to individuals who find themselves in similar circumstances.
"I know, experientially, that people who are intellectually equipped as Steven Avery is ... they don't withstand the sort of pressure from the police here, and pressure from publicity, and pressure of having 16 months of their jail conversations taped constantly," Strang told The Church Boys podcast. "They don't withstand that without confessing or making an incriminating statement if, in fact, they're guilty."
Beyond that, the lawyer said that, from the outset, his own experience and sense as a criminal defense attorney left him with this "in some ways, horrible sense that Steven Avery may be innocent, may be just stone-cold innocent."
Strang said that, years later, he's still "stuck with that."
Listen to him discuss the case — and the "nagging mysteries" that he believes remain — below:
Subscribe to The Church Boys on iTunes
As for the reaction to "Making a Murderer" — the Netflix documentary that has sparked a worldwide conversation about Avery's case — Strang said that he was somewhat surprised at the intensity of it all, as he and fellow Avery attorney Jerome Buting have been called upon by a multitude of outlets to discuss the ordeal.
s
Without spoiling too many of the documentary and case details, let's briefly recap the key events before we move on: Avery was originally convicted of sexual assault in 1985, serving 18 years until he was exonerated in 2003 based on DNA evidence.
Two years after his exoneration and release, Avery sued the Manitowoc County sheriffs department for $36 million over his false imprisonment. But in 2005, just weeks after depositions of local cops who were associated with the case and subsequent lawsuit took place, Avery was, again, arrested — but this time on an entirely different charge: murder.
In a shocking twist of events, Avery went from a well-known exoneree in a sexual assault case to an accused killer, as prosecutors claimed that he murdered Halbach, a photographer who had come to his house on Oct. 31, 2005, to photograph a van for Auto Trader magazine.
Avery and his nephew — then-16-year-old Brendan Dassey — were eventually convicted of the crime in 2007; both men are currently serving life sentences, with the former having no chance of parole, as the New York Times reported.
As for the documentary, which extensively documents these events, Strang explained that he and Buting weren't involved in the initial decision to take part, as they weren't retained to represent Avery until three months after he was charged with Halbach's murder. 
By that point, filmmakers Laura Ricciardi and Moira Demos had already developed relationships with Avery and his family and were beginning to produce the documentary series.
He recalled being cautious about the impact that the filming would have on the case, but said that Ricciardi and Demos proved themselves "intelligent, thoughtful [and] aware of broader concerns" surrounding the complex legal battle.
There'e been much discussion about the elements that were included — and excluded — from "Making a Murderer," with some critics claiming that the 10-part series is filled with bias in favor of the convicted killer.
Strang addressed a few of those critiques, including the fact that there wasn't much discussion about the discovery in the series of Avery's DNA on the hood latch of Halbach's car — something that many believe helped point to his guilt.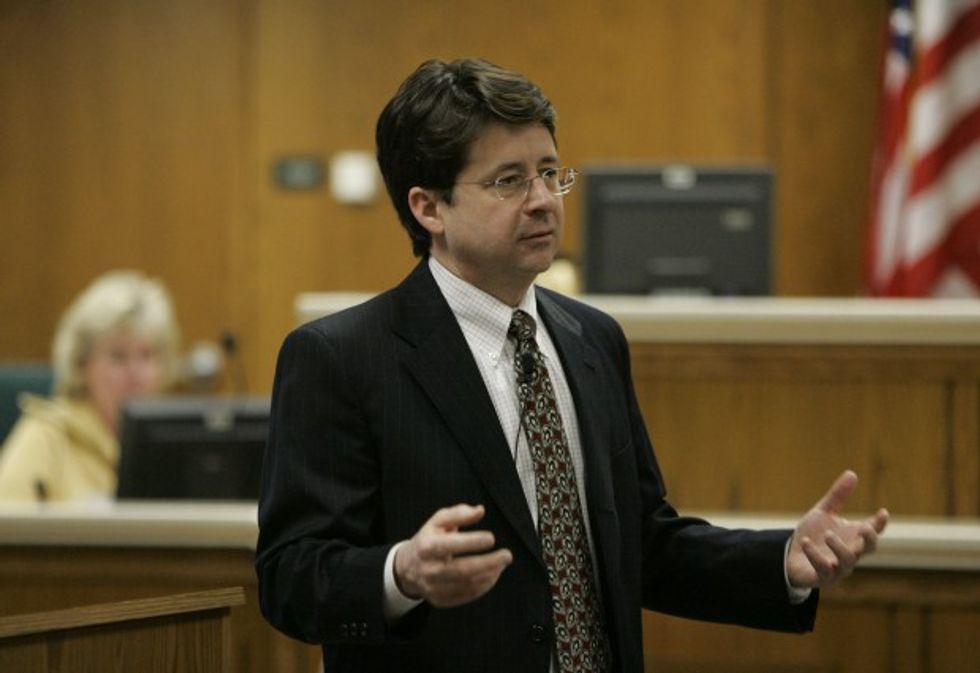 Steven Avery's defense attorney Dean Strang gives his closing arguments in the courtroom on Thursday, March 15, 2007, at the Calumet County Courthouse in Chilton, Wis. (AP Photo/Morry Gash, Pool)
But the lawyer said that the DNA that was found on the hood latch wasn't from blood, though Avery's blood was found inside the vehicle.
"To get on surface B it has to be transferred from surface A. Surface A could be Steven Avery's skin, his body," Strang said. "It could be his spittle or, in theory, some other bodily fluid [that isn't blood]."
He went on to defend the exclusion, calling the DNA find "less significant evidence" than other elements surrounding the case, as he said that the DNA could have come from Avery's toothbrush, slippers, razor or any other item in his home that he had used.
One possible theory — though Strang said that he can't be sure — is that the DNA was transferred inadvertently from a criminal investigator's latex glove; he said that an agent did testify to touching the hood of the car in the location where Avery's DNA was found.
Strang also addressed Halbach's car key, which was found in Avery's bedroom, stating that "only Steven Avery's" DNA was on it — a development that he said was quite curious.
"This is a key that I guess the state would have you believe she owned for six years and used everyday in driving that car for six years and her DNA was not found on that key," he said, going on to call the absence of other keys such as house keys and the like on Halbach's lanyard "one of the nagging mysteries" surrounding the case.
In the end, Strang said that he isn't sure what happened to Halbach, but he laid out how he fears police might have erred in the investigation.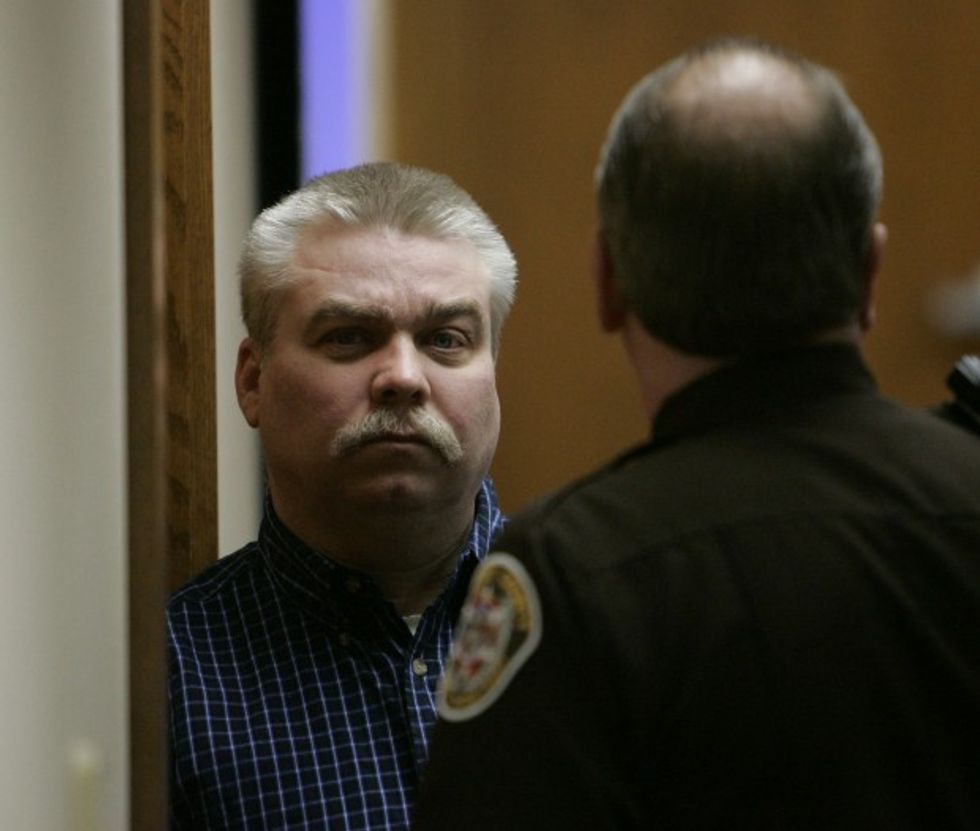 Steven Avery, left, exits the courtroom after closing arguments in his trial, Thursday, March 15, 2007 at the Calumet County Courthouse in Chilton, Wis. (AP Photo/Dwight Nale, Pool)
"My concern in this case is that I fear that the police did answer that question before they knew anything," he said. I fear the police said, 'I bet this is Steven Avery' ... I fear that the police got anchored to that hunch, that initial hypothesis and developed a sort of tunnel vision that, quite possibly, unconsciously caused them to look for or value or put emphasis on evidence that tended to support that initial hunch."
Strang said that he believes that Avery could get his case reopened if there is some form of newly discovered evidence, including witness testimony that has been kept under wraps for the past decade or new scientific tools or evidence that shed divergent light on what unfolded.
As TheBlaze previously reported, prosecutor Ken Kratz and law enforcement officials have pushed back against those who question Avery's guilt, with Manitowoc County Sheriff Robert Hermann telling USA Today that he wouldn't exactly call "Making a Murderer" a documentary.
"A documentary puts things in chronological order and tells the story as it is. … I've heard things are skewed," Hermann said, adding that he hasn't yet watched the series. "They've taken things out of context and taken them out of the order in which they occurred, which can lead people to a different opinion or conclusion."
He continued, "Show me the evidence he was framed. There is not going to be any. It didn't happen."
Read more about the pushback that Kratz has also given here.
Listen to Billy Hallowell explain the importance of watching this television program to TheBlaze's Mike Opelka.
--
Follow the author of this story on Twitter and Facebook: