An editorial in a pro-Saudi government newspaper as well as the words of Saudi Arabia's foreign minister suggest that the Sunni kingdom may be considering aiming to develop a nuclear capability timed to coincide with the expiration of the international nuclear deal with Saudi Arabia's archrival Iran.
Saudi Foreign Minister Adel al-Jubeir gave an interview to Reuters Tuesday, during which he avoided ruling out the possibility that the Saudis could pursue developing a nuclear bomb.
Reuters reported:
Asked in an exclusive interview if Saudi Arabia had discussed seeking a nuclear bomb in the event Iran managed to obtain one despite its atomic deal, he said Saudi Arabia would do "whatever we need to do in order to protect our people".

"I don't think it would be logical to expect us to discuss any such issue in public and I don't think it would be reasonable to expect me to answer this question one way or another," he said.
A Sunday editorial in the Saudi pro-government daily paper Al-Riyadh set out a "road map" for constructing nuclear reactors for peaceful purposes timed to the expiration of the Iran deal.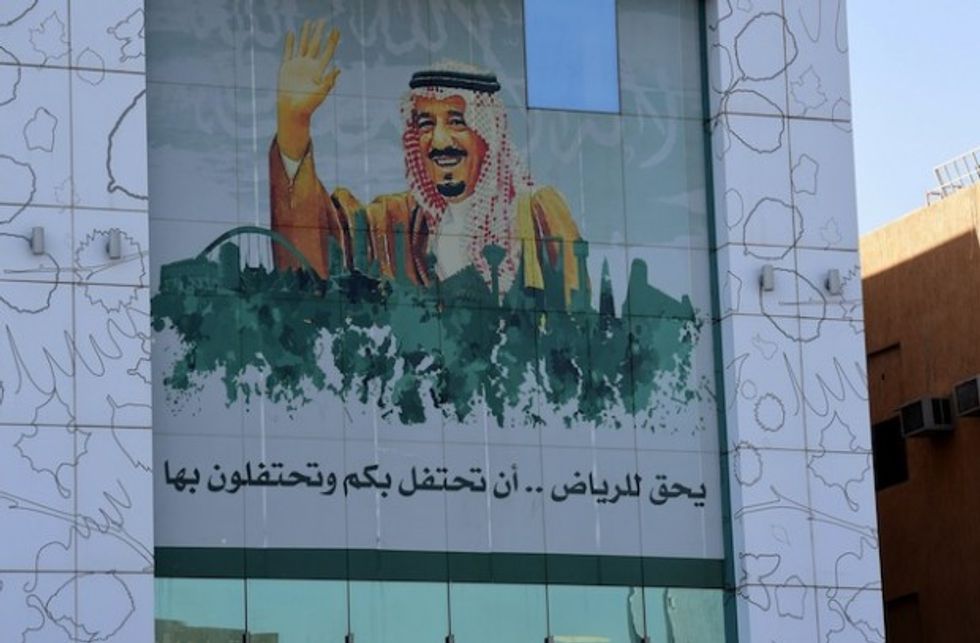 A picture taken Sunday in the Saudi capital Riyadh shows a giant poster on a building bearing a portrait of Saudi King Salman bin Abdulaziz. (Fayez Nureldine/AFP/Getty Images)
The Middle East Media Research Institute published excerpts of the editorial titled, "What Will Happen in 15 Years?" which pointed to the year 2031 when the Iran deal's restrictions are lifted and Iran might be free to pursue nuclear weapons.
A Saudi nuclear program would be one way of countering Iran's potential future progress in nuclear weapons, the editorial suggested.
"In 2031, [this] nuclear agreement will be consigned to the U.N. archives, and Iran will be free to do whatever it pleases regarding its nuclear program," the editorial said. "This, because most of the restrictions imposed [on Iran] by the articles of this agreement expire in 15 years. In the interim, Iran will enrich uranium to a level of no more than 3.67 percent, which is the safe level. But what happens after 15 years?"
"What we need to do, even today, is begin preparing a nuclear program for peaceful purposes so as to gain the necessary knowledge about the nuclear fuel cycle and build nuclear reactors for producing electricity and desalinating water, [thus] varying our energy sources," the editors wrote.
"A brief review of the nuclear programs in the region leaves us confident of Saudi Arabia's ability to begin building nuclear reactors and complete them before 2031," the editors added, saying that Saudi Arabia should "set out a timetable or a clear road map for a civilian nuclear program to meet Saudi Arabia's goals."
They added, "2030 will be set as the date for activating the first nuclear reactor."
The paper observed that President Barack Obama had offered Iran a "lifeline" by lifting nuclear-related economic sanctions.
"The fact is that the American president has thrown the Iranian regime a lifeline that will ensure its survival, and North Korea is an example of how nuclear power can constitute a shield for diseased regimes," the editorial read. "This philosophy [of Obama's] should not interest us at all."