None of the Iranians freed from U.S. custody as part of this weekend's so-called prisoner exchange with Iran have chosen to go back to Iran, ABC News reported quoting U.S. officials familiar with the negotiations.
Six of the seven Iranians pardoned by President Barack Obama hold dual U.S./Iranian citizenship and had been charged with violating U.S. trade sanctions.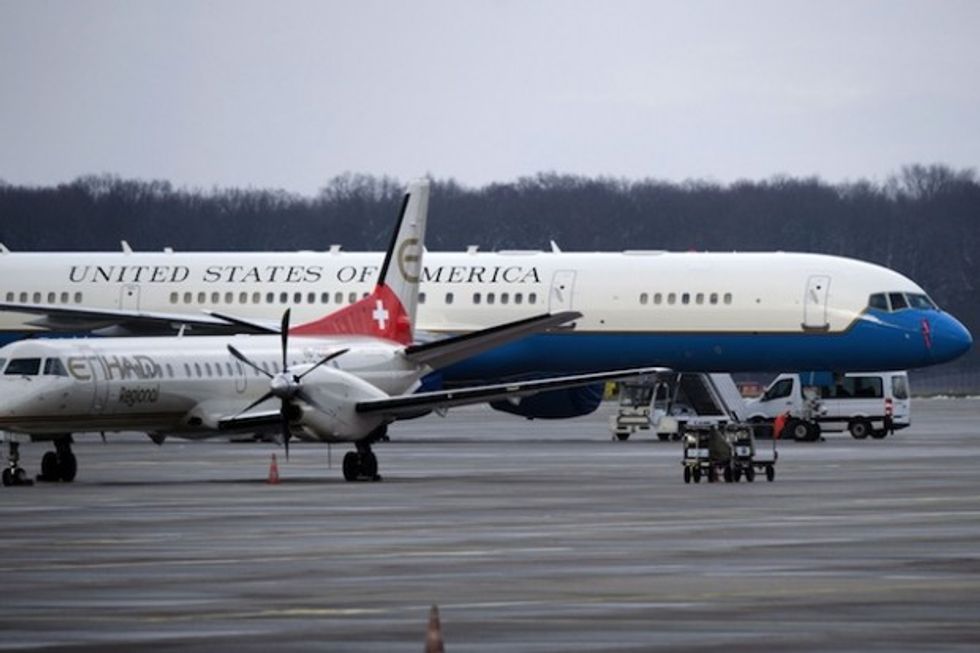 A U.S. plane is pictured on the tarmac of Geneva's airport on January 17, 2016, as four Iranian-Americans freed by Iran are awaited in Switzerland. (Photo: Richard Juilliart/AFP/Getty Images)
Not one of them boarded the plane that took off from the U.S. meant to transport them to Switzerland then bring back the Americans freed from Iran.
ABC News reported:
That same day, a plane took off from somewhere on the East Coast of the United States, carrying the seven Iranian-Americans freed from U.S. custody who wanted to return to Iran (or so everyone believed). But not one of them boarded the plane, according to the U.S. officials familiar with the process. The plane left anyway because it was designated to bring the freed Americans on to their second destination in Landstuhl, Germany.
So where did they go?
The lawyer for 72-year-old Khosrow Afghahi told ABC that his client was "spending some precious time with his family in the United States."
The attorney for 69-year-old Bahram Mechanic told ABC his client was spending time with his wife in Texas.
Kent Schaffer, the lawyer for Tooraj Faridi told ABC that his client had no plans to leave the U.S.: "He has not been in Iran in years, has no plans to go there, and will remain here at his home. He is an American and will remain in America."
No information was provided on the whereabouts of the other four Iranians freed this weekend.
As part of the agreement timed to the implementation of the Iran nuclear deal, five Americans were released from Iranian custody. One chose not to leave the Islamic Republic, ABC reported.
The Wall Street Journal quoted a U.S. official who said that all of the released Iranians are free to remain in the U.S. with no travel restrictions.