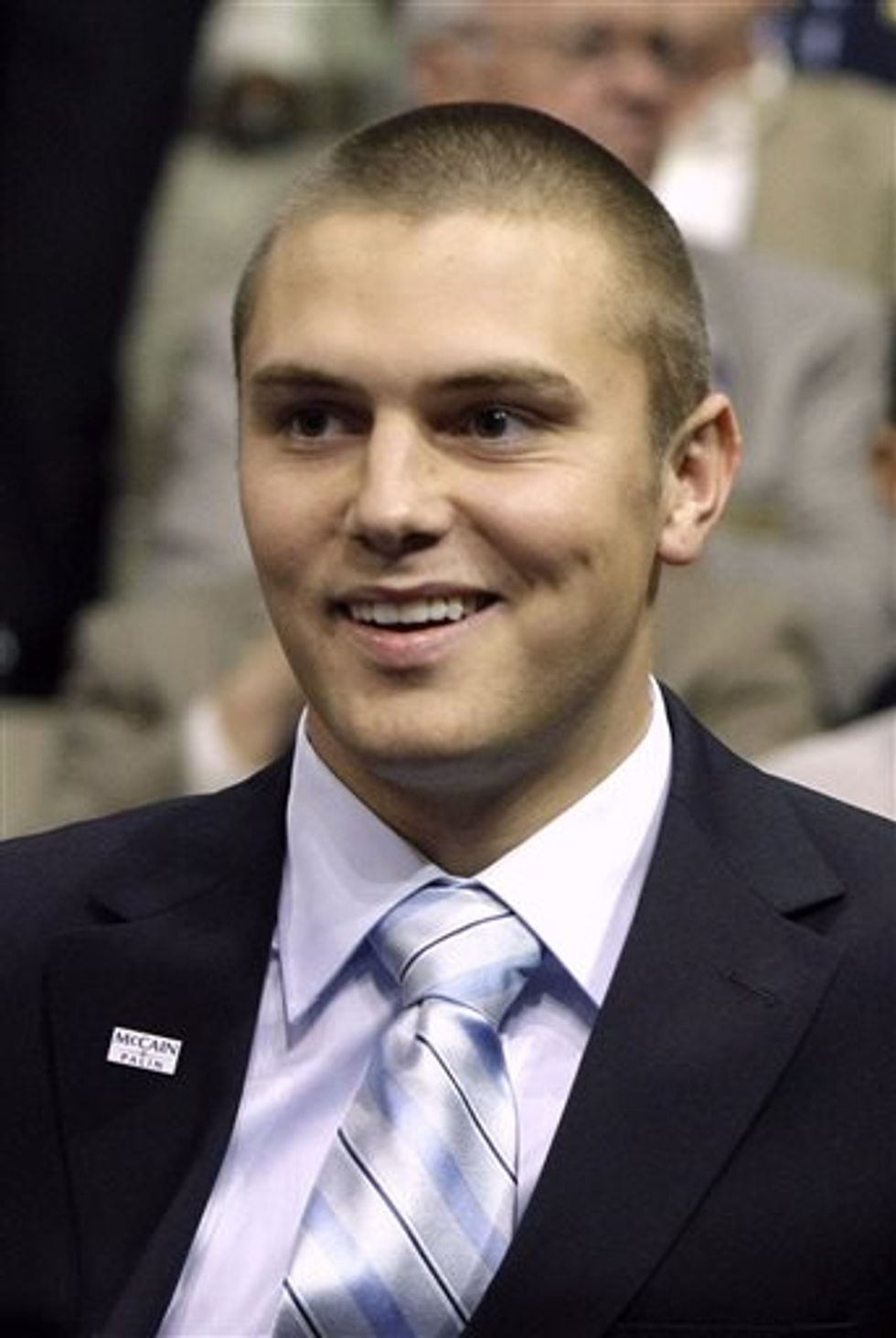 Track Palin, son of former Alaska Gov. Sarah Palin, was arrested Monday on domestic abuse charges. (AP Photo/Charles Rex Arbogast, File)
White House press secretary Josh Earnest said Thursday that former Alaska Gov. Sarah Palin raised "serious" topics when she criticized the administration's response to military personnel returning with post traumatic stress disorder.
However, he took a shot at how serious Palin is usually taken.
"I'm just saying that the instinct that some people have when hearing her rhetoric is to make light of it and sometimes those jokes come pretty easy," Earnest said. "But in this case, the issues that she's talking about are quite serious and they're certainly issues that we take quite seriously here."
Palin's son, Track Palin, who was deployed to Iraq with the U.S. Army, was arrested Monday night in Wasilla, Alaska, after his girlfriend said he punched her in the face.
During a Donald Trump rally on Wednesday, Palin said, "My son, like so many others, they come back a bit different, they come back hardened. ... It starts from the top, the question though that comes from our own president, where they have to look at him and wonder: 'Do you know what we go through? Do you know what we're trying to do to secure America and to secure the freedoms that have been bequeathed us?'"
When asked about the comments on Thursday, Earnest said he didn't know if the president saw the remarks.
"I can tell you that the the reaction of some people I think, is to make light of some of the rhetoric that we see on the campaign trail, particularly from Governor Palin," Earnest said. "But, you know, the fact is, domestic violence is not a joke. Gun violence is not a joke. Problems with addiction are not a joke and the consequences. I should say the sacrifices that many of our men and women in uniform make for our safety and security are not a joke."
"These are issues that this administration is quite focused on," Earnest said. "We take them all very seriously and they're many communities and families that are dealing with these very difficult challenges in a way that is sometimes is difficult to talk about publicly. But certainly, this administration over the course of the last seven years, and I'm confident over the year that remains, we will be focused on many of the issues that are raised by this particular case."