When it comes to a social issue as contentious as abortion, it's often easy to overlook or ignore the finer details — the key players, the primary events and the notable arguments that have led the cultural discussion to where it stands today.
Many Americans likely know little about the woman behind Roe. vs. Wade, the landmark 1973 Supreme Court decision that legalized abortion across the United States of America, igniting an impassioned debate that has raged for decades.
In fact, 43 years later, a seemingly never-ending discussion surrounding theology, public policy and women's rights continues to take the nation by storm, ramping up in recent months on the heels of undercover Planned Parenthood videos purporting to show the sale of fetal body parts.
All that aside, who is the formerly anonymous "Jane Roe" — the individual who, years after her case concluded, revealed herself to be Norma McCorvey, a Texas woman who later spent decades working in the pro-choice camp before converting to Christianity and becoming pro-life?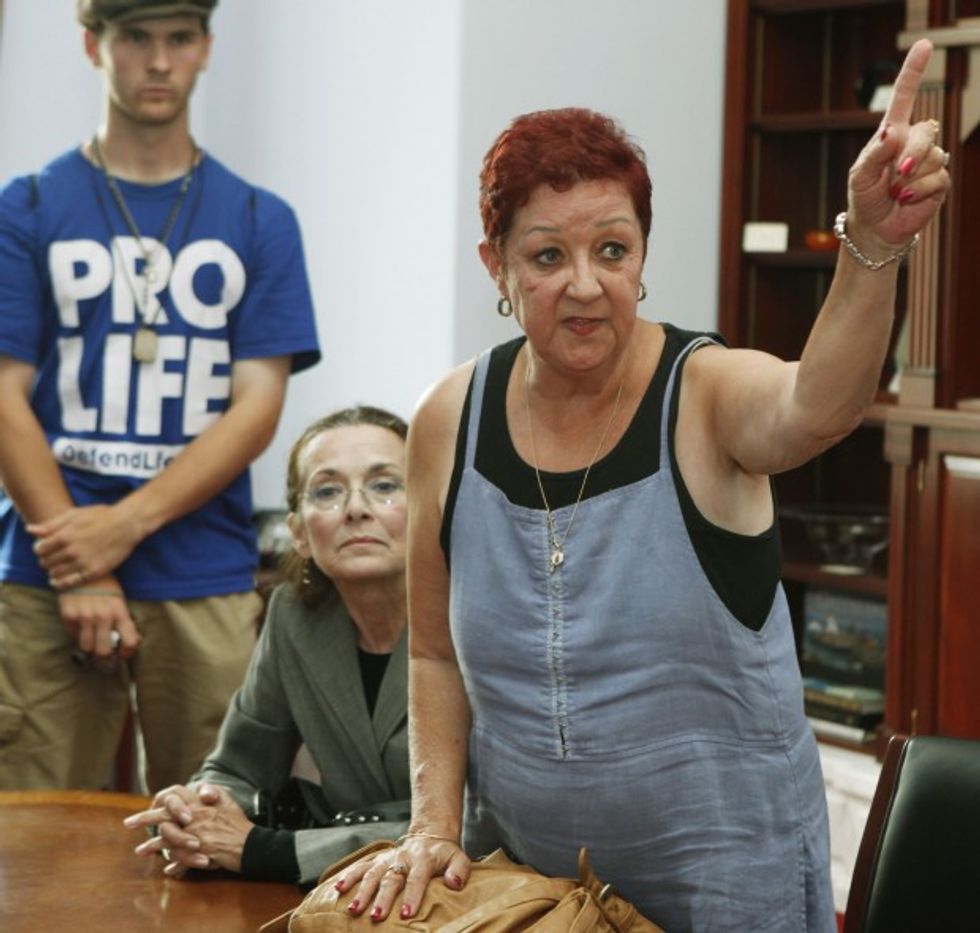 Norma McCorvey, right, the plaintiff in the landmark lawsuit Roe v. Wade, gestures as she speaks up as she joins other anti-abortion demonstrators inside House Speaker Nancy Pelosi's office on Capitol Hill in Washington, Tuesday, July 28, 2009. (AP Photo/Manuel Balce Ceneta)
Her story is a fascinating one, as the plaintiff quickly became the catalyst — and face — of legalized abortion. But it's what came next that is most shocking, as she later renounced her role in Roe vs. Wade and became one of the nation's most outspoken pro-life advocates.
McCorvey went by the pseudonym "Jane Roe" during her legal battle against Dallas County District Attorney Henry Wade, who was tasked with upholding Texas' ban on abortion unless a mother's life was at risk.
At the time, she was pregnant and just 21 years old when her case made its way to the nation's high court.
It was her third pregnancy, though McCorvey never ended up having an abortion, as the case didn't conclude until two years after her baby girl was born; she opted to give her up for adoption, with her first child reportedly being raised by her mother and her second by the child's father.
In her book, "I Am Roe: My Life, Roe v. Wade, and Freedom of Choice," McCorvey described suffering many abuses in her early life.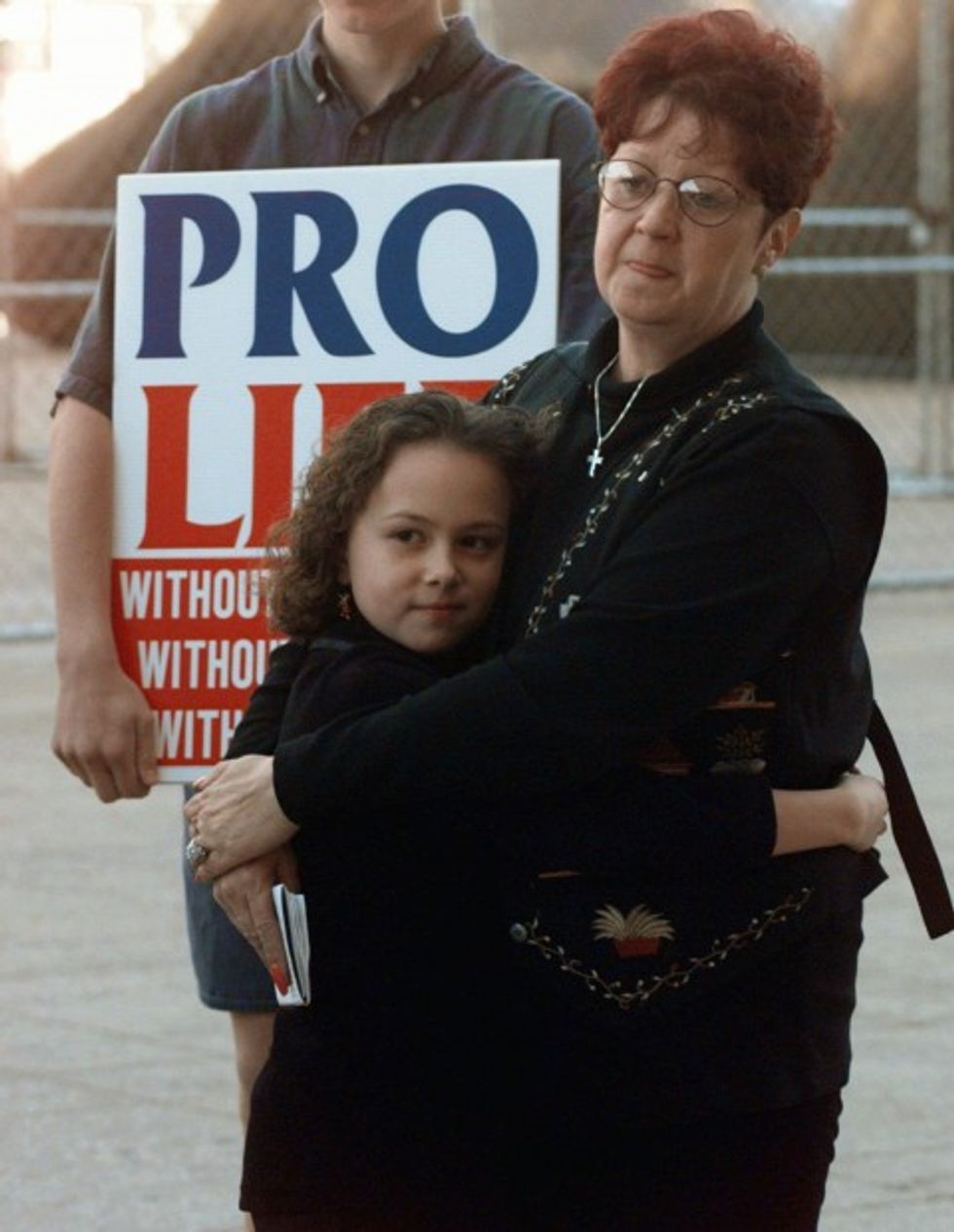 Norma McCorvey, right, known as Jane Roe in the landmark U.S. Supreme Court ruling 24 years ago that legalized abortion nationwide, stands with her friend Meredith Champion, 9, at an Operation Rescue rally in downtown Dallas on Wednesday, Jan. 22, 1997. (AP Photo/Ron Heflin)
Among them, she said that was a ninth-grade dropout, she was abused emotionally and physically as a child, she was married at 16 and was subsequently beaten by her husband. Additionally, McCorvey experimented with individuals of both sexes and also used drugs and alcohol in her younger years'; at least one interview seems to indicate that she used these substances until later on in her life.
The advocate also described herself as a "street kid" and "a rebel" during her teen years in one past interview. And a 1994 New York Times profile outlining McCorvey's more than two-decade romance with a woman named Connie Gonzalez provided a more complete depiction of McCorvey's early life, delving into some fascinating details surrounding her background:
Her grandmother was a prostitute and fortuneteller. Her father was a television repairman, her mother an alcoholic. Part Cajun, part Cherokee Indian, and raised as a Jehovah's Witness, Norma Leah Nelson was 10 when she took money from the gas station where she worked to run away from home. After that, her education came from reform schools until the ninth grade. By the time she was 15, she had been sexually assaulted by a nun and a male relative of her mother's. At 16, she married an itinerant steel worker, Woody

McCorvey

, who, she says, beat her. She left him and returned to her mother's house in Dallas with plans to raise her unborn child alone.

But after her daughter, Melissa, was born and Ms. McCorvey confided in her mother that her sexual preference was for women, she says, her mother kidnapped Melissa, banished Ms. McCorvey from the house and raised her granddaughter herself. Ms. McCorvey writes that when she was drunk, her mother tricked her into signing adoption papers, giving away custody.
It wasn't until the 1980s that McCorvey's identity became known to the American public.
A Seattle Times article from 1994 provides a recap of how she first went public, explaining that she told a Dallas TV reporter that she was the Jane Roe whose case led to the legalization of abortion throughout the country. She also reportedly said that she had lied about being raped in an effort to get assistance that would ultimately lead to a possible abortion — something that, as stated, never came to fruition.
The baby was, instead, the result of that the Times called a "casual affair."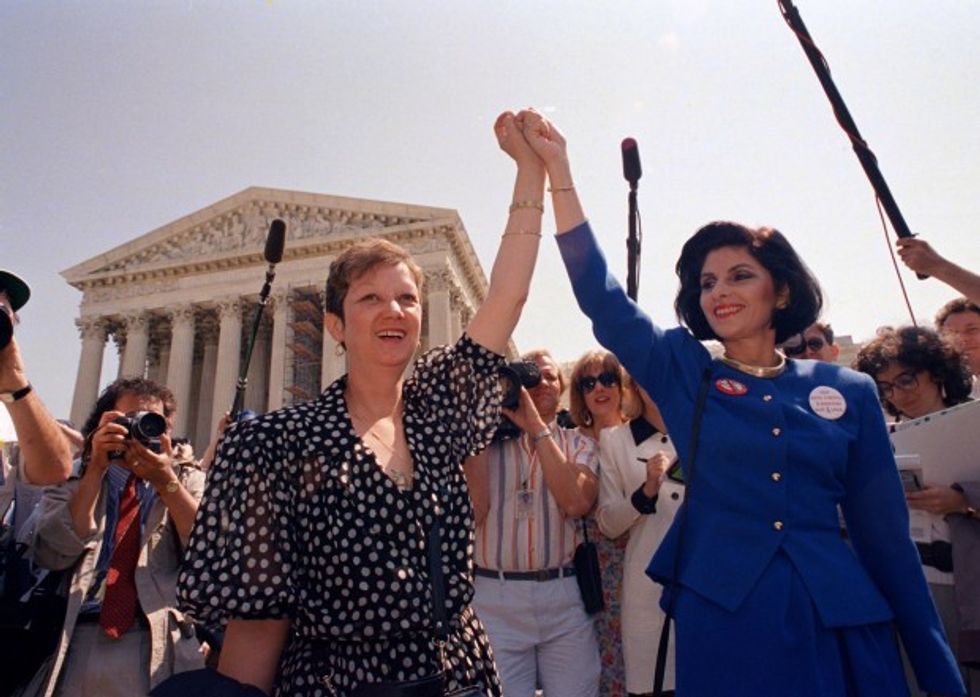 Norma McCorvey, Jane Roe in the 1973 court case, left, and her attorney Gloria Allred hold hands as they leave the Supreme Court building in Washington, DC., Wednesday, April 26, 1989 after sitting in while the court listened to arguments in a Missouri abortion case. (AP Photo/J. Scott Applewhite)
After coming forward, McCorvey spent more than 20 years in the pro-choice movement, working in clinics, speaking and continuing along the same path that had led to her 1973 victory, as CNN has documented.
But in 1995, something profound happened.
McCorvey was working at the time in a clinic in Dallas, Texas, when a pro-life group called Operation Rescue moved in next door. She was extremely pro-choice, voicing her disdain for the group and continuing to dig her heels in on the abortion issue, but after striking up a relationship with one of the evangelical faith leaders working for the organization, her outlook began to change.
After meeting the Rev. Phillip Benham, national director for Operation Rescue, she converted to Christianity — a startling development, considering her background and the battle she had engaged in over abortion rights. Following her change-of-heart, she was baptized on national television, wrote another book about her faith experience titled, "Won By Love," and began working for the pro-life movement.
McCorvey's shocking conversion and subsequent emergence as a pro-life leader had widely been viewed as a positive development among pro-lifers. Of course, pro-choice advocates, including the lawyers who once represented her, have obviously been less-than-impressed by her decision to join their opposition, CNN reported.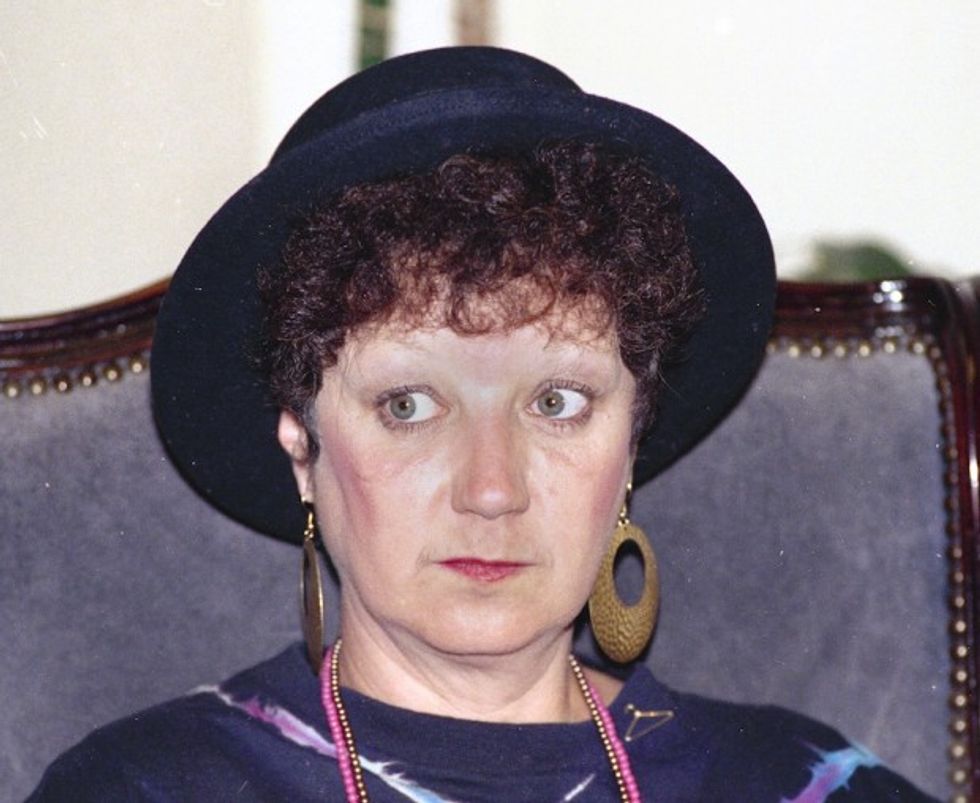 Norma McCorvey, the "Jane Roe" of Supreme Court's Roe v. Wade decision, is seen in 1990. (AP Photo)
Pro-life web site EndRoe.org explains her role in the Supreme Court battle that came to starkly divide Americans, claiming that McCorvey felt "ignorant of the facts in her own case":
[

McCorvey

] describes herself as having been relatively ignorant of the facts of her own case, and claims that her attorneys simply used her for their own predetermined ends. They "were looking for somebody, anybody, to use to further their own agenda. I was their most willing dupe." She had indeed become pregnant with her third child and sought to end her pregnancy, but she was not aware of all the implications of abortion or even what the term itself meant. "'Abortion', to me, meant 'going back' to the condition of not being pregnant." She did not fully realize that this process would end a human life. She says that her attorney Sarah

Weddington

, rather than correcting her misconceptions, deliberately confused the issue: "For their part, my lawyers lied to me about the nature of abortion.

Weddington

convinced me, 'It's just a piece of tissue. You just missed your period.'" Another problem was that Norma claimed that her pregnancy was the result of a gang-rape, in order to present a more sympathetic picture. As she has since admitted, this was totally untrue.

Norma states that her actual involvement in the case was minimal. She signed the initial affidavit without even reading it, and "was never invited into court. I never testified. I was never present before any court on any level, and I was never at any hearing on my case . . . I found out about the decision from the newspaper just like the rest of the country."
The plaintiff and her legal representatives have drifted apart over the years, particularly following the activist's political change-of-heart on the issue of abortion. TheBlaze reached out to Weddington in 2013 to discuss the case and the allegations that McCorvey waged against her, but she declined to comment; over the years, the attorney has enjoyed widespread success as a result of the case.
As can be imagined, the change in McCorvey from 1973 to the early 2000s was fascinating and profound. Contrary to past interviews before her conversion during which McCorvey seemed to have no regrets about being the woman at the center of the infamous abortion case, her comments over the past 15 years have painted a very different picture of her past experience.
McCorvey was highly active in the pro-life movement after converting to Christianity. She launched an organization called Roe No More in 1997, although it appears that the initiative is no longer in operation. In addition to numerous appearances, speeches and commentaries, McCorvey also attempted to take legal action against the Roe vs. Wade verdict.
In 2004, a court struck down her attempt to have the case overturned. The 5th U.S. Circuit Court of Appeals in New Orleans, Louisiana, dismissed the case after McCorvey claimed that abortions cause long-term emotional damage to the women who have them. And in 2009, the activist was arrested for interrupting Supreme Court Justice Sonia Sotomayor's nomination hearing.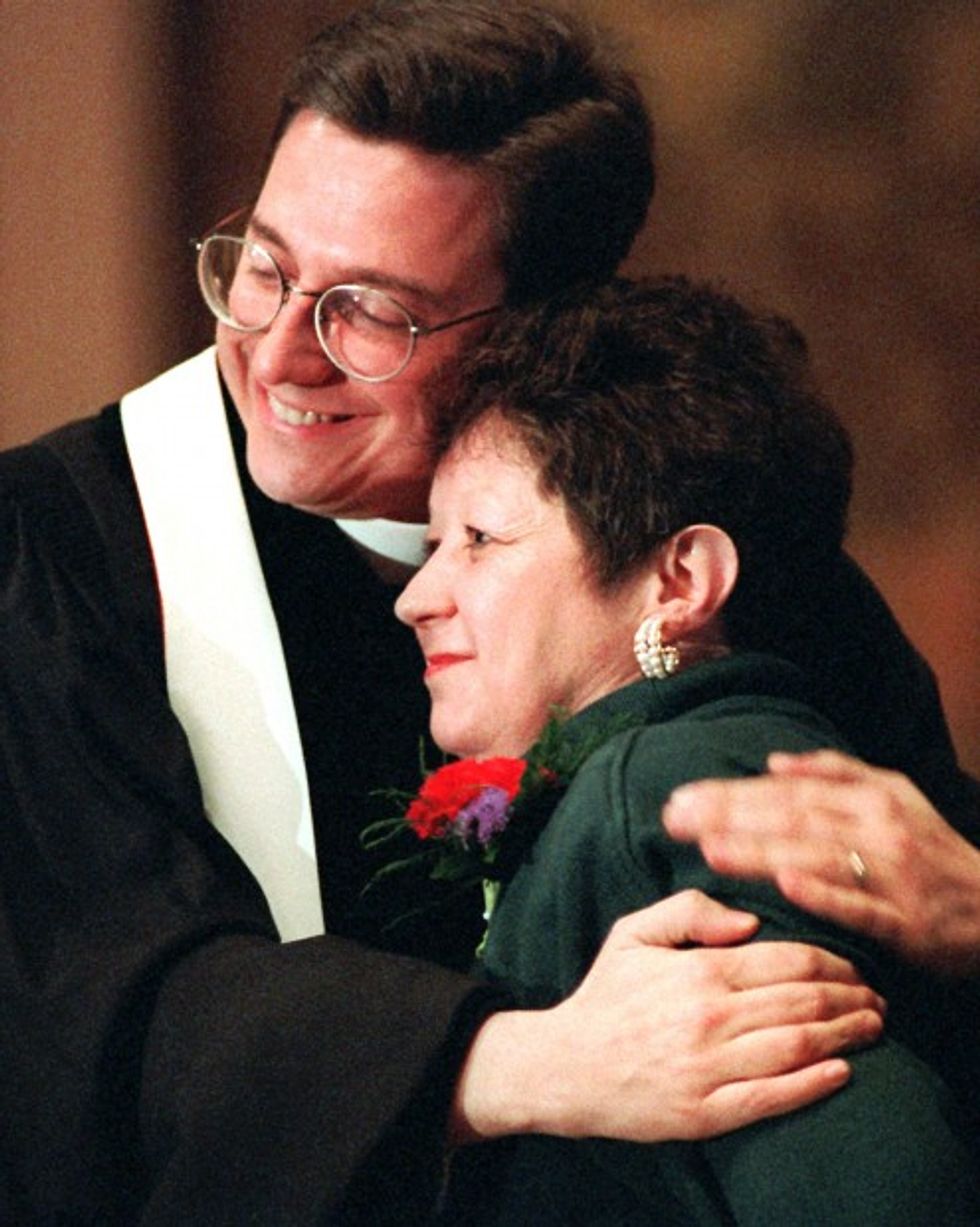 Norma McCorvey, the "Jane Roe" in the 1973 Roe v. Wade decision, is embraced by The Reverend Robert L. Schenck of the National Clergy Council before she addresses a memorial service at Georgetown University in Washington, D.C. Sunday, Jan. 21, 1996. (AP Photo/Cameron Craig)
Over the past few years, McCorvey, now 68, has seemingly been absent from the public eye, but in Oct. 2012, she emerged to record a controversial video aimed at President Barack Obama's abortion record. In the clip, she encouraged viewers not to vote for the president and said that he "murders babies." She was paid $1,000 for the spot:
And in a 2o13 Vanity Fair article, a plethora of details about McCorvey were released — not all of them favorable — as the outlet attempted to recap the woman's complex life. Among other tidbits, Gonzalez, her former lover, is quoted as calling the Roe plaintiff a "phony" and her own mother discusses the difficulties she encountered in raising McCorvey. Her daughter, too, has less-than-favorable words for her mother.
TheBlaze reached out to Fr. Frank Pavone back in 2013, a Catholic leader who has worked closely with McCorvey, to learn more about her character, her status and how he believes the Roe vs. Wade case has impacted her life.
At the time, Pavone said that McCorvey was living in Texas and attempting to "step away from the limelight and take care of herself." As for those who have criticized the woman who brought legalized abortion upon America, the priest had only favorable words for her.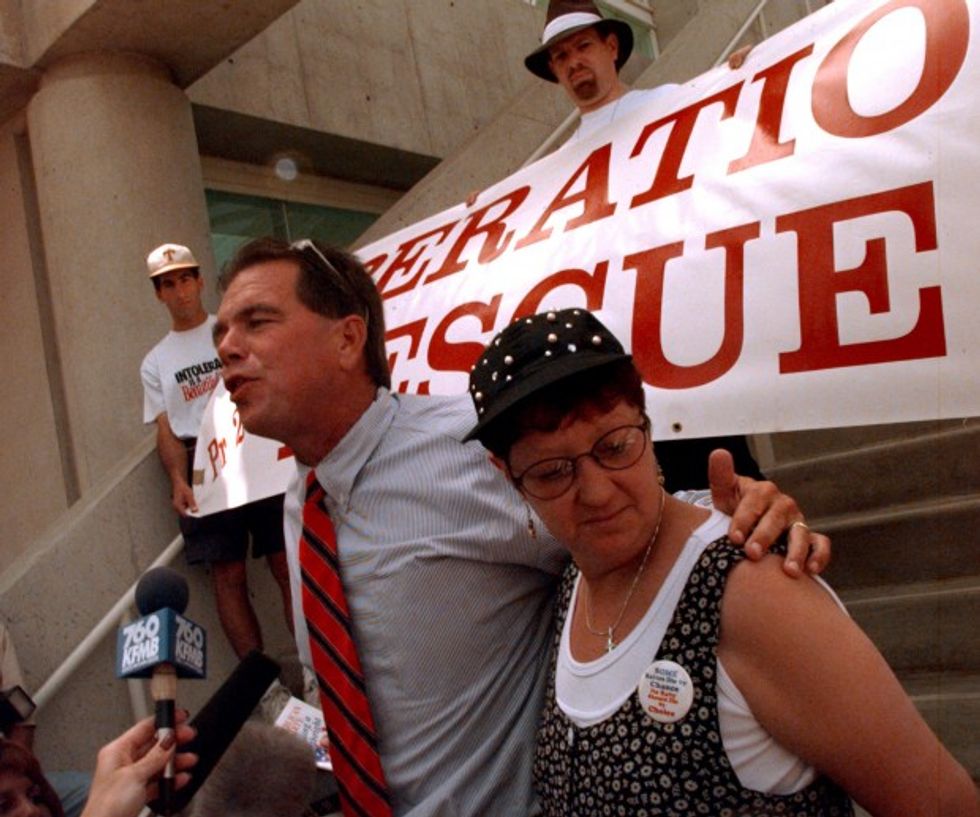 Rev. Flip Benham, National Director of Operation Rescue, left, stands with born-again Christian Norma McCorvey as he address the press outside the convention center in San Diego, Friday, Aug. 9, 1996. (AP Photo/Ruth Fremson)
Pavone knows McCorvey's character well, as he is one of her spiritual advisers and he received her into the Catholic Church in 1998, following her earlier conversion into the evangelical Christian faith.
"She had a sincere conversion, just as many Americans do every day and many former abortion clinic workers have had. I have never known Norma to be greedy," Pavone wrote in an e-mail to TheBlaze. "She did serve the pro-life movement full-time, and as hundreds of Americans do, she drew a legitimate salary for that employment. However, I have been side by side with her in many projects and activities in which Norma gave of her time and effort without either seeking or receiving a penny."
No matter where one stands on McCorvey, one thing is clear: The historical figure who is the centerpiece of one of America's most contentious Supreme Court cases has had a profound impact on both sides of the abortion deba
--
Follow the author of this story on Twitter and Facebook: