Democratic strategist Nomiki Konst told TheBlaze TV's Tomi Lahren Monday that Democratic front-runner Hillary Clinton's email scandal is nothing more than a "campaign problem," adding that the families of slain Benghazi heroes are claiming Clinton lied because "they want press, they want attention."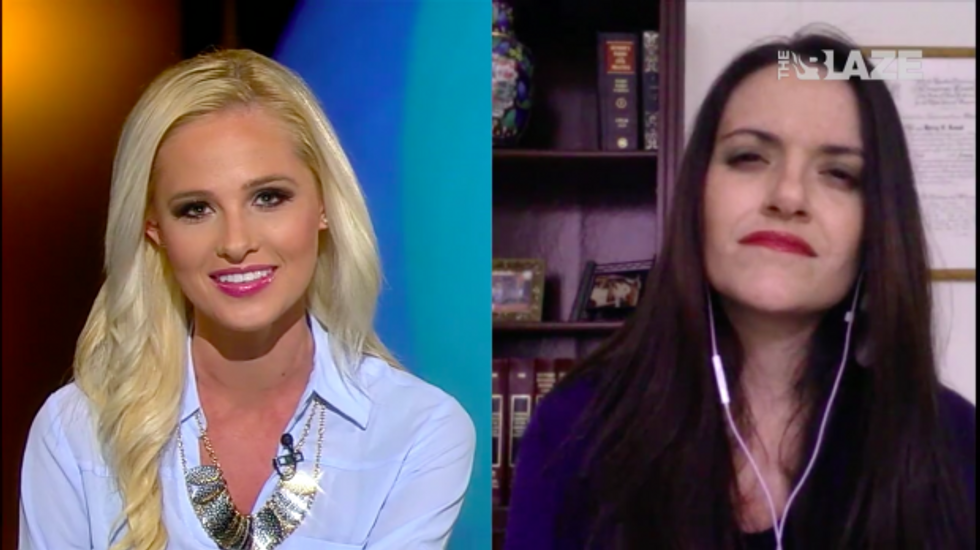 Democratic strategist Nomiki Konst, right, discusses Hillary Clinton's email scandal with TheBlaze TV's Tomi Lahren. (Image source: Tomi Lahren/Facebook)
Konst downplayed the scandal following the latest information that reveals that the former secretary of state's use of a private email server possibly led to the exposure of intelligence marked as "Special Access Program," which is considered to be beyond top secret.
The email in question contains information identified as "HCS-O," which is the code used to represent human intelligence sources in an ongoing operation, according to Fox News.
When Lahren asked Konst if she sees any of this as a problem, she replied, "I think it's become a campaign problem. I don't think it's an actual problem," adding that the entire situation is "debatable right now."
But when asked about the victims' families, some of whom have been outspoken in their criticism of Clinton's handling of the situation, Konst was very matter-of-fact. "Someone's lying here. It's either the families, or it's Hillary," Lahren charged.
"I don't really know what that means. I mean, I've worked in Libya and I worked in Libya after the Benghazi attacks, so that really doesn't mean anything," Konst told Lahren. "I think a lot families come out and say things because they want whatever they want — they want press, they want attention."
"I don't know what being 'lied to' means," she continued. "I mean the situation was unfolding very quickly."
Lahren continued to press the Democratic strategist, telling her, "When [Clinton] says that they lost their loved ones due to a YouTube video, when we know that's bull, that's a lie to me."
"When something unfolds like that, now listen, I wasn't there on the ground when this happened, but I do know what happened in Libya because I worked there and I talked to people, at least I have an understanding of what happened, and I think the government does as well," Konst said.
"In those moments, you don't know, in the moment of fire, I mean this is the fog of war," she added.
Watch the exchange below:
—
Follow the author of this story on Twitter: