Two key members of the Oregon militia, who continue to hold the Malheur National Wildlife Refuge in Oregon, say Arizona officials took their children from their homes as an act of revenge.
According to a report from the Arizona Republic, Robert "LaVoy" Finicum and Blaine Cooper say federal officials pressured local child protection officials to take custody of their children in retaliation against them for their siege on the wildlife refuge.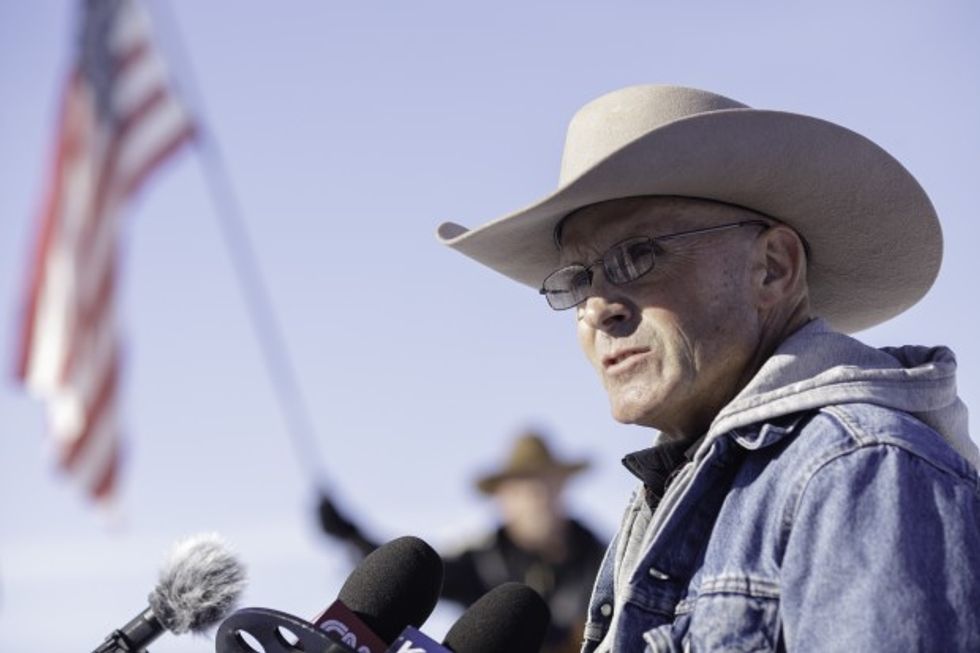 Robert "LaVoy" Finicum speaks to the media at the Malheur National Wildlife Refuge Jan. 15. (Getty Images/ROB KERR/AFP)
Cooper, who posts regular updates of the siege on social media, said earlier in the month that child protection services came to his house in Humboldt, Arizona, and took custody of his two daughters from his wife, apparently without explanation.
On Jan. 16, in an update posted to Facebook, Cooper explained the situation.
"CPS, believe it or not, because of what's going on here, went and kidnapped my kids," he said. "My brother-in-law has them right now, but CPS is threatening to take my kids from me because of the stand we are making here."
SHARE BREAKING UPDATE BURNS OREGON! FBI AND CPS KIDNAPS BLAINE COOPER'S KIDS! DONALD CAN YOU HELP? Brooke Agresta Brandon Curtiss Chris Trinka Eric Ej Parker

Posted by Blaine Cooper on Saturday, January 16, 2016
However, according to the Arizona Republic, the girls are now in Missouri with family members, after militia members helped Cooper's wife take the kids there. They were planning to visit Cooper in Oregon before CPS decided to act.
Finicum, on the other hand, has a more unique situation. Finicum and his wife serve as therapeutic foster care parents to children with special needs through a contract with Catholic Charities Community Services in Arizona.
More from the Arizona Republic:
Catholic Charities officials confirmed the Finicums were licensed foster parents, but declined comment on their status or if they were facing investigation. Officials said decisions to remove children would be made by other agencies, including the DCS, and the courts.

Because the Finicums were assigned to foster children with severe emotional disabilities, they were required to follow a rigid set of rules that don't apply to regular foster parents, Catholic Charities spokeswoman Renee Targos said.

Targos said children were placed with therapeutic foster-care parents for a limited time, usually between 12 and 18 months.
"It is designed to be intensive," Targos said, "and focused on addressing the child's behavioral health treatment goals and permanency needs."
Finicum said on Oregon Public Broadcasting radio earlier in the month that he and his wife have a successful track-record at working with at-risk youth. However, he confirmed that state officials arrived at his ranch in Arizona and removed the children "one by one."
Finicum blamed Arizona Gov. Doug Ducey (R), telling OPB that federal officials "must have gotten to the governor, who told the state to get them out of there." However, the governor's office denied Finicum's accusations, saying his statements were "completely false."
As far as the truth behind the matter, Arizona Department of Child Safety isn't talking, citing privacy laws that prevent them from disclosing information about the children.
"Any decision regarding a child in care is made solely on the basis of what is in the child's best interest and is always done in consultation with the Attorney General's Office and the courts," DCS spokesman Doug Nick told the Arizona Republic. "Confidentiality would prevent me from saying more."
But as far as the siege goes, which has now been ongoing for more than three weeks, there appears to be no end in sight until authorities give into the militia's demands.
(H/T: The Arizona Republic)
—
Follow the author of this story on Twitter and Facebook:
[facebook //www.facebook.com/plugins/like.php?href=